Sergey Karjakin wins World Blitz Championship in Doha on tie-break with Magnus Carlsen second
Vassily Ivanchuk wins the World Rapid Championship in Doha on tie-break, with Alexander Grischuk on second and Magnus Carlsen on third.
ECF voting reform proposals are set out at  http://www.englishchess.org.uk/wp-conte ... 277_29.pdf and, as part of the consultation process, comments are invited to 
This email address is being protected from spambots. You need JavaScript enabled to view it.

 by 12 March.  Also BCC qualification reforms - see below.

Watford teams (15 juniors, including reserves) took part in the Junior 4 Nations Chess League during 21-22 January in Solihull.  Unfortunately most of our stronger juniors were unavailable so our mainly middle-ranking juniors formed three evenly-balanced teams to contest Division 2.  However, the three teams had vastly differing fortunes.
Watford 1 started with a 2-2 draw against a Leicester team which otherwise won all its matches to take the Division 2 title.  Our team won two and lost two of its remaining matches to finish with a 50% score of 5/10.
Watford 2, by contrast, commenced with a 4-0 loss but then improved to win three and draw one of its final four matches to finish with 7 match points out of a maximum of 10.   Alexander Leith, on bottom board, won 4 of his 5 games.
Watford 3 also began with a 2-2 draw against a Midlands side.  Unfortunately that was as good as it got for either of those teams as a series of losses meant they finished joint 23rd out of 24 teams.   However, none of our 13 team members went home completely disappointed as all won at least one game over the weekend.
Results are in the process of being posted here - see "Latest Results".  The final 2016-17 weekend will be 22-23 April, again at St Johns Hotel, Solihull.    It's a decent (recommended!) hotel with, according to our juniors, an excellent swimming pool.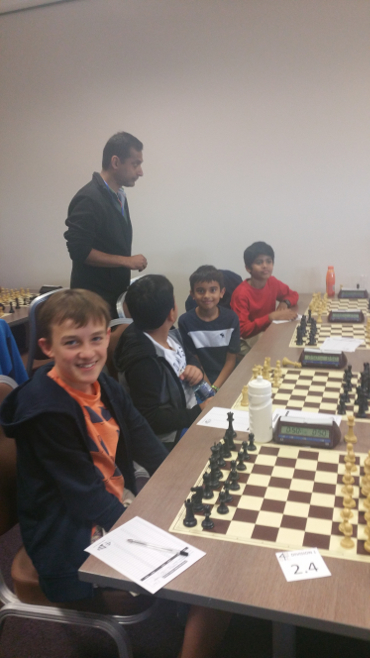 Watford J4NCL team in October 2016 - seated L to R, Christian, Karan, Kian, Jeff
More background on J4NCL appears at http://www.watfordchessclub.org/index.php/junior-4-nations-weekend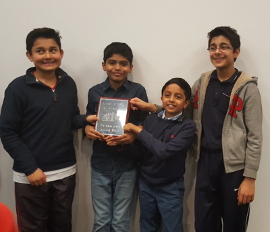 March 2016:  Watford 1 team (L to R, Aman, Jeff, Dhruv, Avi) with the J4NCL runners-

up trophy
Watford may again consider (last year there was insufficient interest) entering the 4 Nations Chess League itself in 2017-18.   Several adult members have already expressed interest.   Further expressions of interest, whether by adults or juniors, to Roger Lancaster or via the "Contact us" link above.

Hertfordshire Chess League, 2016/7
 Watford 1 is defending the Division 1 title, which it has held for the past four years, while Watford 2 and Watford 3 are each contesting Division 2.   The club has withdrawn its fifth team in the main league but Watford 4 plays in Division 5.   There is also a team in the related under-120 league.  
At the turn of the year, Watford 1 was unbeaten after 5 matches but had yet to face league leaders Little Heath. Watford 2 had a 50% record in Division 2 but Watford 3 were struggling.  Watford 4 had won all five matches to date. The U-120 team currently headed its league but had played more matches and so could be overtaken.
The club has also reformulated its policy with regard to the separate Hertford & District League, restricted to players graded under 160.   This is now being contested by the club's junior team which, despite being very heavily out-graded in all five matches so far, has won one and drawn another.  Full results can be found in the "Latest Results" section.
Keith Arkell simultaneous
The English Chess Federation's "Chess Master @ The Local" programme arrived at The Happy Hour pub in Eastbury Road, Watford, on 25 August.   
Main event of the day was a simultaneous display given by international grandmaster Keith Arkell starting at 7.0.   Keith initially took on 12 opponents and, as the first batch of games ended, the retiring opponents were replaced by fresh faces. There was free entry, with ECF prizes plus a £20 meal voucher from The Happy Hour awaiting the first person to beat Keith.
Local juniors turned out in numbers to take on the grandmaster, along with some adult members of the club and rather more members of the general public who had been attracted by the publicity.   In all, 20 people played against Keith (a couple more than once!) but only former Zimbabwean international Ernest Karumazondo prevailed.
For more information, go to this Watford Observer article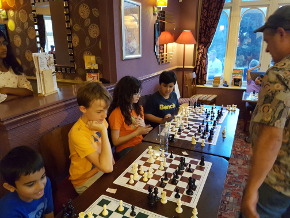 Kian, Christian, Ralitza, Karan and (background) Maanav hard at work against grandmaster Keith Arkell
 
Jeff Tomy, joint winner of London under-10 championship, December 2016, with ECF junior director, Traci Whitfield
News in brief:
Roshan Gurjar 5/6 winner of Hastings u-11 major, sister Siena (age 6) 4/6 in u-11 minor, 2 January
Jeff Tomy 6/9 in LJCC u-12 major,  28-30 December, Conrad Dickinson 5.5/9 in LJCC u-12 minor,  Maanav Nagda 5/7 and Parth Malhotra 4.5 in LJCC u-8.  
Jeff Tomy 6/7 (+5 =2 -0) joint first in LJCC u-10 major, 17-18 December, Roshan Gurjar & Kian Shan both 5 pts, Dhruv Radhakrishnan & Dharmik Vyas both 4.5.   Kaveer Mehta 5.5/7 in LJCC u-10 minor
Upcoming Congresses (mainly local):
Until this is updated, please refer to the ECF Calendar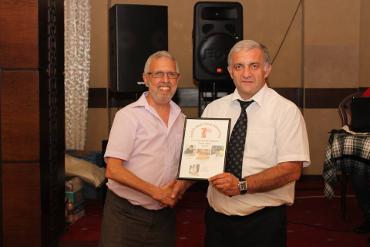 Barry David, seen here (left) with  the President of Armenia Deaf Sport, finished 6th in the World Deaf championships held in Yerevan, May 2016
Junior club membership
The junior waiting list is currently closed.  Use the "Contact Us" link if interested in joining.
As well as its Tuesday club-nights, the club offers two-hour (6-8) training sessions on Sunday evenings at The Happy Hour pub in Eastbury Road which are free and open to non-member juniors.   You can just turn up.   At least one adult member of Watford Chess Club is always present to supervise matters.
Coaching for juniors
We're still looking for club members willing and able to give talks (with large demonstration board available) on any aspect of chess to our juniors - preferred start time 7.0 with 30 minutes duration but flexible to accommodate speakers. Choice of three levels - basic (mainly targeted at juniors below ECF50), intermediate (ECF50-100) or advanced (ECF100+) at speaker's choice 
Proposed 2018 British Chess Championship Qualifying Regulations - lifted from ECF website
 Aim of Changing the Regulations
The British Championship draws criticism for having a "weak tail", i.e. players rated well below 2000 who qualify. We believe that this will increase the prestige of the Championship, encourage more stronger players to play, and that this in turn will have increased commercial benefits.
 Process for Changing the Regulations
The regulations need to be formally approved by the BICC, whose members are: England, Guernsey, Ireland, Isle of Man, Jersey, Scotland, Ulster and Wales. At a BICC meeting on 12th January, there was broad support of the concept moving forward, subject to further internal consultation they would be undertaking. The final regulations will be formalised in a meeting in March, after the closure of the consultation period.
Within the ECF, this document is available on the website for general consultation, and in addition, it has been sent to ECF Council delegates. All people are invited to provide feedback to this paper using the form on the website. The deadline for replies to this consultation is Friday, 10th March.
The final regulations for the 2018 British Championships will be published on the website in April.
 2017 British Championship Qualifying Regulations
The 2017 Regulations can be found here:
http://www.britishchesschampionships.co.uk/qualification-regulations-2017/
 2018 British Championship Qualifying Regulation Proposals
 1. Who is eligible to play in the Championships?
·         There is no change to the existing territories covered by the British Championships.
·         Players who are citizens of, or have continuous ordinary residence in, the eight members of the BICC will continue to be eligible. Players who are British citizens, or have continuous ordinary residence in, any of the British Overseas Territories, will continue to be eligible.
·        The intention is that this will apply to the British Championship, the Senior Championships, and the Junior Championships only.
 2. Qualification from the British Championships
·         There is no proposed change to the 2017 Regulation regarding the qualification scores required from the British Championship or the Major Open.
·         There is no proposed change to the 2017 Regulation regarding the qualification of the British Under 16, Under 18, Under 21 and Over 50 Champion.
·         References to the entry fees will be removed from the BICC Agreement, because these will be set by the ECF and will not be subject to BICC approval.
 3. Pre-Qualification by Grading, Rating, or Performance Rating
·         The regulation stating that all players rated over 2350 qualify will be removed.
·         All GM, IM, WGM or WIM titleholders shall qualify.
·         All FMs rated over 2300 and WFMs rated over 2100 shall qualify.
·         References to the entry fee will be removed, as above.
·         References to qualification by domestic grade and rating will be removed.
These titles and ratings must be held by 1st July in the year preceding the Championships, in order to avoid the situation of a player qualifying mid-season, and so potentially mean the season's qualifying events need to be re-calculated. 
4. Qualification from Events
Articles 8-11 in the 2017 regulations will be deleted – please refer to these at the link provided above. These will be replaced by the following:
·         The reigning champion of all BICC members will qualify.
·         The reigning champion of each of the five English Unions will qualify.
·         The highest-placed non-qualified player in a FIDE-rated standardplay Swiss tournament, where IM or GM norms are possible, will qualify.
·         The ten highest-placed non-qualified players in the British Championship Qualifying Grand Prix will qualify. This will be composed of results from the Open section of all FIDE-rated Swiss tournaments in BICC territory. For the purposes of this regulation, Open tournaments will now be tournaments without a rating restriction, and not permit tournaments with a rating restriction above the minimum qualification rating limit.
In recognition of the fact that some players may qualify for the Championships shortly before the event, players qualifying from events may play either in the year they qualify, or the year after. 
5. Nominated Players
·         Delete all references to nominations by BICC members as of right.
·         The Director of Home Chess and Manager of the British Championships together may nominate a maximum of one person. This will normally be used to promote a player from another tournament, in order to ensure the number of players in the Championship is even.
·         The host Federation, or if the Championships are played in England the host county, will have the right to nominate two wildcards.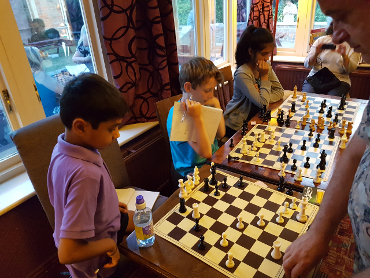 L to R, Maanav, Theo and Layla in play against Keith Arkell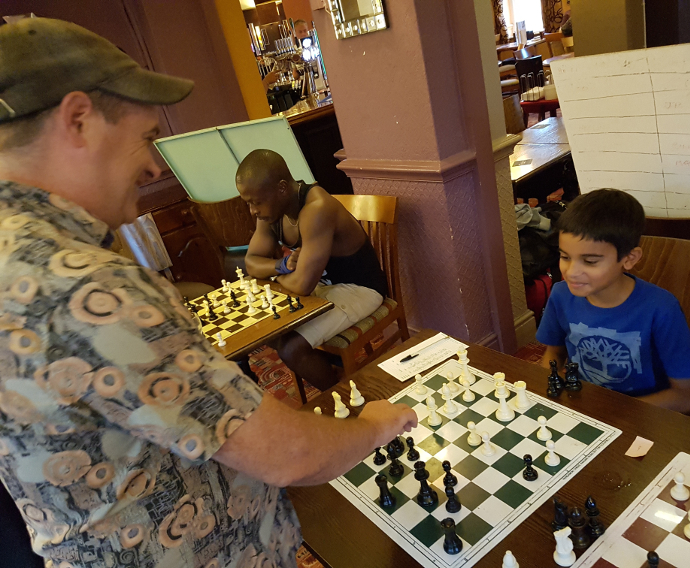 Kian Shah, 9, ran grandmaster Keith Arkell close but former Zimbabwe international Ernest Karumazondo (background) was the only one to beat him
Club committee and officers
The club's Annual General Meeting took place at the Town & Country Club, Halsey House, Rosslyn Road, Watford commencing 7.45 on Tuesday 6 September 2016 and the following appointments were made:
post

(** = committee)

Postholder

2016-17

 
 

** President

Mike Boyce

** Club Secretary

Paul Littlefair

**Treasurer

Jerry Rudge

** Membership Secretary

Vacant

Juniors Secretary

Roger Lancaster 

Tournament Secretary

Mike Boyce

Match Captains

Andrew Stone (1st, Russell)

Mace Carnochan (2nd) 

Cecil Sloan (3rd)

Paul Littlefair (Sharp)

Sanjay Vig (4th, u-140 k-o)

Pete Edwards (u-120 & u-120 k-o)

Christian Bland (Hertford & District)

Webmaster

Geir Erik Nielsen

Equipment Curator

Mace Carnochan

** Other Committee members

(up to 5 additional positions)

Roger Lancaster

Cecil Sloan

3 vacancies

Auditor

Philip Abbott
 Main points from AGM - annual subscriptions unchanged except for £5 junior increase to cover extra J4NCL costs, Cecil Sloan elected to executive committee, Watford fifth team withdraws from Herts League (although u-120 team remains) due to insufficiency of available players, and Watford junior team poised to compete in Hertford & District League
 Youngest (Harish) and oldest (Simon) players at Keith Arkell simul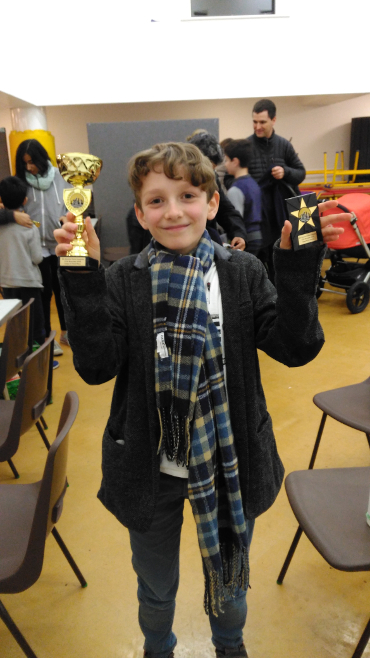 Theo Hurrell celebrates third place in the Shenley u-10 event, November 2016
Aberystwyth 2014 - FIDE says, "Don't do it again!"
Those interested in the history of this dispute can find details at http://watfordchessclub.org/index.php/c ... cle?id=118  
The new draft FIDE Laws of Chess, just published, include a new law 10.2 reading "The total score of any game can never exceed the maximum score of a normal game" and it is hard to avoid putting two and two together.  
Interim Child Protection Policy
Club members are asked to note the addition, effective 2 November 2015, of an extra sentence reading "The Interim Child Protection Policy shall be interpreted as applying to vulnerable adults as well as to children."