Magnus Carlsen beat Sergei Karjakin 3-1  (D,D,W,W) in the rapidplay tiebreaker after they finished level at 6-6  in 12-game world championship match in New York.   

Hertfordshire Chess League, 2016/7
 Watford 1 is defending the Division 1 title, which it has held for the past four years, while Watford 2 and Watford 3 are each contesting Division 2.   The club has withdrawn its fifth team in the main league but Watford 4 plays in Division 5.   There is also a team in the related under-120 league.  
The club has also reformulated its policy with regard to the separate Hertford & District League, restricted to players graded under 160.   In future, the club's junior (under-18) team will contest this event.    First results in both leagues can be found in the "Latest Results" section.

Results from the 1-2 October weekend of the 2016-7 Junior 4 Nations Chess League, where both Watford teams finished with 50% scores on 5/10:
Watford 1 lost 1.5-2.5 v Dragon Queens, drew 2-2 v Chess in Schools 1, won 2.5-1.5 v Barnet Knights 2, won 3-1 v Warwickshire A, lost 0-4 v Midland Monarchs 1 
Watford 2 lost 1.5-2.5 v Northampton, drew 2-2 v Barnet Knights 3, won 3-1 v Manchester B, won 3-1 v Barnet Knights 4, lost 1.5-2.5 v Welsh Dragons Blue
Many of our leading juniors were unable to make this weekend so our teams were somewhat weakened, being seeded 8th out of 11 teams in Division 1 and 12th out of 18 teams in Division 2, so 50% scores were a reasonable outcome. Full results for both teams are now included in 'Latest Results' - see panel on the right.   More background on J4NCL appears at http://www.watfordchessclub.org/index.php/junior-4-nations-weekend
Later J4NCL weekends are 21-22 January and 22-23 April in Solihull when we hope to field three teams once again.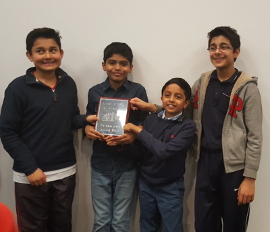 March 2016:  Watford 1 team (L to R, Aman, Jeff, Dhruv, Avi) with the J4NCL runners-

up trophy
The Federation's "Chess Master @ The Local" programme arrived at The Happy Hour pub in Eastbury Road, Watford, on 25 August.   The Happy Hour is also the venue for the club's Sunday evening junior training sessions but this was a totally separate one-off event.   It was designed primarily to attract the "interested but occasional" chess player but regular club players, adults and (accompanied) juniors alike, were also welcome.
Events kicked off at 3.30 with two 4-round (time meant lopping off one of the planned 5 rounds!) 15-minute tournaments, one for relative novices and one for more experienced players, both with free entry.
Main event of the day was a simultaneous display given by international grandmaster Keith Arkell starting at 7.0.   Keith initially took on 12 opponents and, as the first batch of games ended, the retiring opponents were replaced by fresh faces. Again free entry, with ECF prizes plus a £20 meal voucher from The Happy Hour awaiting the first person to beat Keith.
Update, 25 August.   Watford juniors turned out in numbers to take on the grandmaster, along with some adult members of the club and rather more members of the general public who had been attracted by the publicity.   In all, 20 people played against Keith (a couple more than once!) but only former Zimbabwean international Ernest Karumazondo prevailed.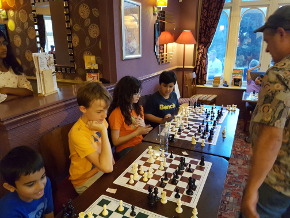 Kian, Christian, Ralitza, Karan and (background) Maanav hard at work against grandmaster Keith Arkell
Laws of chess
One gap in our juniors' knowledge which emerged during the recent J4NCL - and maybe some adults are also unaware! 
During a standard game, a player is permitted to stop keeping score if it's a single playing session (for example, 80 minutes to complete all one's moves) and one's remaining time dips below five minutes.   If one is furthermore playing with increments (for example, 75 minutes plus 5 second increments to complete all one's moves) then there is no requirement to resume keeping score if the remaining time later increases, due to increments, to more than five minutes
However, this in no way relieves the opponent - if he or she has more than five minutes on his or her clock - of the obligation to continue to keep score.
The one downside, from the first player's viewpoint, relates to making any claim which relies on the movecount (such as draws due to threefold repetition or operation of the 50-move rule) since the absence of a score means there may be no evidence to support the claim.
Coaching for juniors
We're still looking for club members willing and able to give talks (with large demonstration board available) on any aspect of chess to our juniors - preferred start time 7.0 with 30 minutes duration but flexible to accommodate speakers. Choice of three levels - basic (mainly targeted at juniors below ECF50), intermediate (ECF50-100) or advanced (ECF100+) at speaker's choice 
News in brief:
Dhruv Radhakrishnan (u-12) and Theo Hurrell (u-10) each score unbeaten 5/6 at Shenley LJCC qualifier (27 November), Rohan Tathare qualifies for u-8 final
Michael Lee wins St Albans LJCC u-10 qualifier on 13 November with 6/6, Kaveer Mehta 4/6 also qualifies
Alex Lever wins Herts U-110 with 4.5/5, 12-13 November
Harish Muthiah 4.5/6 in Harrow LJCC u-8 qualifier, 6 November
Maanav Nagda 4.5/6 in Barnet LJCC u-10 qualifier, Avril Chloe Hsu 4/6 in u-12, on 30 October
For an account of grandmaster Keith Arkell's ECF-sponsored visit to Watford in August, go to this Watford Observer article
Upcoming Congresses (mainly local):
Hampstead, 26-7 November:  Now full and closed to new entries
Wiltshire (Swindon), 27 November:  See ECF calendar - team rapidplay event
Shenley junior, 27 November:  See ECF calendar, includes LJCC qualifiers
Woodbridge junior, 27 November:  See ECF calendar, includes LJCC qualifiers
NB: The above list contains only selected events from the ECF Calendar which also contains more information on the events listed above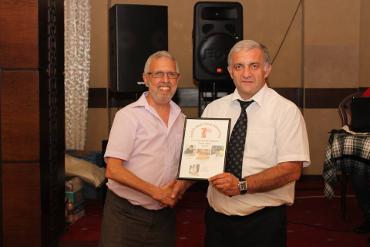 Barry David, seen here (left) with  the President of Armenia Deaf Sport, finished 6th in the World Deaf championships held in Yerevan, May 2016
Junior club membership
The junior waiting list closed on 17 November and is expected to reopen, at earliest, after Christmas.  
As well as its Tuesday club-nights, the club offers two-hour (6-8) training sessions on Sunday evenings at The Happy Hour pub in Eastbury Road which are free and open to non-member juniors.   You can just turn up.   At least one adult member of Watford Chess Club is always present to supervise matters.
UK Chess Challenge (juniors) - Sarah Longson announcement (reproduced from ECF website)
"Over the summer I was saddened to hear that the future of the UK Schools Chess Challenge, the world's largest chess competition, was in doubt. The UK Schools Chess Challenge is very close to my heart. Indeed, way back in 1996 it was the first major tournament that I won. This opened some incredible doors, playing chess on Blue Peter and meeting the world champion, Garry Kasparov. I subsequently went on to win the UK Schools Chess Challenge eight times. My early involvement in schools chess was certainly the catalyst to going on and winning the British Ladies title 2013 and representing the English Ladies' Team at the World Chess Olympiads. Today I am a lawyer. However, since last year I have been 'full time' on chess teaching and playing in various competitions home and abroad.
"I am delighted that my bid to take over the UK Schools Chess Challenge has been accepted. I am supported by my husband Alex Longson, a strong chess player and also a chartered accountant. We hope our professional backgrounds will add credence as the competition enters a new phase. I hope the UK Schools Chess Challenge continues to inspire and opens up new horizons. I also hope it continues to vaunt the belief that 'mental challenge and competition' is the 'equal of the sports field'. We met with Mike Basman and Pat Armstrong recently to discuss plans and they are happy to work with us to make this tournament a success.
"Update 30/10/2016This past week has been extremely hectic but exciting. We have set up a limited company to takeover the challenge and have registered for VAT. Despite being required to charge VAT the cost to schools and participants will remain unchanged. Letters will be going out next week to schools to continue the continuity of the tournament.
"We have been speaking to as many people as possible to get feedback on the event and how they would like to see it develop in the future. We have had a great response from the regional Megafinal organisers who have shown support but also given us a lot of food for thought regarding improvements which could be made. This has been an extremely useful exercise and we have collated a host of potential improvements. For example there is clearly a need to increase the participation of juniors from secondary schools and also to make it easier to attend Megafinals in some regions.
"The organisation of the tournament will be modernised and we are pulling together a program of digital improvements to enhance the experience for both the competitors but also the organisers and supporters of the event. The structure of the schools phase; Megafinals, Gigafinals and Terafinals will remain unchanged in the first year.
"We are also delighted to confirm that, following a positive meeting at their London offices on Friday, Delancey have confirmed they will continue to sponsor the UK Chess Challenge and are excited at the prospects ahead.We are grateful for all the messages of support over the past few days and would also like to pass on our deep admiration and respect to Mike and his team for building the UK Chess Challenge from the ground up into the best junior chess tournament in the world.
"We feel honoured to be in the position now to take the challenge to the next level and to bring the joys of this wonderful game to a new generation of children.We welcome any feedback/thoughts anyone has. Please email
This email address is being protected from spambots. You need JavaScript enabled to view it.
.     Please spread the word!"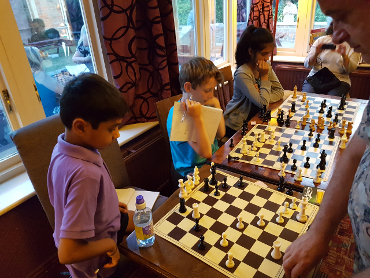 L to R, Maanav, Theo and Layla in play against Keith Arkell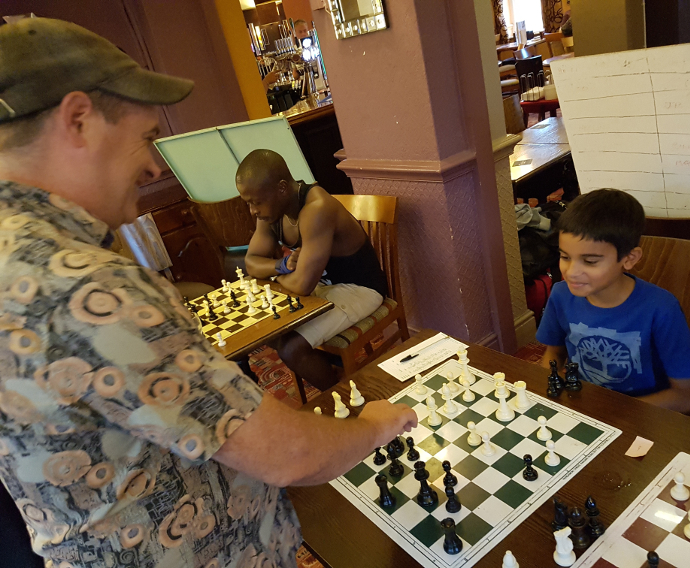 Kian Shah, 9, ran grandmaster Keith Arkell close but former Zimbabwe international Ernest Karumazondo (background) was the only one to beat him
Club committee and officers
The club's Annual General Meeting took place at the Town & Country Club, Halsey House, Rosslyn Road, Watford commencing 7.45 on Tuesday 6 September 2016 and the following appointments were made:
post

(** = committee)

Postholder

2016-17

 
 

** President

Mike Boyce

** Club Secretary

Paul Littlefair

**Treasurer

Jerry Rudge

** Membership Secretary

Vacant

Juniors Secretary

Roger Lancaster 

Tournament Secretary

Mike Boyce

Match Captains

Andrew Stone (1st, Russell)

Mace Carnochan (2nd) 

Cecil Sloan (3rd)

Paul Littlefair (Sharp)

Sanjay Vig (4th, u-140 k-o)

Pete Edwards (u-120 & u-120 k-o)

Christian Bland (Hertford & District)

Webmaster

Geir Erik Nielsen

Equipment Curator

Mace Carnochan

** Other Committee members

(up to 5 additional positions)

Roger Lancaster

Cecil Sloan

3 vacancies

Auditor

Philip Abbott
 Main points from AGM - annual subscriptions unchanged except for £5 junior increase to cover extra J4NCL costs, Cecil Sloan elected to executive committee, Watford fifth team withdraws from Herts League (although u-120 team remains) due to insufficiency of available players, and Watford junior team poised to compete in Hertford & District League
 Youngest (Harish) and oldest (Simon) players at Keith Arkell simul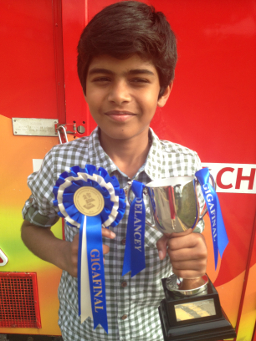 Jeff Tomy with trophy after his gigafinal win, July 2016
Aberystwyth 2014 - FIDE says, "Don't do it again!"
Those interested in the history of this dispute can find details at http://watfordchessclub.org/index.php/c ... cle?id=118  
The new draft FIDE Laws of Chess, just published, include a new law 10.2 reading "The total score of any game can never exceed the maximum score of a normal game" and it is hard to avoid putting two and two together.  
Interim Child Protection Policy
Club members are asked to note the addition, effective 2 November 2015, of an extra sentence reading "The Interim Child Protection Policy shall be interpreted as applying to vulnerable adults as well as to children."