The club committee has agreed a new Safeguarding policy which replaces the Child Protection policy which has been in force since May 2015.    Club members should familiarise themselves with the new policy which is set out on this website.
Watford seeking new players, particularly for new 4NCL season - see right-hand column - ideally ECF100+ (juniors, 80+)
The General Data Protection Regulations ("GDPR")  become effective 25 May.   All organisations, including sports clubs, that handle personal data must ensure they are aware of the new rules and examine the processes they currently have in place to ensure they continue to comply with the law.   The club committee is currently examining this but some changes will be required to the club's processes - more information to follow. 
CLUB NIGHTS 
The club meets on Monday evenings at West Herts Sports & Social Club, Park Avenue, Watford, from 6.30 to 10.45.   
Chess is played in the Function Hall although members and visitors also have access to the separate and comfortable lounge bar area - as well as alcoholic beverages, the bar serves tea, coffee and soft drinks and a limited range of snacks including rolls.   Juniors have priority during the first hour .  There is ample free parking on Mondays at the new venue.   
Intending new members are welcome but it is suggested that they visit before 7.45.    That's because inter-club matches begin at 7.45 and members then become immersed in their games, to the exclusion of polite conversation! 
See further down page for junior sessions on Sundays.

HERTFORDSHIRE CHESS LEAGUE
 The 2017-18 season began in early October.   Watford, which has headed the Hertfordshire League for the past five years, is running four teams in the main section of the league (in Divisions 1, 2, 3 and 4 respectively) and a fifth team in the under-120 league.    
Prospects of retaining the title look bleak with the Division 1 table (teams play 12 matches in total) as at 11 April reading as follows:
| | | | | | | |
| --- | --- | --- | --- | --- | --- | --- |
| HERTS DIVISION 1 | P | W | D | L | GPs FvA | MPs |
| Hemel Hempstead | 11 | 7 | 1 | 3 | 30 - 23 | 15 |
| Little Heath | 9 | 7 | 0 | 2 | 27½-16½ | 14 |
| Watford | 10 | 5 | 2 | 3 | 26½-21½ | 12 |
| Hertford | 10 | 4 | 2 | 4 | 27½-22½ | 10 |
| Royston | 7 | 2 | 2 | 3 | 16 - 19 | 6 |
| St Albans | 9 | 1 | 3 | 5 | 20 - 25 | 5 |
| Letchworth | 10 | 2 | 0 | 8 | 14½-34½ | 4 |
At time of writing, none of the other Watford teams appear likely to be promoted or relegated.   There's a separate under-120 league which the Watford team has won with a match or two in hand. 
Watford teams also entered the four county knock-out cup competitions, with two still in contention, including the "open" event where Watford edged past Royston in the semi-finals and will meet Hemel Hempstead or Bishops Stortford in the final..    In the under-140 semi-finals, Watford are away to Welwyn.
As last year, the Watford team in the separate Hertford & District League (under-160 players only) is an all-junior side.

JUNIOR 4 NATIONS CHESS LEAGUE
Final J4NCL weekend is 21-22 April 2018, again at Park Inn, Telford.   Sadly, for the first time in several years, it looks as though there will be no Watford representation.   Latest news is that first two 2018-19 weekends will be in Peterborough.
20-21 January was the second J4NCL weekend at Telford, with just one Watford team taking part.    On arrival on Saturday, having braved the snow, our team found it had been given a first-round pairing against one from near-neighbours, Barnet Knights   The team navigated this successfully 3-1 and next drew 2-2 against Manchester 2.
After this, four teams had won both opening matches while three more teams, including Watford, were on 3/4.   However, a third-round 0.5-3.5 loss against Buckinghamshire juniors left our team off the pace.   Sadly, it stayed that way.
There were two more rounds on Sunday, beginning with a match against Manchester 1.   As with our previous match against a Manchester side, this ended in a 2-2 draw.   Last match was against Brown Jack from Wiltshire, who had been top-seeded for the event as theoretically the strongest side.   We lost this 3-1.
Four points (+1 =2 -2) left us in joint 14th position (but 17th on tiebreak) from a field of 22, which was a bit worse than our normal performance, but our team seem to have enjoyed themselves and will have benefitted from playing some tough opposition.  
Watford January J4NCL team (L to R: Om, Kaveer, Theo, Zak.  Edison joined the team on Sunday)
To maintain its elite status, Division 1 is restricted to teams with average strength ELO1400 (or ECF standardplay equivalent) while Division 2 is open to teams with average strength ECF85 (whether standardplay or rapidplay).  
To meet FIDE requirements, Division 1 games will be played with a longer time-control, i.e. all moves in 80 minutes but with 10 second increments from move 1.   Saturday's games will commence 10.0, 13.30 and 17.0 with Sunday's games at 10.0 and 13.30.  Coaching sessions have been retained, aligned with the Division 2 timetable, but Division 1 players will be unable to attend these unless their games finish early.  The new rules  now appear on the 4NCL website.
More background on J4NCL appears at http://www.watfordchessclub.org/index.php/junior-4-nations-weekend
JUNIOR WAITING LIST / TRAINING
The junior waiting list is currently closed but will reopen in late Spring or early Summer.  
Sunday evening training sessions (6 until 8) take place at the Coach & Horses, Croxley Green.  This is an open-to-all (club members and non-members alike) drop-in and all standards, from junior international down to near-beginner, are welcome. 
There is no charge as the pub lets us have the free use of several tables - but please remember the usual rule for chess meetings held at pubs, restaurants and hotels, viz. you are not allowed to bring your own food or drink!
2017 RESULTS OMITTED FROM LATEST GRADING LIST
The results of two internal rapidplay tournaments last August were submitted in normal fashion but somehow failed to make the January 2018 grading list.   This has been followed up and the missing results were included in the February update list.   Standard grades are unaffected by this.
NEWS IN BRIEF:
Jeff Tomy joint winner, 4/5, St Albans Challengers (u-181), 14-15 April.  Jeff also took junior and grading prizes.   Geir Erik Nielsen 4/5 (jt 3rd) in Minor (u-121).
Jeff Tomy 4/5 (jt 2nd, +3 =2) in National Junior Chess Squad under-12 championship, 7-8 April
Geir Erik Nielsen has set up a new YouTube channel at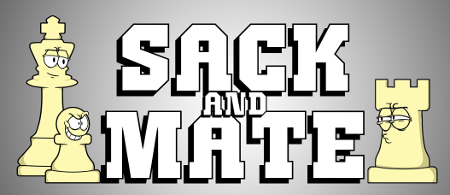 Maanav Nagda 3/3 on top board for Herts u-9 in East zonal, 10 March
Geir Erik Nielsen 4/6, Bunratty Major, 23-25 February
Jeff Tomy 5/6 (jt 2nd) West of England u-12, 17-18 February
Kian Shah, Roshan Gurjar each overturn ELO1950 opponents in 4NCL match, 11 February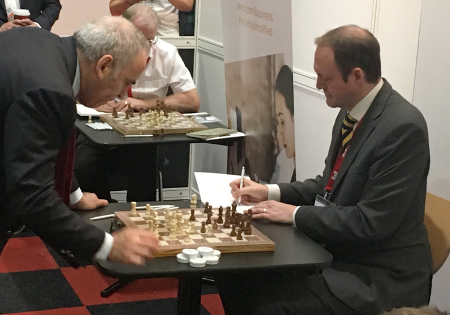 Jeremy Davies (right, above) got to meet and play ex-world champion Garry Kasparov on 4 October.
UPCOMING CONGRESSES (MAINLY LOCAL):
Until this is updated, please refer to the ECF Calendar 

4 NATIONS CHESS LEAGUE - DIVISION 4
After an inaugural season to familiarise ourselves with 4NCL, the plan for next season (2018-19) is to raise a second team and for our first team to push for promotion from Division 4.   With that in mind, the club is looking for more 4NCL players both from existing members of the club and from any new members who may be interested.   (You can use the 'Contact us' facility on this webpage to get in touch).
Teams are open both to adults and to juniors.   Next season will see four 4NCL weekends taking place at Daventry, Northants, the exception being the second (January) weekend at Bedford.  All are within comfortable driving distance of the Watford area.
Meantime, the penultimate 2017-18 weekend took place on 24-25 March at De Vere Wokefield Estate, near Reading, with Watford losing 5-1 against 'Throw in the Tal' in Saturday's round 7.  On Sunday we had a narrow 3.5-2.5 win against D&D United.  Board-by-board in 'Latest Results'.  
Up-to-date league table after round 8 of 11 is as follows:
 
P
W
D
L
GP
Pts
1
Iceni 2
8
7
0
1
31
14
2
Oxford 3
8
6
1
1
31
13
3
Iceni 1
8
6
0
2
30½
12
4
Crowthorne
8
6
0
2
29
12
5
CSC 2
8
5
2
1
28½
12
6
Surbiton
8
5
1
2
31
11
7
All Anands on Deck
8
5
1
2
28
11
8
Throw in the Tal
8
5
1
2
27
11
9
Wessex B
8
4
2
2
28
10
10
Kent KJCA Kestrels
8
4
2
2
26½
10
11
Fischer's Catch
8
4
1
3
27
9
12
Brown Jack 2
8
3
2
3
25½
8
13
Poisoned Pawns 2
8
4
0
4
25
8
14
MK Phoenix 2
8
3
2
3
25
8
15
K Kings 2
8
3
2
3
24
8
16
Camberley Juniors
8
3
2
3
24
8
17
Watford
8
4
0
4
23
8
18
Cambridge University 3
6
4
0
2
19½
8
19
Sussex Martlets 3
8
3
1
4
19½
7
20
CSC 3
8
3
0
5
22½
6
21
The Pitstop
8
3
0
5
21½
6
22
Barnet Knights 2
8
2
1
5
19½
5
23
Brown Jack 3
8
2
1
5
18½
5
24
West is Best 4
6
2
1
3
17
5
25
D&D United
6
2
0
4
17½
4
26
Invicta Chess
8
1
2
5
17
4
27
Oxford 4
8
2
0
6
16
4
28
Barnet Knights 3
8
1
1
6
14½
3
29
Iceni 3
8
1
0
7
13½
2
30
Barnet Knights 4
8
1
0
7
10
2
The final three rounds are 5-7 May.  All games are ECF-graded and FIDE-rated. 
Main points to note are that it's one round each day, with the rate of play 40 moves in 100 minutes (plus 30 second increments from move 1) followed by the rest of the game in 50 minutes (again with 30 second increments). That means a 60-move game could conceivably take as long as 6 hours, far longer than local league chess.   Starting times are 2.0 on the first day of a weekend, 1.0 on the middle day of a three-game weekend, and 11.0 on the final day with reserve games starting one hour later on each day.
Go to http://www.4ncl.co.uk/ for more information, game scores appear at http://www.4ncl.co.uk/downloads.htm:
Simon Charles, en route to winning the club rapidplay on 1 August, takes on Theo Hurrell with eventual runner-up Cecil Sloan in the background
ANNUAL GENERAL MEETINGS
The club's Annual General Meeting took place on Tuesday 5 September 2017 and a motion passed adjourning matters to a further session held on Tuesday 10 October, following which the following elections/appointments were made:   
post

(** = committee)

Postholders

2017-18

 
 

** President

Hanisha Gurjar & Jennifer Hurrell (joint)

** Club Secretary

Paul Littlefair 

**Treasurer

Hanisha Gurjar & Jennifer Hurrell (joint)

** Membership Secretary

Vacant 

Juniors Secretary

Roger Lancaster 

Match Captains, 2017-18

 

Andrew Stone (1st, Russell)

Mace Carnochan (2nd) 

Cecil Sloan (3rd)

Paul Littlefair (Sharp)

Sanjay Vig (4th, u-140 k-o)

Pete Edwards & Geir Erik Nielsen (joint u-120 & u-120 k-o)

Christian Bland (Hertford & District)

Sanjay Vig (4 Nations Chess League)

Various (Junior 4NCL)

Webmaster 

Geir Erik Nielsen 

Equipment Curator

Mace Carnochan 

** Other Committee members

(up to 5 additional positions)

Roger Lancaster, Cecil Sloan, Sanjay Vig, Darrell Pigott, Simon Charles 

Auditor

Philip Abbott 
KEITH ARKELL SIMULTANEOUS
The English Chess Federation's "Chess Master @ The Local" programme arrived at The Happy Hour pub in Eastbury Road, Watford, on 25 August 2016   
Local juniors turned out in numbers to take on grandmaster Keith Arkell, along with some adult members of the club and rather more members of the general public who had been attracted by the publicity.   In all, 20 people played against Keith (a couple more than once!) but only former Zimbabwean international Ernest Karumazondo prevailed.
For more information, go to this Watford Observer article 
ABERYSTWTYH 2014 - FIDE AMENDS RULES
Those interested in the history of this dispute can find details at http://watfordchessclub.org/index.php/c ... cle?id=118  The FIDE Laws of Chess now include a new law 10.2 reading "The total score of any game can never exceed the maximum score normally given for the game ..." which covers this point.     
ILLEGAL MOVES - SUMMARY OF 2018 LAWS
The 2018 Laws of Chess, which became effective on 1 January,  made several changes regarding illegal moves.   The 2018 Laws will be applied in competitive games unless the event organisers have notified in advance departures from these Laws. .   Although arbiters do have discretion to be lenient over interpretation of the Laws where young and inexperienced players are involved, it is best not to rely on this – and, of course, arbiters are unlikely to use this discretion in the case of more experienced juniors.
 First important change is that there are now four types of illegal move – (1) the original one of making an incorrect move (including taking the opponent's king – it is important to remember that this is always an illegal move!) or leaving the king in check (2) promoting a pawn and pressing one's clock without first replacing (and a upturned rook is not an acceptable substitute for a queen!) the pawn  (3) moving (including castling) using both hands and (4) starting the opponent's clock without moving.
 In the case of (1) and (3) it is always possible to remedy the illegal move as long as one does so before pressing one's clock.   Take the example of someone who uses both hands to castle and then, before pressing his or her clock, realises the mistake.   The move has not been completed (because the clock has not been pressed) so the player has the right to "uncastle" and then castle again, this time using one hand only, before pressing the clock.  
Second important change is that, in blitz and rapidplay games, one completed illegal move was sufficient to lose the game, except in the case where there was insufficient mating material.    This no longer applies. The new situation is that blitz and rapidplay rules have been brought into line with standard play rules with a first completed illegal move incurring only a time penalty.    A second such move will however lose the game except in the case of insufficient mating material.
Where one action constitutes two types of illegality – for example, a player whose king is in check castles using both hands – this shall count only as one illegal move.    And, as earlier, if the player in question recognises this before pressing his clock, he can remedy any illegality before pressing his clock.   In this particular situation, having touched both pieces, the player would be required to make any legal king move or any legal rook move depending on which the arbiter deemed he touched first.
Much of the above refers to the procedure to be followed when an illegal move is made or completed.   It is not particularly straightforward (and that's probably an under-statement) for inexperienced or young players.   My strong advice is to take care to avoid making illegal moves in the first place.    Even then, all players should have some awareness of the Laws to cater for the situation where an opponent makes or completes an illegal move.   
 In summary, if an opponent completes an illegal move, the solution is simple – stop your clock and call for the arbiter.   If the opponent makes an illegal move, but does not complete it by pressing his or her clock, wait to see what he or she does next!