New ECF grades have been published 
Bournemouth - Roshan, Kian do well - Chris now in action
The 2016 British championships in Bournemouth have begun with 10 Watford players taking part.   Nine were juniors competing in the under-8 and under-9 championships (three doubled up, so Watford had six representatives in each) and our leading players finished joint 3rd (Roshan) in the under-8's and joint 2nd (Kian) in the under-9's.  Fuller details in the left-hand column below.    Gratifyingly, no Watford junior scored fewer than 2 points out of six.
Watford's FIDE master Chris Duncan (FIDE rating 2292) is currently contesting the British championship itself.   In his first game on Monday, Chris was black against Jeremy Menadue (2034) from Cornwall, drawing in 35 moves in a position where it seemed he was about to go a pawn behind.  He now plays White against 2000-rated Welshman Nigel Ralphs 
The championships programme can be downloaded at http://www.britishchesschampionships.co.uk/ and the results website is http://chess-results.com/tnr231040.aspx?lan=1&art=0&turdet=YES&flag=30&wi=821
British under-9 championship - final report
After winning his first 5 games, Kian lost the last - a result which relegated him to 2nd place jointly with 4 others.   Dhruv meantime had remained unbeaten but conceded 3 draws, a result which saw him placed joint 7th.   Parth won 4, drew 2, and finished joint 12th.  Roshan had a tough draw, meeting 3 of the 10 top-placed players, but still finished over the 50% mark.   And Maanav won an all-Watford last-round clash with Theo, thus edging ahead of his club-mate.  
Scores after round 6:  Kian 5; Dhruv 4.5; Parth 4; Roshan 3.5;  Maanav 3;  Theo 2.  85 competitors.   Winner was James Merriman from Petts Wood.
British under-8 championship - final report
After the final round, the six Watford boys had together amassed 18.5 points - just over 50%. Stand-out performer was Roshan, who won 5 games and lost only against the ECF119 top seed, finishing 3rd= with two others.
Scores after round 6:  Roshan 5;  Ethan, Maanav & Parth 3;  Kyan 2.5;  Timo 2.   First two places were taken by junior internationals Shreyas Royal (6) and Shlok Verma (5.5), both from Kent.   71 competitors.
ECF "Chess Master @ The Local" programme
As part of this programme, which is more fully described at http://www.englishchess.org.uk/page/3/, we are hoping to have a grandmaster simultaneous display at The Happy Hour on Thursday evening, 25 August.  Details to follow.
Coaching for juniors
We're now looking for club members willing and able to give talks (with large demonstration board available) on any aspect of chess to our juniors - preferred start time 7.0 with 30 minutes duration but flexible to accommodate speakers. Choice of three levels - basic (mainly targeted at juniors below ECF50), intermediate (ECF50-100) or advanced (ECF100+) at speaker's choice
Tuesday evening, 26 July, from 7.15 onwards sees Paul Littlefair on the theme, "You pin, you win!"
Tuesday evening, 2 August, from 6.45 onwards features a simultaneous display by Jerry Rudge

 Watford is now assembling its teams (it expects to field three) for the 2016-7 Junior 4 Nations Chess League, where the first weekend will take place on 1-2 October at De Vere Harben, Newport Pagnell.   The two later weekends will be 21-22 January and 22-23 April at St Johns Hotel, Solihull.  Interested club members should contact the juniors secretary.
Watford 1 finished second (7/10 points - 2 wins, 3 draws, no losses) in Division 1 of the final 2015-6 J4NCL weekend in West Bromwich on 12-13 March.  Full results (except matches where our teams beat reserve sides) appear in our 'Latest Results' feature.
Fifteen Watford juniors, accompanied by parents, took part with Watford 2 and Watford 3 both competing in Division 2. Website http://www.watfordchessclub.org/index.php/junior-4-nations-weekend contains more background on J4NCL including previous weekends results.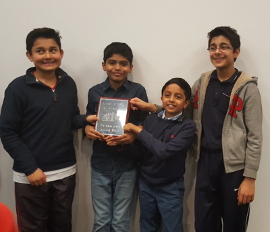 March 2016:  Watford 1 team (L to R, Aman, Jeff, Dhruv, Avi) with the J4NCL runners-

up trophy
Club championship 2015-6
Final placings (leading scores only):  Andrew Stone 6.5/7;  Mace Carnochan 5.5;  Mike Bouce, Jerry Rudge 5;  Jeff Tomy, Samir Yassir 4.5;  Neil Dunlop, Sanjay Vig 4.
News in brief:
Andrew Stone scores 6/9 (+3 =6 -0) in the Eastman Open, Ghent, Belgium, including a draw against a 2467-rated GM
2017 British championships, on new abbreviated basis, to be held in Llandudno, North Wales
Kian Shah and Jeff Tomy win UK Chess Challenge under-9 gigafinal on 15 July, both qualify for terafinal.  Maanav Nagda and Timo Birke (u-7s), Roshan Gurjar (u-8s), Karan Bhagat and Conrad Dickinson (u-10s) all qualify for Plate final.
Watford first-teamer Jerry Rudge will give a simultaneous display against club juniors on 2 August
Brothers Avi and Aman Gogna play for England B in the 2016 Glorney Gilbert International - Avi scores 50% on board 2 but Aman has a hard few days on board 3 - both brothers were well under age in the u-14 event!
Watford 2 team captain Mace Carnochan scores 8-0 in a simultaneous display against selected club juniors on 5 July with Simon Charles scoring 5-0 against all-comers
Congratulations to Watford's Barry David who finished 6th on countback in the World Deaf Chess Championship, held in Yerevan, Armenia, in May 2016. Barry's score of 5.5/9 saw him finish in a tie for 4th-9th out of the 29 strong field. He was also Western Europe's top finisher in the tournament. Full result at http://chessdeaf.org/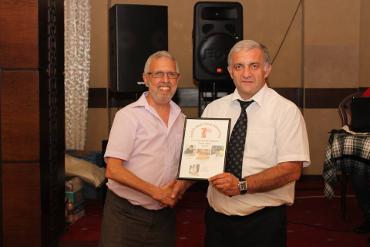 Barry, left, handing a gift to the President of Armenia Deaf Sport, Andrakin Grigoryan
For news of some earlier junior successes, read the Watford Observer articles  here and  here
Upcoming Congresses (mainly local) 
British championships, Bournemouth, 23 July - 6 August:  See http://www.britishchesschampionships.co.uk/ for full details of multiple events taking pace
Golders Green, 6 August:  Six round FIDE rapidplay, open, u-170, u-145 and u-120 sections
Hampstead, 13-14 August:  Five round FIDE-rated (u-2200 & u-1900) and ECF-graded (u-135) sections
Richmond rapidplay, 14 August:  Six round rapidplay, open, u-160 and u-120 sections
Jessie Gilbert International, Coulsdon, 16-28 August:  Multiple events, see website
Gibraltar International (juniors), 18-23 August: http://www.englishchess.org.uk/wp-content/uploads/2015/01/P2094-Junior-Chess-Flyer-ENGLISH-2.pdf is a flyer with full information
Thanet (Kent), 19-21 August:  Five rounds.  Open, u-170, u-140 and u-110 sections.
UK Chess Challenge terafinal, 20-21 August:  Open to qualified juniors only
Docklands rapidplay, 20 August:  Six round rapidplay, two sections, u-171 and u-130
Berks & Bucks, 27-29 August:  Six rounds, graded sections, with top two sections FIDE-rated
Godalming (Surrey) junior rapidplay, 3 September:  Five round rapidplay, u-18, u-13. u-11, u-10 & u-9 sections
NB: The above list contains only selected events from the ECF Calendar which also contains more information on the events listed above
Junior club membership
Pressure of numbers means the junior waiting list has been closed since the end of January.  However, it has now reopened and will remain open until the end of July.   If you wish your child to be considered for membership, you can use the "Contact us" facility to let us know and we will send further information.   However, it is fair to add that the number of applications is likely to far exceed the number of memberships available.
As well as its Tuesday clubnights, the club offers two-hour (6-8) sessions on Sunday evenings at The Happy Hour pub in Eastbury Road which are free and open to non-member juniors.   You can just turn up.   At least one adult member of Watford Chess Club is always present to supervise matters.
 October 2015: Watford Juniors 2 (L to R, Jacob, Kian, Roshan, Theo) await their next J4NCL opponents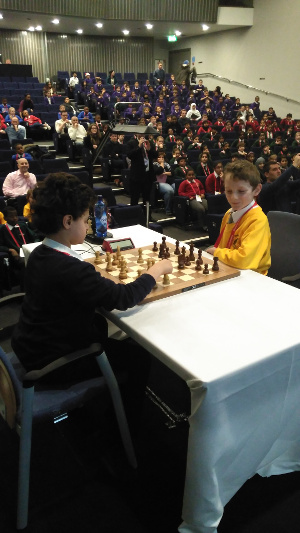 London Chess Classic, December 2015:  Theo Hurrell (right) in the Olympia Auditorium with chess coach Chris Duncan in background, left
Club committee and officers
post

(** = committee)

Postholder

2014-15 

 

Postholder

2015-16

 
 
 

** President

Mike Boyce

Mike Boyce

** Club Secretary

Vacant

Paul Littlefair

**Treasurer

David Healey

Jerry Rudge

** Membership Secretary

Roger Lancaster

Vacant

Juniors Secretary

Roger Lancaster

Roger Lancaster 

Tournament Secretary

Mike Boyce

Mike Boyce

Match Captains

Andrew Stone (1st, Russell)

Mace Carnochan (2nd)

Cecil Sloan (3rd, Sharp, H&D)

Paul Littlefair (4th, u140ko)

Ken Jardine (5th, u120ko, u120

Pete Edwards (6th,)

Andrew Stone (1st, Russell)

Mace Carnochan (2nd) 

Cecil Sloan (3rd, Sharp, H&D)

Sanjay Vig (4th, u-140 k-o)

Pete Edwards (5th, u-120)

Webmaster

Vacant

Geir Erik Nielsen

Equipment Curator

Mace Carnochan

Mace Carnochan

** Other Committee members

(up to 5 additional positions)

Roger Kearns,

Jerry Rudge

Roger Kearns,

Roger Lancaster

3 vacancies

Auditor

Philip Abbott

Philip Abbott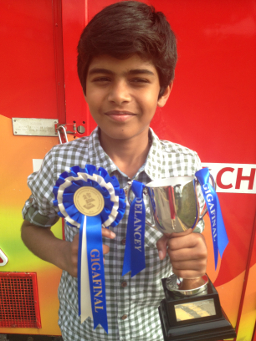 Jeff Tomy with trophy after his gigafinal win, July 2016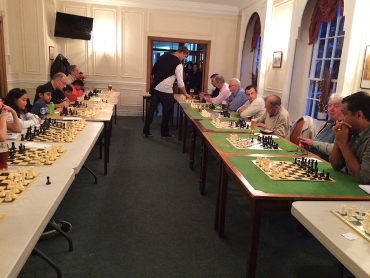 Club champion Andrew Stone takes on 25 opponents in his marathon simultaneous display on 15 September
Club website
Watford Chess Club's committee wishes to express its gratitude to Geir Erik Nielsen for contributing his expertise to this website.  It is now available on a "read only" basis only but it is planned to make the site interactive for club members.  
The website includes a "Contact us" link, enabling outsiders to contact the club by email.   Enquirers should however expect a slight delay in response times as the inbox is not monitored in real time.
However, if you simply require basic information about Watford Chess Club, such as opening times and annual subscriptions, you may find your questions answered by using the "About" link at the top of this page.  We suggest you try this before using the "Contact Us" link.  
Aberystwyth 2014 - FIDE says, "Don't do it again!"
Those interested in the full history of this dispute can find full details at http://watfordchessclub.org/index.php/c ... cle?id=118  
Interim Child Protection Policy
Club members are asked to note the addition, effective 2 November 2015, of an extra sentence reading "The Interim Child Protection Policy shall be interpreted as applying to vulnerable adults as well as to children." 

  Hertfordshire Chess League
  Watford's first team has retained the Division 1 title with seven wins and one draw from its 10 matches. Match captain Andrew Stone scored +6 =4 -0 for an ECF230 performance while  Ed Holland (+4 =2 -1) and Jeremy Davies (+5 =1 -0) both notched up ECF218 results.
| | | | | | |
| --- | --- | --- | --- | --- | --- |
| DIVISION 1 | Won | Drew | Lost | Game points | Match points |
| Watford  | 7 | 1 | 2 | 30.5 | 15 |
| Little Heath  | 6 | 1 | 3 | 28.5 | 13 |
| Hemel Hempstead | 5 | 1 | 4 | 27 | 11 |
| Royston | 5 | 0 | 5 | 22.5 | 10 |
| Hertford | 4 | 1 | 5 | 22 | 9 |
| Bishops Stortford | 1 | 0 | 9 | 17.5 | 2 |
Watford 2 (Division 2), Watford 3 (Division 3), Watford 4 (Division 5) and Watford 5 (Division 7) all finished in mid-table.
An under-160 team competed in the separate Hertford & District League and finished third in the southern section while an under-120 team finished second in its competition.