Watford retain Hertfordshire League title
Watford's first team has retained the Hertfordshire League title with 7 wins and one draw from its 10 matches.  This is the club's fourth win in the past six years, having finished as runners-up on the other two occasions.
Demonstration board
The club is grateful to committee member Roger Kearns who has donated a demonstration board and set for use in coaching and similar activities.
Graded rapidplay tournament, 31 May
We will hold a 5-round 20-minute tournament on Tuesday, 31 May, with all club members (and juniors on the club's waiting list subject to their being ECF-registered) invited to take part.   No entry fee, no prizes, just an opportunity for competitive practice with rapidplay gradings at stake!
Please arrive at the club (and report to Roger Lancaster) by 6.40 in order to be included in the first round draw.  Anyone unable to arrive by 6.40 is welcome to take a half-point first-round bye but should arrive by 7.15 to guarantee being paired for round 2.
Eleven entries expected so far, 7 juniors and 4 adults headed by an FM.

  Hertfordshire Chess League
 Watford's first team has retained the Division 1 title with seven wins and one draw from its 10 matches. Match captain Andrew Stone scored +6 =4 -0 for an ECF230 performance while  Ed Holland (+4 =2 -1) and Jeremy Davies (+5 =1 -0) both notched up ECF218 results.
In Division 2, Watford 2 has (subject to revision arising from late results) five wins, two draws and five losses. l
eaving it in mid-table.
Watford 3 has (again subject to revision) four wins, three draws and five losses in Division 3, leaving it too in mid-table.
This team also forms the backbone of our u-160 team in the separate Hertford & District League, which finished the season third (+2 =4 -2) in the southern section.  
Watford 4, in the fifth division, has four wins, one draw and five losses, resulting in yet another mid-table finish.  The same may be said, in Division 7, of Watford 5 with five wins, one draw and four losses.    Broadly the same group of players forms our under-120 side which has seven wins, two draws and three losses, leaving it placed either 2nd or 3rd depending on other teams' results.

   Four of the five Division 4 weekends of the 2016-7 4NCL will be played at De Vere Wokefield Park, near Reading,  Last year's link with Telford isn't entirely broken, however, as that's the venue for the fifth weekend!
 In the past, Watford players have probably been deterred by the travel involved and current indications are of insufficient interest to sustain a team although we will keep the matter under review.
For clarification, this is entirely different to the Junior 4NCL and takes place at different weekends.
Watford 1 finished second (7/10 points - 2 wins, 3 draws, no losses) in Division 1 of the final 2015-6 Junior 4 Nations Chess League weekend in West Bromwich on 12-13 March.  Full results (except matches where our teams beat reserve sides) appear in our 'Latest Results' feature.
Fifteen Watford juniors, accompanied by parents, took part with Watford 2 and Watford 3 both competing in Division 2. Website http://www.watfordchessclub.org/index.php/junior-4-nations-weekend contains more background on J4NCL including previous weekends results.    The 2016-17 weekends are likely to be in October, November and January, dates and venues yet to be announced although it's a fair bet the first will be 1-2 October in Daventry.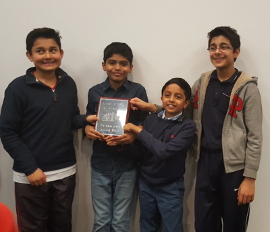 Watford 1 team (L to R, Aman, Jeff, Dhruv, Avi) with the J4NCL runners-

up trophy
News in brief:
Price Cup, final round pairings:  Stone (5.5) v Charles (3.5), Carnochan (5) v Boyce (4.5), Dunlop (4) v Rudge (4), Yassir (3.5) v Nelson (3.5), Sloan (3.5) v Tomy (3.5), Vig (3) v Han (3), Edwards (3) v Shah (2.5),  Mehta (2.5) v Rathey (2.5), Healey (2) v Hsu (2), Vanguelova (1) v Lee (1)
Club president Mike Boyce will give a simultaneous display against selected juniors on 14 June
Conrad Dickinson and Karan Bhagat each scored 3/3 for Herts in the inter-counties u-11 final, 7 May
Golders Green u-145 FIDE-rated rapidplay, 7 May:  Kian Shah scores 4/6
Barnet junior, 24 April:  Harish Muthiah 4/6 in under-7s; Roshan Gurjar and Theo Hurrell both 4/6 in under-9s; Kian Shah 5/6 (joint 2nd) in under-11s; Divyesh Bansal 5/6 (joint winner) in under-14s.
For news of some earlier junior successes, read the Watford Observer articles  here and  here
Upcoming Congresses (local only) 
Gatwick, 27-30 May:  Seven round FIDE-rated Swiss events.   Open, u-2050, u-1850 and u-1650 sections.
Potters Bar, 28-30 May:  Six round FIDE-rated Swiss events (Open and u-1800) and ECF-rated u-120 and u-100
Poplar, 28 May:  Six round rapidplay, u-171 and u-130 sections only
Potters Bar junior, 3 June:  Five or six round rapidplay - 4 sections, 120+, u-120, u-100, ungraded
Golders Green rapidplay, 4 June:  Six round rapidplay.  Open, u-170, u-145 and u-120 sections.
Newmarket (Suffolk), 4-5 June:  Five round Swiss, open, u-170 and u-130 sections
Potter Bar rapidplay, 4 June:  Six round Swiss, grading limits yet to be decided
Hampstead, 11-12 June:  Five round Swiss.  U-2200 & u-1900 (FIDE-rated) and u-135 (ECF) sections.
Maidenhead junior rapidplay, 11 June:  Five-round Swiss.  Two events - under-110 and beginners
Richmond rapidplay, 12 June:  Six round Swiss.  Three sections - open, u-160 and u-120
Newham rapidplay, 18 June:  Six round Swiss.   Four sections - open, u-160, u-120 and u-80
Poplar, 25 June:  Six round rapidplay, u-171 and u-130 sections only
Hampstead, 2-3 July:  Five round Swiss.  U-2200 & u-1900 (FIDE-rated) and u-135 (ECF) sections.
NB: The above list contains only selected events from the ECF Calendar which also contains more information on the events listed above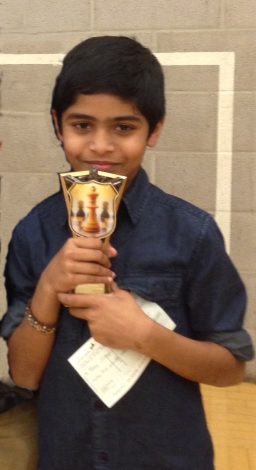 Jeff Tomy with the South of England U-9 trophy which he won on tie-break from Kian Shah, both finishing on 5.5/6
Interim Child Protection Policy
Club members are asked to note the addition, effective 2 November 2015, of an extra sentence reading "The Interim Child Protection Policy shall be interpreted as applying to vulnerable adults as well as to children."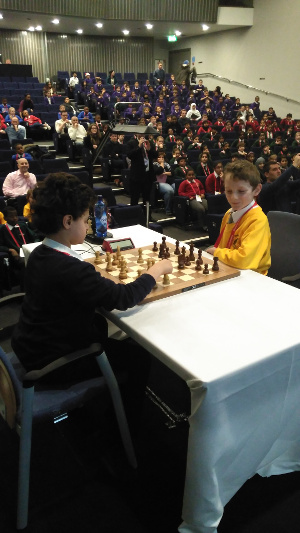 London Chess Classic, December 2015:  Theo Hurrell (right) in the Olympia Auditorium with chess coach Chris Duncan in background, left
Junior club membership
Junior club membership, added to the number of children on the club waiting list, currently comes to a total of just over 50 children.   This is already more than we can comfortably handle.   Accordingly, the waiting list is now closed while we review the situation.
The club does however offer two-hour (6-8) sessions on Sunday evenings at The Happy Hour pub which are free and open to non-member juniors.   You can just turn up.   At least one adult member of Watford Chess Club will be present to supervise matters.
Club committee and officers
post

(** = committee)

Postholder

2014-15 

 

Postholder

2015-16

 
 
 

** President

Mike Boyce

Mike Boyce

** Club Secretary

Vacant

Paul Littlefair

**Treasurer

David Healey

Jerry Rudge

** Membership Secretary

Roger Lancaster

Vacant

Juniors Secretary

Roger Lancaster

Roger Lancaster 

Tournament Secretary

Mike Boyce

Mike Boyce

Match Captains

Andrew Stone (1st, Russell)

Mace Carnochan (2nd)

Cecil Sloan (3rd, Sharp, H&D)

Paul Littlefair (4th, u140ko)

Ken Jardine (5th, u120ko, u120

Pete Edwards (6th,)

Andrew Stone (1st, Russell)

Mace Carnochan (2nd) 

Cecil Sloan (3rd, Sharp, H&D)

Sanjay Vig (4th, u-140 k-o)

Pete Edwards (5th, u-120)

Webmaster

Vacant

Geir Erik Nielsen

Equipment Curator

Mace Carnochan

Mace Carnochan

** Other Committee members

(up to 5 additional positions)

Roger Kearns,

Jerry Rudge

Roger Kearns,

Roger Lancaster

3 vacancies

Auditor

Philip Abbott

Philip Abbott
Club website
Watford Chess Club's committee wishes to express its gratitude to Geir Erik Nielsen for contributing his expertise to this website.  It is now available on a "read only" basis only but it is planned to make the site interactive for club members.  
The website includes a "Contact us" link, enabling outsiders to contact the club by email.   Enquirers should however expect a slight delay in response times as the inbox is not monitored in real time.
However, if you simply require basic information about Watford Chess Club, such as opening times and annual subscriptions, you may find your questions answered by using the "About" link at the top of this page.  We suggest you try this before using the "Contact Us" link.  
 October 2015: Watford Juniors 2 (L to R, Jacob, Kian, Roshan, Theo) await their next J4NCL opponents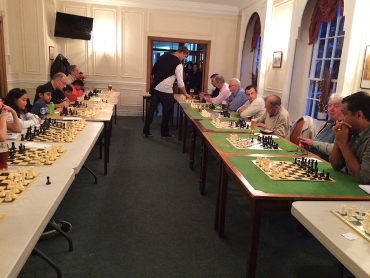 Club champion Andrew Stone takes on 25 opponents in his marathon simultaneous display on 15 September
FIDE tells ECF, "Don't do it again!"
A top FIDE official has written to the English Chess Federation, requesting that it avoid mistakes made at Aberystwyth in 2014.  The minutes of the FIDE Arbiters Commission held in Abu Dhabi in September 2015, and now published, record that:
"In the view of the Commission the main problem is that for the game where the incident happen, half a point was given to one player and a full point to the other player. Bharat Singh pointed out that a result of ½ - 1 cannot be accepted by FIDE.

"Chairman Takis Nikolopoulos proposed to write a letter to the English Chess Federation pointing out that such results should be avoided in the future.

"Ruben Stewart (sic!) pointed out that the event was not FIDE rated and in fact such results do not exist in FIDE rated tournaments of the English Chess Federation.

"The Arbiters' Commission after discussion agreed that according to the FIDE Laws of Chess the decision of the arbiters and the Chief Arbiter had been correct, but the applied by the Tournament manager result ½-1 does not exist in the FIDE Laws of Chess.

"However, as there was no intention by the English Chess Federation to send the event to FIDE for rating, they could follow only internal regulations and therefore there is no reason to penalise anybody. 
Readers may recall that the arbiters' original draw decision, which everyone bar the ECF agreed was correct, was overruled by an ECF officer (identified below) in controversial circumstances.  The issue of the so-called 'internal regulations' is one to which we may return later.
The Abu Dhabi meeting was attended by Alex Holowczak, ECF Home Director but then under suspension (a suspension retrospectively lifted and annulled as wrong) for a fortnight and consequently standing in as FIDE Delegate instead.  In his report, Alex included the following paragraph: 
"The Rad Kadengal case was considered, and I was not able to defend Kevin Staveley on behalf of the Organisers due to my ECF suspension.  This notwithstanding, there was much opposition from everywhere about awarding 1-1/2 in a game.  As the condemnation ground to a close, I noted that Kevin accepted that this was wrong, had "learnt his lesson", and that the silver lining was that the player won the British Under 8s this year.  The meeting ended on that cheery note."
Naturally, you will not read this on the version published on the ECF website.  Shortly after its appearance on 7 October, horrified ECF officers replaced it with a sanitised version omitting the paragraph cited above.  However, those wanting the uncensored version of Alex's report can find it on the ECForum - that's the independent chess forum, not the alternative 'official' one operated by the ECF.
And the history of the dispute is at http://watfordchessclub.org/index.php/c ... cle?id=118