At ECF AGM on 13 October - see foot of left-hand column - Adrian Elwin elected Home Director, superseding Alex Holowczak who becomes Junior Director, other directors re-elected
Watford team captains are asked to check their fixtures appear correctly in our events calendar
Watford 4NCL teams seeking more players, adult or junior, ahead of 27 October initial registration date
CLUB NIGHTS
The club meets on Monday evenings (6.15 - 10.45) at West Herts Sports Club, 8 Park Avenue, Watford WD18 7HP.   It is open on public holidays except 24 and 31 December but this year will also be closed on 5 November.
Chess is played in the Function Room although members and visitors have access to the separate and comfortable lounge bar area - as well as alcoholic beverages, the bar serves tea, coffee, soft drinks and a limited range of snacks.   Juniors have priority during the first 75 minutes.   
There is usually ample free parking on Mondays, but less so when cricket matches are being played.   
Intending new members of all levels and abilities (with the obvious proviso that they know how to play chess) are welcome.  Club policy is that newcomers are allowed three visits as guests to sample the atmosphere and decide whether they wish to join the club - or, in the case of juniors, the junior waiting list.  (Juniors on the club waiting list are able to continue as guests).
Sunday evening sessions for juniors at Croxley have ended.

HERTFORDSHIRE CHESS LEAGUE
The 2018-19 competition has now begun.
Watford, which headed the Hertfordshire League for the previous five years, ran four teams in the main section of the 2017-18 league (in Divisions 1, 2, 3 and 4 respectively) and a fifth team in the under-120 league.    
By way of change, Watford's first team (14 pts) could only finish third behind Little Heath (17) and Hemel Hempstead (15).
None of the other Watford teams were promoted or relegated, each finishing in mid-table.   There's a separate under-120 league which the Watford team won comfortably.  
As in 2016-17, the Watford team in the separate Hertford & District League (under-160 players only) was an all-junior side - except for one match where adults had to help out.   Our team won three and drew one of its 8 matches.
New players interested in representing the club in 2018-19 should get in touch!
Go to the foot of this column for league rule changes applying for 2018-19:

JUNIOR 4 NATIONS CHESS LEAGUE
An unexpected sequence of events restricted Watford to just one team for the first J4NCL weekend of 29-30 September but we hope to be back to full strength (2 or 3 teams) for the weekends of 19-20 January (Solihull) and 2-3 March (Daventry).   On the plus side, our September team (Alan, Aman, Avi, Theo, Sean, Avy) was strong enough to finish joint third in Division 2 - although the tie-break meant that the team missed out on a trophy.
Saturday saw a 3-1 loss to Warwickshire "B", a 3-1 win against Barnet Knights 5 and a 2-2 draw against Manchester "B".    Sunday began with a 3-1 win against Barnet Knights 3  followed by the same result against another of the Warwickshire teams, resulting in an overall +3 =1 -1 scoreline across the 5 rounds.

Watford's Saturday J4NCL team - from back to front, Alan, Theo, Sean, Avy
To maintain its elite status, Division 1 is restricted to teams with average strength ELO1400 (or ECF standardplay equivalent) while Division 2 is open to teams with average strength ECF85 (whether standardplay or rapidplay).  
To meet FIDE requirements, Division 1 games will be played with a longer time-control, i.e. all moves in 80 minutes but with 10 second increments from move 1.   Saturday's games will commence 10.0, 13.30 and 17.0 with Sunday's games at 10.0 and 13.30.  Coaching sessions have been retained, aligned with the Division 2 timetable, but Division 1 players will be unable to attend these unless their games finish early.  These rules appear on the 4NCL website.
More background on J4NCL appears at http://www.watfordchessclub.org/index.php/junior-4-nations-weekend
PLAY AN AI (ARTIFICIAL INTELLIGENCE)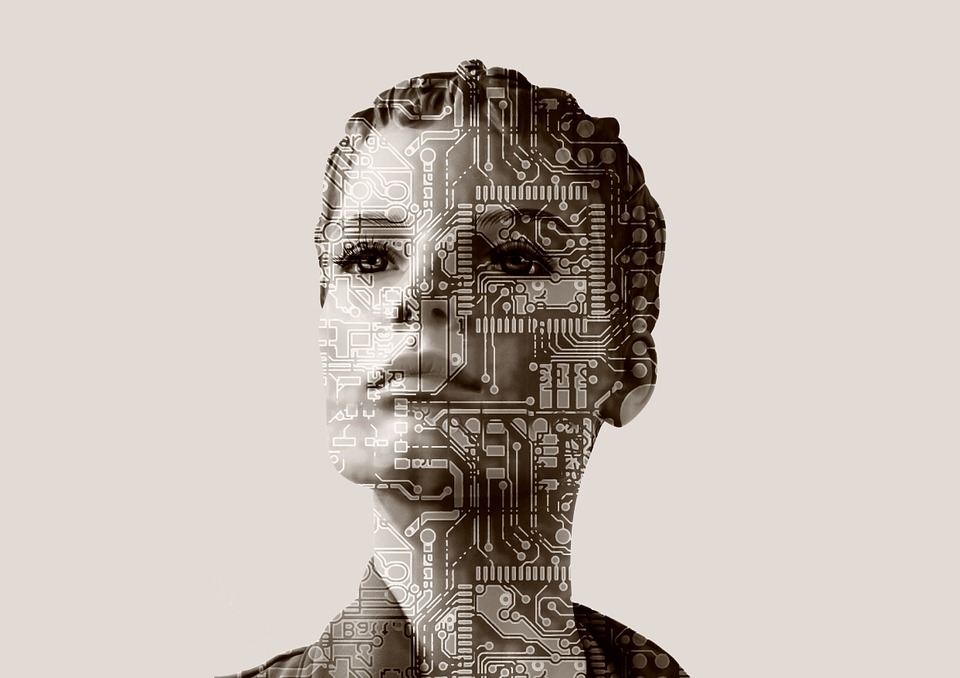 Tired of playing the boring old computers that always beat you or play so weirdly you can't understand what is going on, asks webmaster Geir Erik Nielsen? Read our article on Artificial Intelligence and how you can install it at home
Also embedded in the updated article is now a video of how to get the best of Arena and Leela at home.
As a teaser for it all, and as an incredibly instructive game, here is how Leela deals with the Benoni
1st WATFORD JUNIOR (u-12) RAPIDPLAY, 30 JULY
Results as follows:   1 Ivan Chetverikov (£100 + £25 u-10 prize) 5.5/6; 2 Emily Maton (£70) 5; 3= Kyrylo Tokar, Max Yau (£20 each) 4.5; 5= Lettie Ganyushin, Tuhin Mitra, Ethan Yau 4; 8= Avyukt Dasgupta, Theo Hurrell, Dev Kotecha, Olivia Lisowski 3.5; 12= Harshini Mahesh, Elias Ruzhansky, Derek Yuan (these three shared £25 u-8 prize), Seb George 3;  16= Aarav Chavan, Parth Malhotra 2.5; 18= Daniel Ayoola, Timo Birke, Ishaan Chadha, Zara Dhorne, Oscar Kong, Rory Lynn 2; 24 Rohan Tathare 1.5; 25= Dhruv Kotecha, Thenral Manimaran 1.   Click item in 'Policies and Procedures' menu or go to http://chess-results.com/tnr373197.aspx?lan=1  for cross-table.
The 2nd Watford Junior (u-12) Rapidplay is scheduled for Monday 29 July 2019 although it is entirely possible that an extra event will be held meantime, in which case the event on 29 July will become the third in the series.
CLUB 10-MINUTE TOURNAMENT (UNGRADED) RESULT, 17 SEPTEMBER
1 Andrew Stone 4.5/5 (after playoff); 2 Michael Lubarto 4.5;  3 Jerry Rudge 4;  4= Ernest Karumazondo,  Mace Carnochan, Paul Littlefair (minor trophy winner), Omowale Nelson 3;  8= Nick Papathanasopoulos, Geir Erik Nielsen, Cecil Sloan, Nicky Cleaver 2; 12= Darrell Pigott, Pete Edwards, David Healey 1.   
CHARITY WALK, SATURDAY 15 SEPTEMBER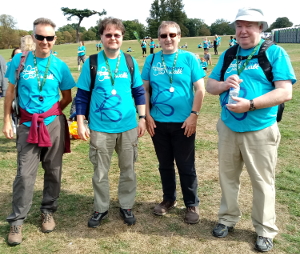 Darrell, Geir, Phil and Cecil after the walk
Club members and others raised £610 (plus Gift Aid contributions) to support Alzheimer's Society on Saturday 15 September when taking a 9 km walk through Cassiobury Park and Whippendell Woods.   "Relive" the walk by going to https://www.relive.cc/view/g24778038593
You can still contribute to the fundraising by going to https://www.justgiving.com/fundraising/mw372850.  
JUNIOR WAITING LIST / TRAINING
The junior waiting list has now reopened and, to join the waiting list, you should use the "Contact us" facility to notify a child's name, gender, and year and month of birth.
Sunday evening training sessions at the Coach & Horses have now ended with the last session having taken place 1 July.
CLUB NEWS IN BRIEF:
Avy Dasgupta 4/6 at St Albans LJCC u-10 qualifier, 7 October
Club championship (Price Cup) first round draw now appears at http://chess-results.com/tnr382758.aspx?lan=1
Watford retained Cheshire Board after an 8.5-8.5 draw with St Albans, 24 September
Andrew Stone retained (tied 1st) the Herts Closed Championship, 22/23 September, with 2.5/3
The club's annual 10-minute tournament on 17 September was won by Andrew Stone in a play-off with Michael Luberto (pic below) after each finished on 4.5/5
Jeff Tomy 4.5/6 (jt 4th) in UK Chess Challenge u-12 terafinal 15-16 September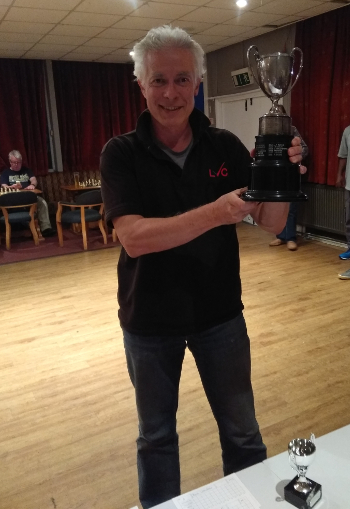 Club champion Mace Carnochan with the Price Cup
Mace Carnochan conceded just one draw in 14 games while undertaking his simultaneous display on 3 September
Anton Pavlov 4/6 in CCS LJCC u-10 qualifier, 1 September
Andrew Stone scored 4/6 (jt 3rd) at the Mindsports Olympiad Chess 960 (aka Fischer Random) tournament, 26 August, en route defeating top-ranked English player Matthew Sadler.   Earlier in the week, Andrew scored 5/6 (jt 2nd) in the Mindsports Rapidplay.
Club rapidplay, 13 August, results at http://chess-results.com/tnr374277.aspx?lan=1
Watford Junior (u-12) Rapidplay, 30 July, results on this site and at http://chess-results.com/tnr373197.aspx?lan=1
UPCOMING CONGRESSES (MAINLY LOCAL):
Until this is updated, please refer to the ECF Calendar 

4 NATIONS CHESS LEAGUE - DIVISION 4
After an inaugural season, when Watford finished in mid-table, to familiarise ourselves with 4NCL, the club has entered a second team in Division 4 (there is a total of 39 teams in this division - see table at foot of this column) for 2018-19 to enable our first team to push for promotion to Division 3. 
We currently have a reasonably-sized squad but there is room for three or four more.   With that in mind, the club is looking for more 4NCL players both from among existing members of the club - adults or juniors - and from any new members who may be interested.   (You can use the 'Contact us' facility on this webpage to get in touch).
This season, 2018-19, will see four 4NCL weekends taking place at Daventry, Northants, and one at Bedford.  All are within comfortable driving distance of the Watford area.    
Main points to note are that it's one round each day, with the rate of play 40 moves in 100 minutes (plus 30 second increments from move 1) followed by the rest of the game in 50 minutes (again with 30 second increments). That means a 60-move game could conceivably take as long as 6 hours, far longer than local league chess.  
Starting times are 2.0 on the first day of a weekend, 1.0 on the middle day of a three-game weekend, and 11.0 on the final day with reserve games starting one hour later on each day.   All games are ECF-graded and FIDE-rated.
Go to http://www.4ncl.co.uk/ for more information, game scores appear at http://www.4ncl.co.uk/downloads.htm:
PRIVACY POLICY - FORMAL NOTICE
If you are a member of Watford Chess Club (the "Club") or a junior on the Club's waiting list, your personal data will be processed by the Club for the purposes of Club and membership administration and to facilitate your participation in club competitions and similar events.  For fuller information, click "Privacy Policy" link under "Policies and Procedures".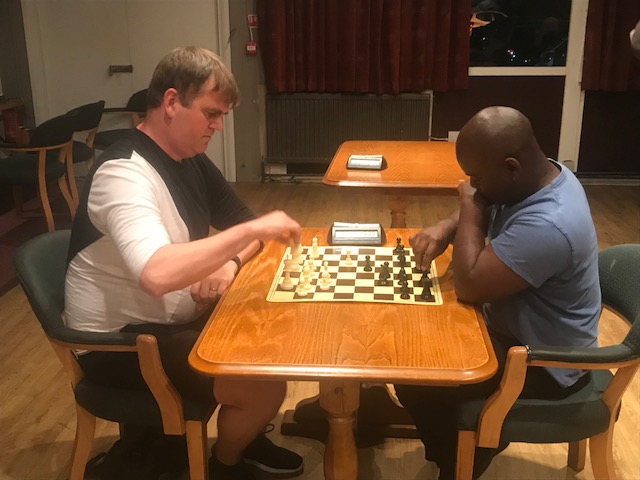 Andrew Stone and Michael Lubarto in blitz face-off on 17 September
SHORT BECOMES FIDE VP AFTER DVORKOVICH VOTED TOP DOG
The three-way race to succeed incumbent president Kirsan Ilyumzhinov included Georgios Makropoulos whose record as deputy president appeared to show him, until recently, as supportive of many of the more controversial decisions of his predecessor.    Also standing was English grandmaster Nigel Short - on a platform of, among much else, cleaning up FIDE - and former Russian deputy premier Arkady Dvorkovich also advocating change.   After an ill-tempered battle where the ECF appeared to favour first Short and then, due to the presence of Malcolm Pein on his ticket, Makropoulos, it all came down to the FIDE meeting at Batumi on 3 October.   There Short, apparently deciding he could not win, switched his support to Dvorkovich who consequently romped home.    Doubtless mindful of Short's support, Dvorkovich promptly appointed him as a FIDE vice-president.
The cartoon below - headed, with some lack of prescience, "Pein emerges top dog" - is courtesy of GM Kevin Spraggett's chess blog.   Have to say, it's not totally clear whether Nigel is being depicted as someone Malcolm has trodden on, being on the sole of his foot, or as something one tries to avoid treading on. 
ANNUAL GENERAL MEETING
The 2018 Annual General Meeting was held at West Herts at 7.45 on Monday 10 September. The agenda below omits various attachments sent by the club secretary.   There proved to be no contentious issues; club membership subscriptions kept at 2017-18 rates; new constitution adopted;  officers, secretaries and committee all elected as per agenda.
AGENDA
1.  Receive apologies for absence
2.  Approve minutes of September and October 2017 AGM
3.  Receive report from the President on the 2017-18 year, and to approve the Accounts for the financial year ending 31st July 2018
4.  Agree Club membership subscriptions for 2018-19
5.  Decide whether to adopt proposed new Constitution
6. Present trophies to winning individuals
7.  Elect Officers, Secretaries and Committee for 2018-19:
Post

(** = committee)

Incumbent

Nominations received for 2018-19

 
 
 

** President/**Treasurer (joint)

Hanisha Gurjar, Jennifer Hurrell

Hanisha Gurjar, Jennifer Hurrell

** Club Secretary

Paul Littlefair

Paul Littlefair

** Membership Secretary

vacant

 

Juniors Secretary (newly **)

Roger Lancaster

Roger Lancaster

Tournament Secretary

vacant

Andrew Stone 

Match Captains

Andrew Stone (1st, Russell)

Mace Carnochan (2nd)

Cecil Sloan (3rd)

Paul Littlefair (Sharp)

Sanjay Vig (4th ,u140ko)

Geir Erik Nielsen/Pete Edwards (u120,u120ko)

Christian Bland (H&D)

Andrew Stone (1st, Russell)

Ernest Karumazondo (2nd)

Cecil Sloan (3rd)

Paul Littlefair (Sharp)

Geir Erik Nielsen/Pete Edwards (4th )

Sanjay Vig (u120,u120ko)

Christian Bland (H&D)

Webmaster

Geir Erik Nielsen

Geir Erik Nielsen

Equipment Curator

vacant

Bradley Mead-Herbert

** Other Committee members

(up to 4, previously 5, additional positions)

Simon Charles

Roger Lancaster

Cecil Sloan

Sanjay Vig

Simon Charles

Bradley Mead-Herbert

Cecil Sloan    

Sanjay Vig

Auditor

Philip Abbott

Philip Abbott
 8.  Any Other Business  
Paul Littlefair
Secretary
ECF AGM ON SATURDAY 13 OCTOBER
The following is the text of an informative email sent by the elected representative of 'silver' ECF members to as many of their constituency as they were able to trace.
Dear Silver Members

This letter comes to you from Michael Farthing and John Reyes, the two silver member representatives on the ECF Council, which meets for the Annual General Meeting on Saturday 13 October. A shorter letter this time but with important questions. Please do read!

In general the AGM does not make financial decisions which are the responsibility of the April Finance Meeting. However, this year there is a request from the Board to revise the budget for the current year and the provisional plans for future years. There is an accompanying proposal for an increase in membership fees above that previously outlined in April. As your representatives this is an area where we expect to be guided by your reactions and, given the significance of the changes, we really do need you to tell us what you think about each of the planned areas of increased spending and the consequential likely effect on membership fees. There will be voices in many directions but it would help us immensely to know what you all think and adds to our credibility in the meeting if we have a goodly number responding.

Full papers are available at http://www.englishchess.org.uk/about/ec ... and-board/. Here is a summary of the main items on the agenda together with our current views. We have not followed the order of the agenda but deals with the potentially more divisive question of budget first.

Finances
The Board is proposing increases to the budget for the current (2018-9) year as follows:

International Spending £17,500
Women's Chess £10,000
Office support £12,000
Development Officer £10,000
Total £49,500

Of this £18500 would come from ECF trust funds and £26000 from ECF reserves (for this year, but the continuing costs in future years would be financed from membership fee increases). The remaining £5000 is envisaged to be self-financing by the Development Officer from increased membership and is partly a bonus payment that is dependent on this. The development officer's principle role would be to increase membership.

The increase in international spending essentially funds players to participate in elite tournaments including the Olympiad, the World Chess Championship cycle and Norm tournaments for titles. There is an element for elite development training and analytical support. £3000 of the increase is to support senior chess.

The women's chess budget would total £15000 (ie £10000 increase on the current £5000) Of this, £10000 would be used for support of women in tournament chess (the British Chess Championships and the English Women's Championship) and £5000 (the trust fund contribution) for social support of clubs and other organisations that have a programme for encouragement of women to participate in chess.

The £12000 extra for the office support is to cover an increase in staffing (£6000) and partly in anticipation of salary rises (£6000) to compensate for a fall in the level of salary being paid as compared to equivalent jobs elsewhere.

The anticipated increase in membership fees for silver members involves a rise from £23.50 this year to £27 next year (increased from the proposal of £25 presented at the last Finance Meeting) with a plan of a further increase the following year to £30. Full figures for other levels are available in Paper C29.13 on the ECF website.

We are purposely making no recommendation to you one way or the other. This is a matter of what each member believes is appropriate and we want to hear from you. It may also be that some of you will be in favour of some increases and not others. We will seek to have separate votes on different items of expenditure should this seem appropriate.

Elections
This year the President (Dominic Lawson), Chief Executive (Mike Truran), Chairman of Council (Mike Gunn), Chairman of the Governance Committee (Robert Stern), and one member of the Finance Committee (Ian Reynolds) are up for election and all the current incumbents are standing for re-election and are unopposed.

Traci Whitfield (Junior Chess) and Alex Holowczak (Home Director) have both decided to stand down from their roles. Alex has made this decision because of the high burden the post demands at a time of year when he has significant other commitments. With the encouragement of the Board and of Traci he has agreed to stand instead for Director of Junior Chess and is unopposed.

Chris Fegan was appointed to the Board as Director of Women's Chess earlier in the year and is now standing for election by the Council. There has been some criticism that he was given this role as a man when there were two women applicants for the post. The Board has stood by their decision that the best qualified person was appointed and in this election Chris is unopposed.

This leaves the only contested position that of Director of Home Chess, to replace Alex Holowczak. There are two candidates, Tim Wall and Adrian Elwin and their election addresses are on the website. We do not have great knowledge of either candidates, though both have been active in running chess activities. We shall be guided by any (reasoned) recommendations we receive from silver members and also by how the candidates present themselves at the meeting.

In ECF elections there is always an option to leave a particular post unfilled if none of the candidates convince Council representatives of their worth. This option has occasionally been taken by Council, but we would not vote this way unless we received a very strong response from you. [For the avoidance of doubt, an orchestrated submission of identical Emails will not constitute a strong response].

Other Items
We do not feel there are any other items of great significance. Full details can be found on the ECF site and if anyone has other concerns then please do raise them with us.

Michael Farthing and John Reyes 
ABERYSTWTYH 2014 - FIDE AMENDS RULES
Those interested in the history of this dispute can find details at http://watfordchessclub.org/index.php/c ... cle?id=118  The FIDE Laws of Chess now include a new law 10.2 reading "The total score of any game can never exceed the maximum score normally given for the game ..." which covers this point.     
Everyone is welcome (to access, click on pictorial below) at Geir Erik Nielsen's YouTube channel at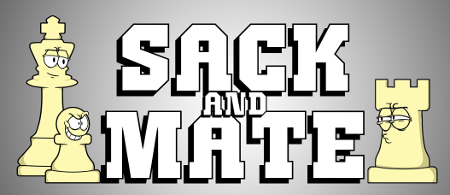 | | |
| --- | --- |
| USEFUL CONTACTS AND WEBSITES |   |
| Watford Chess Club email address | This email address is being protected from spambots. You need JavaScript enabled to view it. (allow up to 2 days for reply) |
| English Chess Federation | |
| Hertfordshire Chess Association | |
| Hertfordshire Chess League results | |
| Hertfordshire Schools Chess Association | |
| 4 Nations Chess League (incl. J4NCL) | |
| Tournament chess results (main site for this) | http://chess-results.com/Default.aspx?lan=1 |
 
Jeff Tomy (left) collects his share of first prize at St Albans, April 2018, from chief organiser Ray Claret.
HERTFORDSHIRE LEAGUE RULE CHANGES, 2018-19
The following rule changes apply for 2018-19: 
3.6.4 Each pair of players decide on a rate of play. A proxy (e.g. team captain) may act on behalf of a player who is not present.
3.7.4 The home player (or a proxy acting on their behalf) must first decide, before starting the clock, whether they wish to invoke the 35 moves in 75 mins, plus 7 moves each 15 minutes rate of play. If they decline, the away player (or a proxy) then can decide. Note that the player choosing to play this rate of play travels in the event of the match continuing after adjournment.
3.8.1 For games played using the Fischer Timing rate of play (all moves in 70 mins plus 10 secs) clocks are stopped immediately by the player having the move when "time" is called and the game shall be sent for adjudication.
4.1.1 In grade-limited competitions, U120 League, knockout, etc, the ECF Grading List autumn revision will determine the grade for the whole season ahead, i.e. the January Grading List will be ignored.
4.1.2 In grade-limited competitions the team playing White on odd boards will be determined by the toss of a coin. 
Note:  Para 4.1.1 refers to what is colloquially described as "the August grading list", being the revised and definitive version of that normally published at the end of July ("the July grading list") 
The following is the latest list (one withdrawal, three late additions to previous version) of 4NCL Division 4 teams:
 
4NCL Division 4
Confirmed
 
1
All Anands on Deck
y
 
 
2
Ashfield 1
y
 
 
3
Ashfield 2
y
 
 
4
Banbury Bulldogs
y
 
 
5
Barnet Knights 2
y
 
 
6
Barnet Knights 3
y
 
 
7
Barnet Knights 4
y
 
 
8
Barnet Knights 5
y
 
 
9
Camberley Juniors
y
 
 
10
Cambridge University 3
y
 
 
11
Celtic Tigers 2
y
 
 
12
Check Innmates 2
y
 
 
13
Check Innmates 3
y
 
14
Chesstivus
y
 
15
Crowthorne 1
y
 
 
16
Crowthorne 2
y
 
 
17
CSC 3
y
 
 
18
Fischer's Catch
y
 
 
19
Iceni 3
y
 
 
20
MK Phoenix 2
y
 
 
21
Oxford 3
y
 
 
22
Oxford 4
y
 
 
23
Pawn Storm
y
 
 
24
Poisoned Pawns - Next Generation
y
 
 
25
Rook and Roll
y
 
26
Shropshire 2
y
 
 
27
Shropshire 3
y
 
 
28
Sussex Martlets 3
y
 
 
29
The Full Ponty
y
 
 
30
The Pitstop
y
 
 
31
Throw in the Tal 
y
 
 
32
Warwickshire Select 2
y
 
 
33
Watford 1
y
 
 
34
Watford 2
y
 
 
35
Wessex B
y
 
 
36
Wessex C
y
 
 
37
West is Best 3
y
 
 
38
West is Best 4
y
 
 
39
Wood Green Youth
y