Cheshire Board match against St Albans takes place Monday evening, 26 September.  7.45 start at St Albans.   Club members only.   Enquiries to Paul Littlefair but probably too late to sign up now. 
First Herts League fixtures - Monday 3 October - (Div 2) St Albans 2 v Watford 2; Tuesday 4 October - (U-160 Cup) Watford v St Albans, (U-120 League) Enfield v Watford;  Monday 10 October - (Div 2) Hemel Hempstead 2 v Watford 3;  Tuesday 11 October - (Div 1) Watford 1 v Hemel Hempstead 1, (U-120 League) Watford v Little Heath;   Thursday 13 October - (Div 5) Bishops Stortford 3 v Watford 4.

 Watford will enter 2 teams for the first weekend of the 2016-7 Junior 4 Nations Chess League, being played 1-2 October at De Vere Venues, Wokefield Park, near Reading.   The stronger team will contest Division 1 while the weaker team will play in Division 2.   The two later weekends will be 21-22 January and 22-23 April at St Johns Hotel, Solihull, when we hope to revert to 3 teams.
Watford 1 finished runners-up in Division 1 of the final 2015-6 J4NCL weekend on 12-13 March.  Full results (except matches where our teams beat reserve sides) appear in our 'Latest Results' feature while website http://www.watfordchessclub.org/index.php/junior-4-nations-weekend contains more background on J4NCL including previous weekends' results.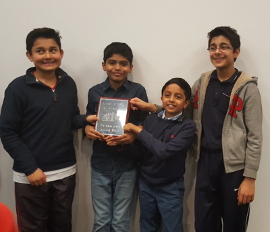 March 2016:  Watford 1 team (L to R, Aman, Jeff, Dhruv, Avi) with the J4NCL runners-

up trophy
Price Cup
The Watford club championship, known as the Price Cup, will get under way in October.   It is open to eligible club members, both adults and juniors, and all members should have received an invitation from the club tournament secretary, Mike Boyce, with full details.   Closing date for entries is 5th October.   
Level 2 (colloquially, "country members") and level 3 ("social members") members are ineligible.  Where junior members are ungraded or have standard grades below ECF65 or equivalent, those juniors (or their parents) should first contact the juniors secretary to discuss whether this is a suitable event.
The Federation's "Chess Master @ The Local" programme arrived at The Happy Hour pub in Eastbury Road, Watford, on 25 August.   The Happy Hour is also the venue for the club's Sunday evening junior training sessions but this was a totally separate one-off event.   It was designed primarily to attract the "interested but occasional" chess player but regular club players, adults and (accompanied) juniors alike, were also welcome.
Events kicked off at 3.30 with two 4-round (time meant lopping off one of the planned 5 rounds!) 15-minute tournaments, one for relative novices and one for more experienced players, both with free entry.
Main event of the day was a simultaneous display given by international grandmaster Keith Arkell starting at 7.0.   Keith initially took on 12 opponents and, as the first batch of games ended, the retiring opponents were replaced by fresh faces. Again free entry, with ECF prizes plus a £20 meal voucher from The Happy Hour awaiting the first person to beat Keith.
Update, 25 August.   Watford juniors turned out in numbers to take on the grandmaster, along with some adult members of the club and rather more members of the general public who had been attracted by the publicity.   In all, 20 people played against Keith (a couple more than once!) but only former Zimbabwean international Ernest Karumazondo prevailed.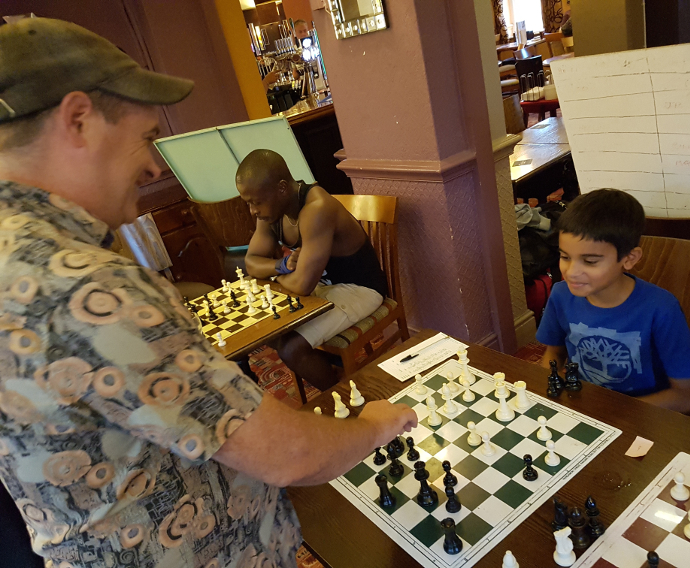 Kian Shah, 9, ran grandmaster Keith Arkell close but former Zimbabwe international Ernest Karumazondo (background) was the only one to beat him
Coaching for juniors
We're now looking for club members willing and able to give talks (with large demonstration board available) on any aspect of chess to our juniors - preferred start time 7.0 with 30 minutes duration but flexible to accommodate speakers. Choice of three levels - basic (mainly targeted at juniors below ECF50), intermediate (ECF50-100) or advanced (ECF100+) at speaker's choice
UK Chess Challenge
The future of UK Chess Challenge, billed as "the world's biggest chess tournament" and said to have 40.000+ entries, appears under threat following the bankruptcy of its organiser, international master Michael Basman, over alleged unpaid VAT.   Basman apparently considered his event should be exempt from VAT.  However chess, unlike more strenuous activities such as darts and yoga, does not appear on HMRC's list of exempt activities. A legal challenge by the English Bridge Union, which suffers the same disadvantage as chess, failed last year.   
News in brief:
Club champion Andrew Stone scored +20 =2 -0 in a simultaneous display on 20 September, drawing only with Jerry Rudge and Ernest Karumazondo
London Chess Classic - early reports are that all events here will be FIDE-rated, a departure from last year, meaning that gold ECF membership (or, instead, payment of a £10 surcharge) is required to take part
Roshan Gurjar 5/6 in Hampstead Garden LJCC u-10 qualifier, sister Siena wins girls u-8 qualifier 
Maanav Nagda wins UK Chess Challenge u-8 Silver Plate, 10 September, Siena Gurjar runner-up in u-8 girls
Jacob Yoon finishes on 5.5/9 in European Youth championship (u-10) in Prague, Aman Gogna gains 44 FIDE rating points in a 3.5/9 result in the u-12 event, 18-26 August
For another account of grandmaster Keith Arkell's ECF-sponsored visit to Watford, go to this Watford Observer article
Upcoming Congresses (mainly local):
Hampstead, 24-25 September:  Five rounds, three sections, U-2200 & U-1900 (both FIDE-rated) and u-135
Cambridgeshire rapidplay, 25 September:  Five rounds, four sections, Open, u-160, u-120 & junior (u-12)
Junior 4NCL, 1-2 October:  See elsewhere on this site
Chelmsford (Essex) junior rapidplay, 8 October:   LJCC qualifier with u-8, u-10 and u-12 sections
Maidenhead junior rapidplay, 8 October:  Four or five rounds, two sections, u-110 and 'near-beginners'
Richmond rapidplay, 9 October:  Probably 6 rounds, three sections, Open, u-160 and u-120.
English u-11 championship, Nottingham, 15-16 October:  See ECF calendar
Golders Green FIDE-rated rapidplay, 15 October:  See ECF calendar
Berkdshire (Reading) junior rapidplay, 15 October:  LJCC qualifier, see ECF calendar
Hampstead, 22-23 October:  See ECF calendar
Hertford, 12-13 November:  See ECF calendar
NB: The above list contains only selected events from the ECF Calendar which also contains more information on the events listed above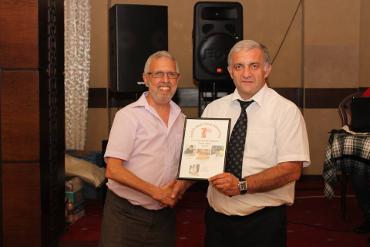 Barry David, seen here (left) with  the President of Armenia Deaf Sport, finished 6th in the World Deaf championships held in Yerevan, May 2016
Junior club membership
The junior waiting list closed on 13 September but will reopen later in the year.  Guest juniors are able to attend the club, without charge, during September (but check club programme first!) although guest attendances will be restricted after 1 October.
As well as its Tuesday clubnights, the club offers two-hour (6-8) training sessions on Sunday evenings at The Happy Hour pub in Eastbury Road which are free and open to non-member juniors.   You can just turn up.   At least one adult member of Watford Chess Club is always present to supervise matters.
Laws of chess
There's been one interesting development of which club members should probably be aware although, and I stand to be corrected on this point, it appears to apply only to blitz and rapidplay games (although possibly also to quickplay finishes in standard games) played with increments.
An illegal move typically stands to lose the game if it is "completed" and, to complete any move other than checkmate or a similar move which itself ends the game, it is necessary to press one's clock.   Some arbiters now take the view that, if for example you knock over a piece (not necessarily the one you have moved) before pressing the clock, then - if the knocked-over piece is still displaced - pressing the clock results in an illegal position and loss of the game.   Any displaced piece, they argue, must be correctly replaced in the time of whoever displaced it.
Similarly, if a player promotes a pawn and - in the absence of a queen - replaces the promoted pawn with an upturned rook (as commonly happens!) then this too can result in loss of the game.   From what I can see, there isn't total consensus among arbiters but the general rule is - don't press the clock prematurely!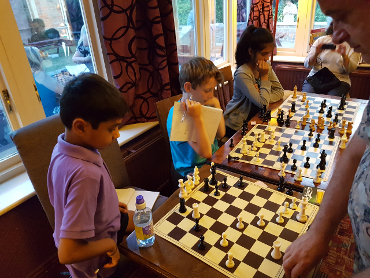 L to R, Maanav, Theo and Layla in play against Keith Arkell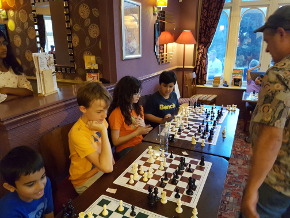 Kian, Christian, Ralitza, Karan and (background) Maanav hard at work against grandmaster Keith Arkell
Club committee and officers
The club's Annual General Meeting took place at the Town & Country Club, Halsey House, Rosslyn Road, Watford commencing 7.45 on Tuesday 6 September 2016 and the following appointments were made:
post

(** = committee)

Postholder

2016-17

 
 

** President

Mike Boyce

** Club Secretary

Paul Littlefair

**Treasurer

Jerry Rudge

** Membership Secretary

Vacant

Juniors Secretary

Roger Lancaster 

Tournament Secretary

Mike Boyce

Match Captains

Andrew Stone (1st, Russell)

Mace Carnochan (2nd) 

Cecil Sloan (3rd)

Paul Littlefair (Sharp)

Sanjay Vig (4th, u-140 k-o)

Pete Edwards (u-120 & u-120 k-o)

Christian Bland (Hertford & District)

Webmaster

Geir Erik Nielsen

Equipment Curator

Mace Carnochan

** Other Committee members

(up to 5 additional positions)

Roger Lancaster

Cecil Sloan

3 vacancies

Auditor

Philip Abbott
 Main points from AGM - annual subscriptions unchanged except for £5 junior increase to cover extra J4NCL costs, Cecil Sloan elected to executive committee, Watford fifth team withdraws from Herts League (although u-120 team remains) due to insufficiency of available players, and Watford junior team poised to compete in Hertford & District League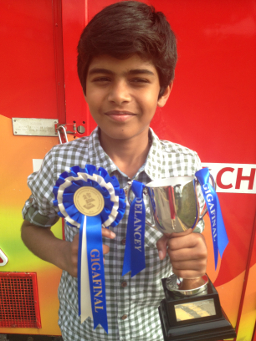 Jeff Tomy with trophy after his gigafinal win, July 2016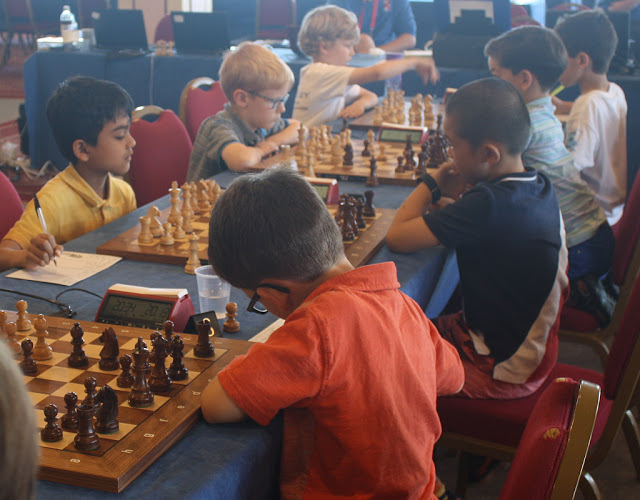 Roshan (far left, yellow top) en route to joint 3rd in the BCC U-8s.  Photo by A Lutton & M Carr
Aberystwyth 2014 - FIDE says, "Don't do it again!"
Those interested in the history of this dispute can find details at http://watfordchessclub.org/index.php/c ... cle?id=118  
The new draft FIDE Laws of Chess, just published, include a new law 10.2 reading "The total score of any game can never exceed the maximum score of a normal game" and it is hard to avoid putting two and two together.  
Interim Child Protection Policy
Club members are asked to note the addition, effective 2 November 2015, of an extra sentence reading "The Interim Child Protection Policy shall be interpreted as applying to vulnerable adults as well as to children." 

  Hertfordshire Chess League, 2015/6
  Watford's first team retained the Division 1 title with seven wins and one draw from its 10 matches. Watford 2 (Division 2), Watford 3 (Division 3), Watford 4 (Division 5) and Watford 5 (Division 7) all finished in mid-table.