"London, 16st August 2018 — FIDE and World Chess are pleased to announce that both the incumbent World Chess Champion Magnus Carlsen and challenger Fabiano Caruana signed contracts for taking part in the World Chess Championship Match that will take place in London, United Kingdom, in November 2018.
"For 2018, the minimum guaranteed prize fund of EUR 1mln (1.25mln gross) will be increased by proceeds from sponsorship contracts and 20% of digital Pay-Per-View tickets — a novelty for World Chess Championships where prize fund has never been affected by sales of the Match broadcast. This year, subscribers and spectators will be able to increase the Prize Fund by subscribing to the official premium broadcast for $25 (free basic version will be available as well).
"The much-anticipated match will be held in London from 9th to 28th November. Ticket prices range from £45 to £100 and are available at Ticketmaster"
1st Watford Junior (u-12) Rapidplay on 30 July won by Ivan Chetverikov (£125) with 5.5 points from 6 games ahead of Emily Maton (£70) on 5 points with Kyrylo Tokar and Max Yau (£20 each) joint third on 4.5.   26 competed, full result below.    2nd Watford Junior (u-12) Rapidplay scheduled for 29 July 2019 although extra earlier event also possible.
CLUB NIGHTS
The club meets on Monday evenings (6.15 - 10.45) at West Herts Sports Club, 8 Park Avenue, Watford WD18 7HP.   This includes public holidays except 24 and 31 December.  Exceptionally, this year it will also be closed 5 November.
Chess is played in the Function Room although members and visitors have access to the separate and comfortable lounge bar area - as well as alcoholic beverages, the bar serves tea, coffee, soft drinks and a limited range of snacks.   Juniors have priority during the first 75 minutes.   
There is usually ample free parking on Mondays, but less so when cricket matches are being played.   
Intending new members of all levels and abilities are welcome.   Club policy is that newcomers are allowed three visits as guests to sample the atmosphere and decide whether they wish to join the club - or, in the case of juniors, the junior waiting list.  (Juniors on the club waiting list are able to continue as guests).
Sunday evening sessions for juniors at Croxley are currently suspended.
SIMULTANEOUS DISPLAY, MONDAY 3 SEPTEMBER
Club champion Mace Carnochan will undertake the annual champion's simultaneous display on 3 September starting 7.0 at West Herts.   Space is likely to be limited so late bookings may not secure places.   To book a place, register with This email address is being protected from spambots. You need JavaScript enabled to view it. (or you can use the contact facility on this page) as soon as possible.   Club members will receive first preference, followed by juniors on the club waiting list.    Adults should indicate whether they prefer a 7.0 (13 spaces still available) or 7.45 (5 spaces) start for their game.
CHARITY WALK, SATURDAY 15 SEPTEMBER
Club members will support Alzheimer's Society on Saturday 15 September with a 9 km walk through Cassiobury Park and Whippendell Woods.   Meet between 10.30 and 11.0 (for an 11.0 start) in the field between the Gade Avenue entrance to the park and the children's pool.   Please feel able to join us or, if you wish to contribute to the fundraising, go to https://www.justgiving.com/fundraising/mw372850
Whippendell Woods is an ancient woodland and a Site of Special Scientific Interest due to its diverse range of fungi and invertebrates, while mammals to be found there include bats, badgers and deer.

HERTFORDSHIRE CHESS LEAGUE
 Watford, which headed the Hertfordshire League for the previous five years, ran four teams in the main section of the 2017-18 league (in Divisions 1, 2, 3 and 4 respectively) and a fifth team in the under-120 league.    
By way of change, Watford's first team (14 pts) could only finish third behind Little Heath (17) and Hemel Hempstead (15).
None of the other Watford teams were promoted or relegated, each finishing in mid-table.   There's a separate under-120 league which the Watford team has won comfortably.  
As last year, the Watford team in the separate Hertford & District League (under-160 players only) was an all-junior side - except for one match where adults had to help out.   Our team won three and drew one of its 8 matches.
New players interested in representing the club in 2018-19 should get in touch!
PLAY AN AI (ARTIFICIAL INTELLIGENCE)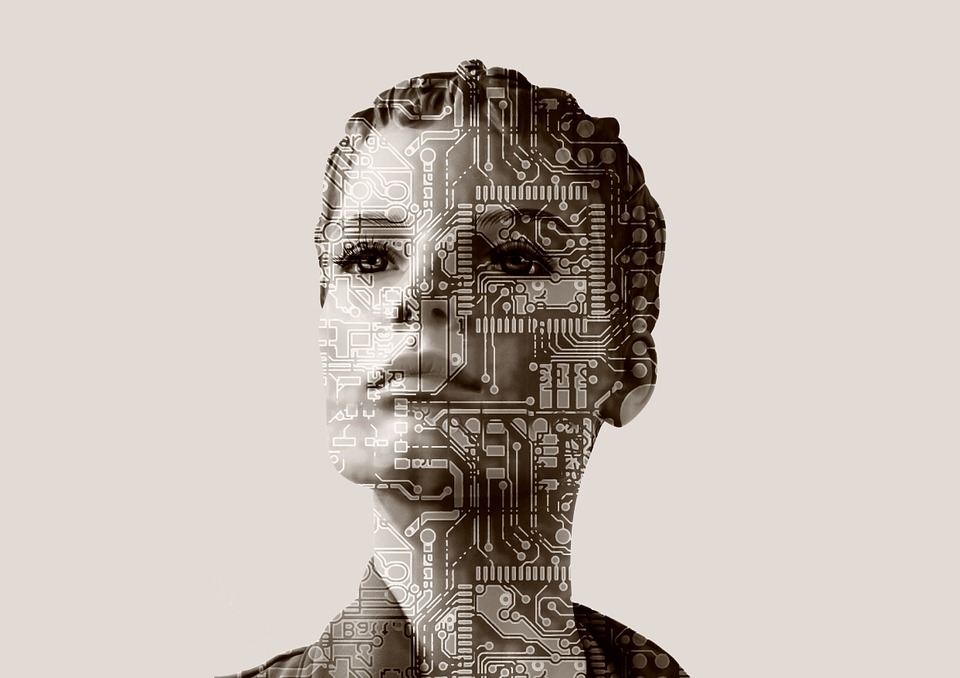 Tired of playing the boring old computers that always beat you or play so weirdly you can't understand what is going on, asks webmaster Geir Erik Nielsen? Read our article on Artificial Intelligence and how you can install it at home
Also embedded in the updated article is now a video of how to get the best of Arena and Leela at home

JUNIOR 4 NATIONS CHESS LEAGUE
There has been a change of plans over 2018-19 venues with the first weekend (29-30 September) taking place in Daventry, the second (19-20 January) weekend in Solihull with the third (2-3 March) back in Daventry.   We currently have a squad of 12 interested juniors - if you are among that number, you will have received an email about the first weekend on 10 August.  So, while it's hard to be certain 7 weeks in advance, it looks as though Watford will enter 2 teams.

Coaching at J4NCL - picture courtesy of Andrew Martin
To maintain its elite status, Division 1 is restricted to teams with average strength ELO1400 (or ECF standardplay equivalent) while Division 2 is open to teams with average strength ECF85 (whether standardplay or rapidplay).  
To meet FIDE requirements, Division 1 games will be played with a longer time-control, i.e. all moves in 80 minutes but with 10 second increments from move 1.   Saturday's games will commence 10.0, 13.30 and 17.0 with Sunday's games at 10.0 and 13.30.  Coaching sessions have been retained, aligned with the Division 2 timetable, but Division 1 players will be unable to attend these unless their games finish early.  These rules appear on the 4NCL website.
More background on J4NCL appears at http://www.watfordchessclub.org/index.php/junior-4-nations-weekend
JUNIOR WAITING LIST / TRAINING
The junior waiting list is now open and will remain open until at least 21 August.   To join the waiting list, use the "Contact us" facility to notify a child's name, gender, and year and month of birth.
The club's junior team trials are now in progress (fourth round on 20 August) and anyone interested in taking part - standard games, 60 minutes each, starting 7.0 at West Herts - should contact us using the 'Contact us' facility.
Sunday evening training sessions at the Coach & Horses, Croxley Green have now been suspended with the last session having taken place on 1 July.
CLUB NEWS IN BRIEF:
Club rapidplay on 13 August resulted in a 4-way tie between Simon Charles, Ernest Karumazondo, Nick Papathanasopoulos and Cecil Sloan, all on 4/5
Cecil Sloan 4/6 in Golders Green u-145 rapidplay, 16 July
Paul Littlefair 7/9 in simul against club juniors, 9 July
Neil Dunlop England board 2 in Deaf Olympiad, July 2018
Kian Shah, Jeff Tomy both 4.5/6 in UK Chess Challenge u-11 gigafinal; Judith Tomy 4/6 in u-7 girls, Siena Gurjar 6/6 (1st) in u-8 girls, 8 July
Maanav Nagda 5/6 (3rd) in UK Chess Challenge u-9 gigafinal; Kaveer Mehta 5/6 (6th) in u-10; Lettie Ganyushin 4/6 in u-10 girls, 30 June/1 July
Mace Carnochan won the club championship for the Price Cup with 6/7 ahead of holder Andrew Stone on 5.5, both undefeated, with Ernest Karumazondo, Darrell Pigott and Samir Yassir joint third with 4.5. 
UPCOMING CONGRESSES (MAINLY LOCAL):
Until this is updated, please refer to the ECF Calendar 

4 NATIONS CHESS LEAGUE - DIVISION 4
After an inaugural season, when Watford finished in mid-table, to familiarise ourselves with 4NCL, the club has decided to enter a second team (and possibly a third) in Division 4 for 2018-19 and for our first team to push for promotion.  
We currently have a squad of 26 interested members - if you are among that number, you will have received an email about the event on 9 August - but would like up to half-a-dozen more to ensure a third team.   With that in mind, the club is looking for more 4NCL players both from existing members of the club - adults or juniors - and from any new members who may be interested.   (You can use the 'Contact us' facility on this webpage to get in touch).
Next season will see four 4NCL weekends taking place at Daventry, Northants, and one at Bedford.  All are within comfortable driving distance of the Watford area. 
Main points to note are that it's one round each day, with the rate of play 40 moves in 100 minutes (plus 30 second increments from move 1) followed by the rest of the game in 50 minutes (again with 30 second increments). That means a 60-move game could conceivably take as long as 6 hours, far longer than local league chess.  
Starting times are 2.0 on the first day of a weekend, 1.0 on the middle day of a three-game weekend, and 11.0 on the final day with reserve games starting one hour later on each day.   All games are ECF-graded and FIDE-rated.
Go to http://www.4ncl.co.uk/ for more information, game scores appear at http://www.4ncl.co.uk/downloads.htm: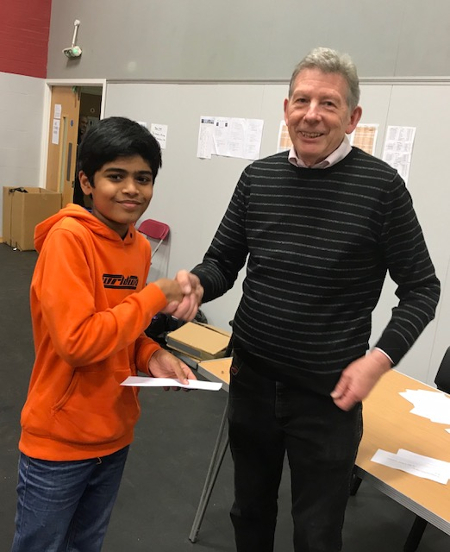 Jeff Tomy (left) collects his share of first prize at St Albans, April 2018, from chief organiser Ray Claret.
PRIVACY POLICY - FORMAL NOTICE
If you are a member of Watford Chess Club (the "Club") or a junior on the Club's waiting list, your personal data will be processed by the Club for the purposes of Club and membership administration and to facilitate your participation in club competitions and similar events.  For fuller information, click "Privacy Policy" link under "Policies and Procedures".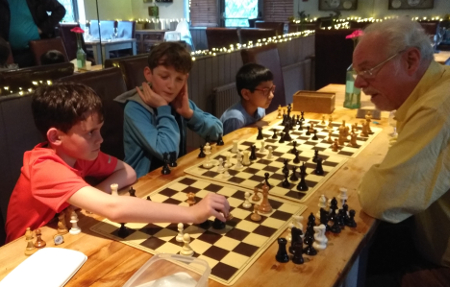 Watford coach Simon Charles plays a mini-simul against three juniors at the Coach & Horses - but Sunday evening sessions have now been suspended until further notice
1st WATFORD JUNIOR (u-12) RAPIDPLAY, 30 JULY
Results as follows:   1 Ivan Chetverikov (£100 + £25 u-10 prize) 5.5/6; 2 Emily Maton (£70) 5; 3= Kyrylo Tokar, Max Yau (£20 each) 4.5; 5= Lettie Ganyushin, Tuhin Mitra, Ethan Yau 4; 8= Avyukt Dasgupta, Theo Hurrell, Dev Kotecha, Olivia Lisowski 3.5; 12= Harshini Mahesh, Elias Ruzhansky, Derek Yuan (these three shared £25 u-8 prize), Seb George 3;  16= Aarav Chavan, Parth Malhotra 2.5; 18= Daniel Ayoola, Timo Birke, Ishaan Chadha, Zara Dhorne, Oscar Kong, Rory Lynn 2; 24 Rohan Tathare 1.5; 25= Dhruv Kotecha, Thenral Manimaran 1.
Information regarding the 2nd Watford Junior (u-12) Rapidplay will be released neaer the date.
FIDE DEVELOPMENTS - AFTER KIRSAN! 
Incumbent FIDE president Kirsan Ilyumzhinov has finally dropped out of this October's contest to elect a new president.    KI remains on the United States proscribed list for - and we will be cautious here - real or imagined misdeeds and the US has implemented sanctions against KI and organisations with which he is involved including FIDE, whose main bank accounts have been frozen.  
The three-way race to succeed him includes Georgios Makropoulos whose record as deputy president appears to show him, until recently, as supportive of his predecessor and many of his more controversial decisions.    Also standing is English grandmaster Nigel Short - on a platform of, among much else, cleaning up FIDE - and former Russian deputy premier Arkady Dvorkovich also advocating change.   The three candidates, and their supporters, are currently engaged in what might be politely described as a robust exchange of opinions.  
The ECF has decided to nominate Nigel's team although, rather confusingly, its international director Malcolm Pein is deputy president-elect on GM's ticket.   This column had earlier tipped GM as a clear winner but the outcome now looks less clear.
ANNUAL GENERAL MEETINGS
The 2018 Annual General Meeting will be held on Monday 10 September - the club secretary will be circulating details to members very shortly.   Based on latest available information, there are likely to be a vacancy for the post of membership secretary.  There is also one unfilled position on the club committee. 
At the 2017 Annual General Meeting,  the following elections/appointments were made:   
post

(** = committee)

Postholders

2017-18

 
 

** President

Hanisha Gurjar & Jennifer Hurrell (joint)

** Club Secretary

Paul Littlefair 

**Treasurer

Hanisha Gurjar & Jennifer Hurrell (joint)

** Membership Secretary

Vacant 

Juniors Secretary

Roger Lancaster 

Match Captains, 2017-18

 

Andrew Stone (1st, Russell)

Mace Carnochan (2nd, retired May 2018) 

Cecil Sloan (3rd)

Paul Littlefair (Sharp)

Sanjay Vig (4th, u-140 k-o)

Pete Edwards & Geir Erik Nielsen (joint u-120 & u-120 k-o)

Christian Bland (Hertford & District)

Sanjay Vig (4 Nations Chess League)

Various (Junior 4NCL)

Webmaster 

Geir Erik Nielsen 

Equipment Curator

Mace Carnochan  (after April 2018, vacant)

** Other Committee members

(up to 5 additional positions)

Roger Lancaster, Cecil Sloan, Sanjay Vig, Darrell Pigott (retired May 2018), Simon Charles 

Auditor

Philip Abbott 
ABERYSTWTYH 2014 - FIDE AMENDS RULES
Those interested in the history of this dispute can find details at http://watfordchessclub.org/index.php/c ... cle?id=118  The FIDE Laws of Chess now include a new law 10.2 reading "The total score of any game can never exceed the maximum score normally given for the game ..." which covers this point.     
Everyone is welcome at Geir Erik Nielsen's YouTube channel at