CLUB'S ANNUAL GENERAL MEETING ACCEPTS RECOMMENDATIONS OVER SUBSCRIPTION LEVELS
HERTFORDSHIRE LEAGUE PROGRAMME JUST PUBLISHED - GO TO "FIXTURES" FOR 2019 DATES
CLUB NIGHTS
The club meets throughout the year on Monday evenings (6.0 - 10.45) at West Herts Sports Club, 8 Park Avenue, Watford WD18 7HP.   Juniors have priority during the first 90 minutes.   There is usually ample free parking on Mondays.  
Chess is played in the Function Room although members and visitors have access to the separate and comfortable lounge bar area - as well as alcoholic beverages, the bar serves tea, coffee and soft drinks.   The club plays in the 4 Nations Chess League and the Hertfordshire League with junior teams playing in the Junior 4 Nations Chess League.
Exceptionally, this year, the club will be closed on 4 November.   Further, the junior session on 23 September will not take place as our juniors will be playing at St Albans - expect the club to open around 7.0 that evening.  
Intending new members of all levels and abilities (with the obvious proviso that they know how  to play chess) are welcome.  Club policy is that newcomers are allowed three visits as guests to sample the atmosphere and decide whether they wish to apply to join the club.   This website aims to give full information about the club but, if you find there is anything not covered here, please use the "Contact Us" facility and a committee member will get in touch.
Club Awards 2019
Ernest Karumazondo joint winner of the Price Cup won together with Andrew Stone
Cecil Sloan is the proud winner of the Dobson Shield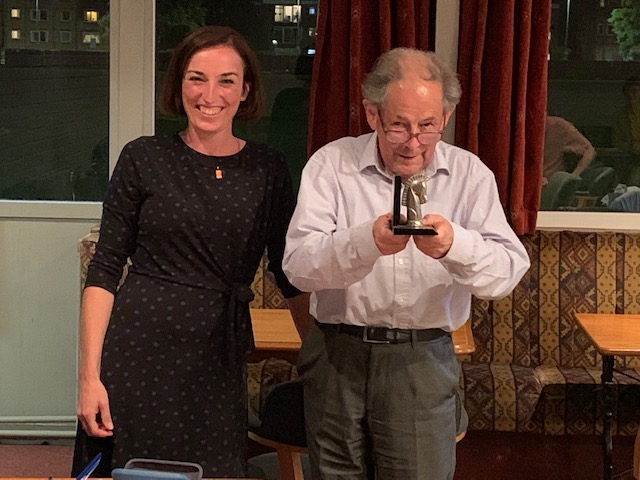 David Healey wins the Silver Knight

HERTFORDSHIRE CHESS LEAGUE
The 2019-20 competition begins on 30 September.    In the first round of the open knock-out cup for the Russell Trophy, Watford have been drawn away against Hemel Hempstead
First round of the Sharp Trophy knock-out for u-160 teams sees Watford travel to Bishops Stortford while the u-140 team go to Hoddeston and the u-120 team, after an initial bye, will host either Hertford or Bishops Stortford.
Watford, league champions in five of the past seven years, will run four teams in the main section of the league - in Divisions 1, 2, 3 and 4 respectively - and a fifth team in the under-120 league.  
Early league matches include:   30 September, Watford 3 v Royston 2;  7 October, Watford 1 v Letchworth 1 and St Albans u-120 v Watford u-120;  14 October, Watford 2 v St Albans 2 and Watford 4 v Enfield 1;   21 October, St Albans 1 v Watford 1 and Watford 3 v St Albans 3 and Letchworth u-120 v Watford u-120; 28 October, Watford 1 v Little Heath 1.

JUNIOR 4 NATIONS CHESS LEAGUE   
The first 2019-20 J4NCL weekend will take place 5-6 October at Basingstoke Country Hotel, Hampshire, with two Watford teams taking part.   Team selection has already been completed but interested new players are still in time - use the "Contact us" facility on this website - to join for all or part of the second and third weekends.   To be eligible, juniors must be under 18 on the date of the game in question.
The later J4NCL weekends are on 18-19 January (South Normanton, Derbyshire) and 15-16 February (Mercure Daventry Court Hotel) 2020.         
More background on J4NCL appears on the 4NCL website
OTHER JUNIOR MATCHES
Watford juniors play twice a year against Uxbridge juniors in a double-round rapidplay match where virtually the entire junior membership is invited to take part.    There were two well-contested matches in January and June 2019, with Watford running out winners on both occasions.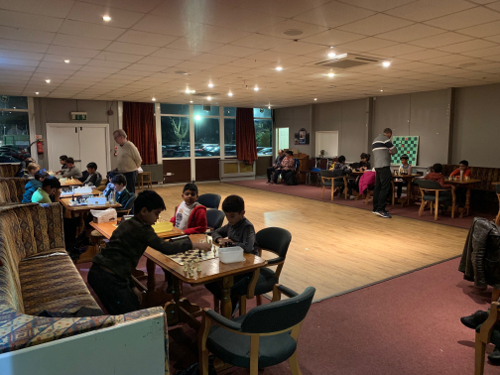 Watford v Uxbridge, junior match, 7 January
Watford juniors celebrate, along with team coach Roger Lancaster, after retaining the trophy on 17 June
10-MINUTE BLITZ, MONDAY 9 SEPTEMBER
The annual pre-season 10-minute blitz tournament was won jointly won by Mace Carnochan [right] and Ernest Karumazoondo, each with 4/5, with Paul Littlefair [left] taking the grading prize.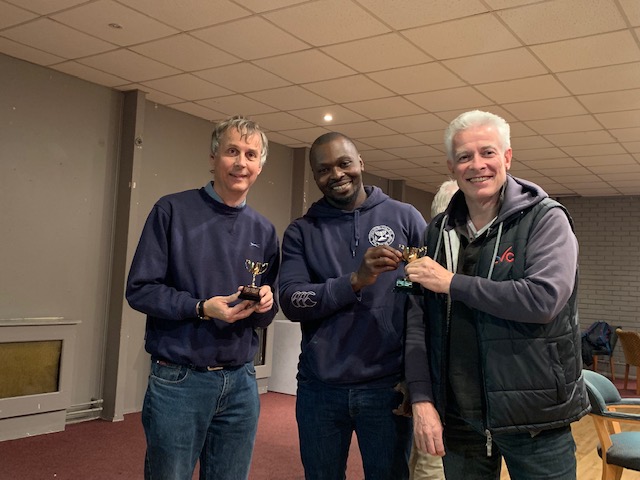 SIMULTANEOUS DISPLAY, MONDAY 2 SEPTEMBER
Ernest Karumazondo gave the club champion's annual simultaneous display at the club on 2 September.   Faced with 11 opponents, he won 7 games and drew the remaining 4 - no losses!  
CLOCK SIMULTANEOUS DISPLAY, MONDAY 26 AUGUST
Mike Luberto gave another clock simultaneous display (60 minutes on his clock and on those of his opponents) starting 6.30 on Monday 26 August.     In the midst of the holiday season there were just 9 opponents, but with the strongest four averaging ECF140.     Mike won six of his games, drew two and lost just one (Kian Shah).
CLUB NEWS IN BRIEF:
Barnet LJCC qualifier, 15 September:  Avy Dasgupta 6/6 [1st], Denisz Demjan 5/6 [2nd=] in u-10
UKCC South (Challengers) final, 31 August:  Judith Tomy 5.5/6 (1st) in girls u-8, Avy Dasgupta 4.5/6 (4th=) in u-10 boys; Jeff Tomy 4.5/6 (6th=) in u-12 boys.
Hampstead u-1700, 10-11 August:  Maanav Nagda 3.5/5
Richmond u-80 r'play, 11 August:  Jake Tomy 5/6 (1st=)
Watford u-12 rapidplay, 29 July:   Maanav Nagda 5/6 (1st=), Seb George, Zishaan Ghafoor & Theo Hurrell all 4/6
UKCC South gigafinal, 20 July: Avy Dasgupta 5/6 (2nd=), u-9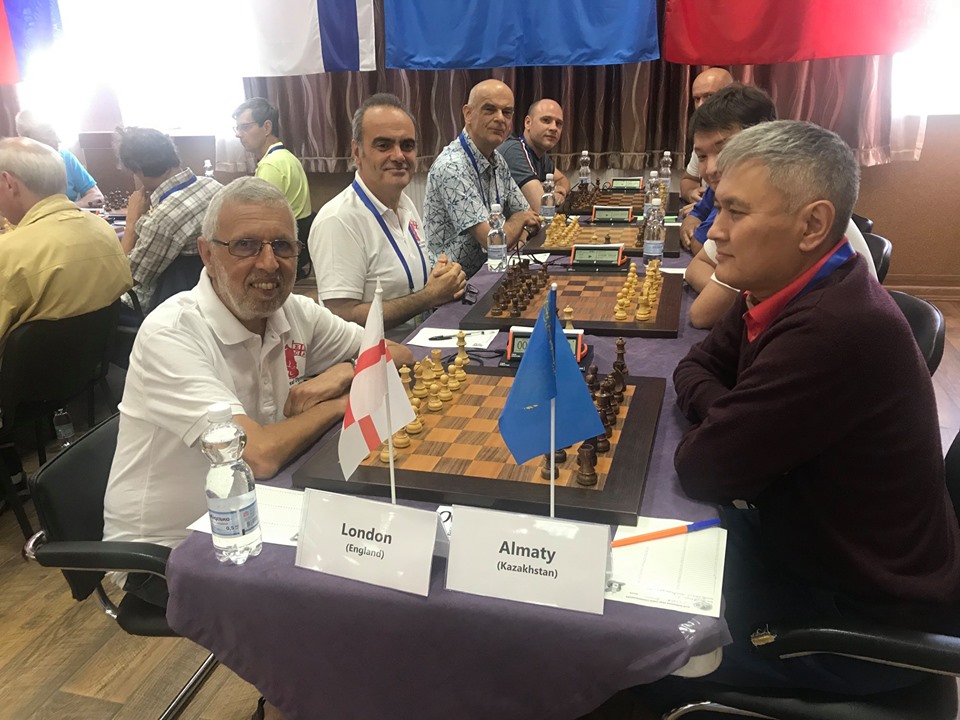 Barry David (first left) and Neil Dunlop (third left) playing for the London team in the 24th European Deaf team championship, 16-20 July



Neil Dunlop (see pic above) scores 5/7 at the European Deaf team championships, 16-20 July
Michael Luberto wins all 13 games in clock simul against juniors, 15 July

Jeff (left), Jake (right) and Judith Tomy with Herts megafinal organiser (February 2019) and trophies
Club rapidplay, 8 July 2019, results at http://chess-results.info/tnr453784.aspx?lan=1
Price Cup (2018-9 club championship), October 2018 to June 2019, results at  http://chess-results.com/tnr382758.aspx?lan=1
2nd Watford Junior (u-12) Rapidplay, 27 May 2019, results at http://chess-results.com/tnr435032.aspx?lan=1
Club rapidplay, 13 August 2018, results at http://chess-results.com/tnr374277.aspx?lan=1
1st Watford Junior (u-12) Rapidplay, 30 July 2018, results at http://chess-results.com/tnr373197.aspx?lan=1

4 NATIONS CHESS LEAGUE - DIVISION 4
The first two rounds taking place in Maidenhead on 9-10 November, when Watford will again compete with two teams and its first team will renew its attempt to gain promotion to Division 3.    Dates/venues for the 4 later weekends are shown on our 'Fixtures' page.  Interested new players are invited to contact the club committee (as an option to personal contact, you can use the 'Contact us' tab at the top of the page) to express their interest.
Main points to note are that 4NCL entails one round each day, with the rate of play 40 moves in 100 minutes (plus 30 second increments from move 1) followed by the rest of the game in 50 minutes (again with 30 second increments). That means a 60-move game could conceivably take as long as 6 hours, far longer than local league chess.  
Starting times are 2.0 on the Saturday of each weekend followed by (except in the May three-day weekend) 11.0 for Sunday's games.    All games are ECF-graded and FIDE-rated.
Sad news from 2018-19 was that our first team, after winning five of its first six matches and looking possible promotion candidates, lost the next five - which left them with a slightly worse result, despite stronger opposition, than in 2017-18..   Our second team, playing in the same division, won three and lost seven of its ten matches which was pretty much in line with expectations.
More information about 4NCL appears on its website.  
Provisional Division 4 entries, 2019-20
1 All Anands on Deck [17th last year]
2 Ashfield 2 [14th]
3 Banbury Bulldogs [20th]
4 Barnet Knights 2 [26th]
5 Barnet Knights 3 [34th]
6 Barnet Knights 4 [35th]
7 Camberley Juniors [37th]
8 Cambridge University 3 [30th]
9 Celtic Tigers 2 [6th]
10 Celtic Tigers 3 [new entry]
11 Crowthorne 2 [33rd]
12 CSC 2 (relegated from Division 3 South)
13 CSC 3 [21st]
14 Fischer's Catch [9th]
15 Iceni 2 (relegated from Division 3 South)
16 Iceni 3 [29th]
17 Leeds University Old Boys (relegated from Division 3 South)
18 MK Phoenix 2 [10th]
19 Oxford 4 [19th]
20 Poisoned Pawns - Next Generation [8th]
21 Sussex Martlets 2 (relegated from Division 3 South)
22 Sussex Martlets 3 [22nd]
23 The Full Ponty [5th]
24 The Pitstop [27th]
25 Throw in the Tal [7th]
26 War and Piece [new entry]
27 Warwickshire Select 2 [12th]
28 Watford 1 [18th]
29 Watford 2 [31st]
30 Wessex C [24th]
31 Wessex D [new entry]
32 West is Best 3 [13th]
33 Wood Green Youth [16th]
a) Crowthorne 1, Ashfield 1, Wessex B and Oxford 3 were promotedOf last year's other Division 4 teams -
b) Shropshire 2 and Shropshire 3 have transferred to Division 3 North
c) Check Innmates 2 & 3, Rook & Roll, West is Best 4, Barnet Knights 5 and Chesstivus have not re-entered
Annual General Meeting
held at
West Herts Sports Club, Park Avenue, Watford WD18 7HP
on Monday 16th September 2019 at 7:30pm 
AGENDA
1.  Receive apologies for absence
2.  Approve minutes of September 2018 AGM (copies are attached)
3.  Receive report from the President on the 2018-19 year, and to approve the Accounts for the financial year ending 31st July 2019
4.  Agree Club membership subscriptions for 2019-20. The Committee proposes:
Adults Full £60, Associate £40 and Social £20. 
Juniors and students Full £35 Social £20.
Full membership entitles a member to participate in all Club activity.
Associate membership: a member can take part in the Club's inter-club competitive activities (but not the Price Cup) but not otherwise use the club's facilities on club nights, except for designated special events.
Social membership entitles a member to full use of the Club's facilities on club nights but not to participate in any of the club's competitive activities (including the Price Cup), except for designated special events.
The subscriptions represent an increase on last year because the club will pay next year for all (adult and junior) 4NCL fees. There will be a £2 discount in all categories for everyone who pays by bank transfer, with the member's name as a reference, before 1 October 2019.
5. Present trophies to winning individuals
6.  Elect Officers, Secretaries and Committee for 2019-20:
post

(** = committee) 

2018-19 post holder

Nominations received for 2019-20

** President/**Treasurer (joint)

Hanisha Gurjar, Jennifer Hurrell

Hanisha Gurjar, Jennifer Hurrell

** Club Secretary

Paul Littlefair

Paul Littlefair

** Membership Secretary

vacant

Sandesh Tathare

** Juniors Secretary

Roger Lancaster

Roger Lancaster

Tournament Secretary

Andrew Stone

Andrew Stone

Match Captains

Andrew Stone (1st, Russell)

Ernest Karumazondo (2nd) 

Cecil Sloan (3rd) 

Paul Littlefair (Sharp)

Geir Erik Nielsen/Pete Edwards (u140,u140ko)

Roger Lancaster (4NCL 1)

Sanjay Vig (u120,u120ko, 4NCL 2)

Christian Bland (H&D)

Andrew Stone (1st, Russell)

Ernest Karumazondo (2nd) 

Cecil Sloan (3rd) 

Paul Littlefair (Sharp)

tba (4th , U140 ko)

Roger Lancaster (4NCL 1)

Sanjay Vig (u120,u120ko, 4NCL 2)

tba (H&D)

Webmaster

Geir Erik Nielsen

Geir Erik Nielsen

Equipment Curator

Bradley Mead-Herbert

Bradley Mead-Herbert

** Other Committee members 

(up to 4 additional positions)

Simon Charles

Bradley Mead-Herbert 

Cecil Sloan

Sanjay Vig

Simon Charles

Bradley Mead-Herbert

Cecil Sloan    

Sanjay Vig

Ernest Karumazondo

Auditor

Philip Abbott

Philip Abbott
7.  Any Other Business  
Paul Littlefair
Secretary
JUNIORS REPORT, 2018-19
After the disturbances of 2017-18, including a change of venue when Watford Town & Country Club closed for the last time, 2018-19 was more peaceful.    However, taking those two years together, there has been a considerable turnover in junior club membership.
That was partly due to some juniors finding that the switch from Tuesday to Monday night, a one-off occurrence, did not suit and partly the result of some juniors giving up chess after moving from primary to secondary school.    We now find ourselves with a fair balance of ages.   As at 1 July, there were 46 junior members.   Of these, 10 were not members of the English Chess Federation, so I cannot reliably state their ages, but the remaining 36 appear to pan out as follows:
| | | | | | | | |
| --- | --- | --- | --- | --- | --- | --- | --- |
| DOB | No |   | DOB | No |   | DOB | No |
| 2002 | 3 |   | 2006 | 1 |   | 2010 | 8 |
| 2003 | 1 |   | 2007 | 4 |   | 2011 | 1 |
| 2004 | 3 |   | 2008 | 7 |   | 2012 | 1 |
| 2005 | 2 |   | 2009 | 3 |   | 2013 | 2 |
Girls, however, remain a small minority - just five out of 46.  The adult imbalance is even greater and the club would particularly welcome more female members of all ages.
As to activity over 2018-9, our junior team again participated in the Hertford & District League where it met adult opponents with ECF grades below 160.    A large number of juniors played for our H&DL team which accordingly varied widely in strength from one match to the next.   When the final results were totted up, we had won two of our 8 matches.   Thanks are due to Christian Bland for captaining this team from its beginnings.    However, Christian cannot continue and - with no-one else willing to take over - we have had to pull out of H&DL for the year ahead.
We normally enter multiple teams in the Junior 4 Nations Chess League so 2018-19 was something of a disaster.    We had difficulty raising a team for the first weekend (although that team finished joint third in Division 2, only an adverse tie-break separating our players from a trophy) and this became insuperable for weekends two and three, when we did not compete at all.  The early omens for 2019-20 are, I am glad to report, rather more favourable.
An innovation in 2018-19 was a six-monthly match against Uxbridge Juniors.   The first took place in January over 11 boards, the second in June over 18, and on both occasions Watford ran out winners.   However, objectively, the results were less important than the fact that these matches gave some of our less experienced juniors - who would otherwise struggle to get into Watford teams - some competitive experience.  
Besides the above events, all of which were ECF-graded, we ran regular internal training games which also qualified for ECF grading - consequently, most of our juniors have a published grade.     We also ran (May 2019 and July 2019) two more rapidplay tournaments open to all juniors born 2007 or later.    Entry numbers were somewhat disappointing, particularly in May, but the July event should be safe for 2020.
Juniors also took part in open events, playing alongside adults, including the main 4 Nations Chess League where no fewer than 10 members of our 28-strong squad were juniors, and the Hertfordshire League.   Only one junior, Jeff Tomy, took part in the club championship for the Price Cup but he overcame five of his 7 opponents to finish in third place.    For the foreseeable future, we plan to keep junior numbers in the 40-50 range.
Everyone is welcome (to access, click on pictorial below) at Geir Erik Nielsen's YouTube channel at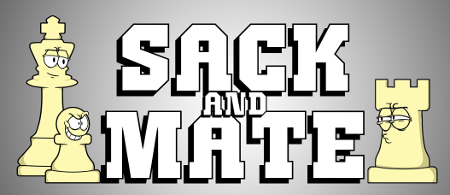 USEFUL CONTACTS AND WEBSITES

 

Watford Chess Club email address

This email address is being protected from spambots. You need JavaScript enabled to view it. 

(allow up to 2 days for reply)

English Chess Federation

Hertfordshire Chess Association

Hertfordshire Chess League results

Hertfordshire Schools Chess Association

4 Nations Chess League (incl. J4NCL)

Tournament chess results (main site for this)

http://chess-results.com/Default.aspx?lan=1
PLAY AN AI (ARTIFICIAL INTELLIGENCE)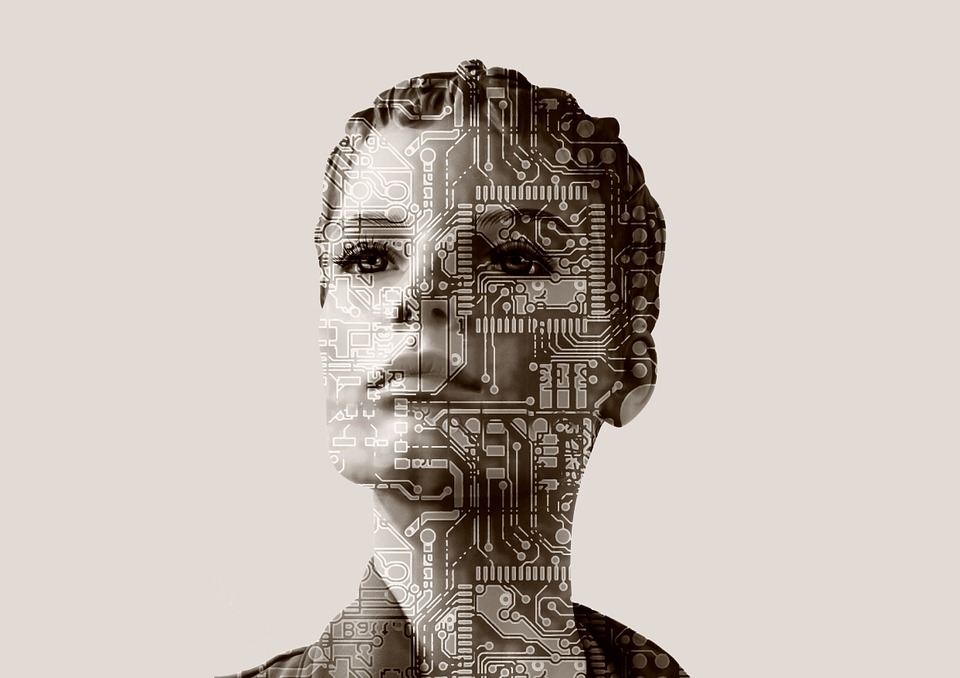 Tired of playing the boring old computers that always beat you or play so weirdly you can't understand what is going on, asks webmaster Geir Erik Nielsen? Read our article on Artificial Intelligence and how you can install it at home
Also embedded in the updated article is now a video of how to get the best of Arena and Leela at home.
As a teaser for it all, and as an incredibly instructive game, here is how Leela deals with the Benoni
FIDE RATING REGULATIONS
FIDE (the World Chess Federation) is seeking responses to a questionnaire about the length of games required for standard games to be FIDE-rated.    Apparently FIDE has received much correspondence suggesting it should change its rating regulations to allow shorter games to be standard rated.     The most relevant FIDE rating regulation for standard games currently states 
For a game to be rated each player must have the following minimum periods in which to complete all the moves, assuming the game lasts 60 moves.
Where at least one of the players in the game has a rating 2200 or higher, each player must have a minimum of 120 minutes.
Where at least one of the players in the game has a rating 1600 or higher, each player must have a minimum of 90 minutes.
Where both of the players in the game are rated below 1600, each player must have a minimum of 60 minutes.
It may not be immediately obvious but, taking by way of example the rule for players rated 2200 or higher, a time control of "all moves in 90 minutes plus 30 second increments from move 1" already complies because - if the game lasts 60 moves - the increments will have accumulated to an extra 30 minutes which, when added to the basic 90, total the required minimum of 120 minutes.
Just to clarify, all games which qualify for FIDE standard rating under its current regulations (and are played in England or another ECF-qualifying environment) are also eligible for ECF standard grading.    However, the reverse is not true.
CLUB PRIVACY POLICY - FORMAL NOTICE
If you are a member of Watford Chess Club (the "Club"), your personal data will be processed by the Club for the purposes of Club and membership administration and to facilitate your participation in club competitions and similar events.  For fuller information, click "Privacy Policy" link under "Policies and Procedures".