About 
The club meets each Monday evening at Herts Bowling Club, Bellmount Wood Avenue, Watford, WD17 3BT from 6.0 to 10.45. Chess is played in the Function Hall and members and visitors have access to the separate and comfortable lounge bar area - as well as alcoholic beverages, the bar serves tea, coffee and soft drinks.
The first 90 minutes is set aside primarily for juniors so, although adult club members are welcome during this period, they may find there is more noise than normal. Competitive play usually starts at 7.45.    There is normally ample free parking on Mondays.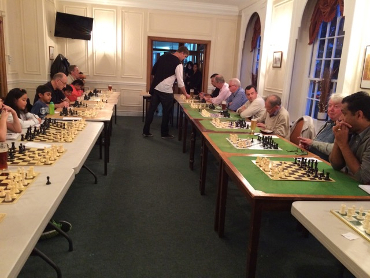 Club champion Andrew Stone takes on 25 opponents in his marathon simultaneous display at the Watford Town & Country Club (now closed) on 15 September 2015
Watford are perennial Hertfordshire club champions, having won this title in five of the last six years.   The club runs five  teams in the Hertfordshire League - one in each of the top four divisions and a fifth in the "under 120" league restricted to weaker players.   Starting September 2017, it has also competed in the elite 4 Nations Chess League.   It also holds various internal events, including a club championship. Juniors are eligible to, and do, play in these events and junior teams also compete in the Hertford & District League (against adults) and in the Junior 4 Nations Chess League.
Members of the club include 4 adults rated above ECF 200 (FIDE 2200) while several of its junior members have represented England.   However, it sets out to be an egalitarian club and includes members of all playing strengths, from occasional player up to master. Newcomers are encouraged to attend up to three times as guests to sample the atmosphere before deciding whether they wish to apply to join.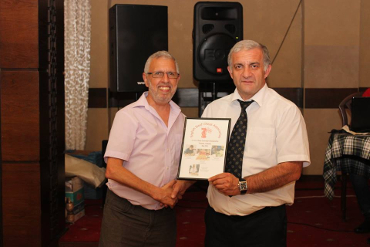 Barry David, seen here (left) with  the President of Armenia Deaf Sport, finished 6th in the World Deaf championships held in Yerevan, May 2016
Recent (well, 2016!) events included an ECF-sponsored day where the high point was a simultaneous display by international grandmaster Keith Arkell.    For more information, go to this Watford Observer article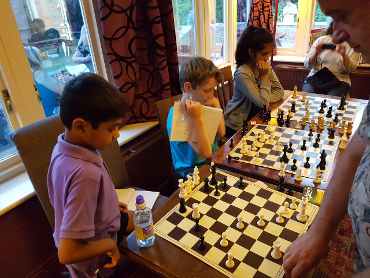 L to R, Maanav, Theo and Layla in play against Keith Arkell (simultaneous display, August 2016)
Kian Shah, 9, ran grandmaster Keith Arkell close but former Zimbabwe international Ernest Karumazondo (background) was the only one to beat him
 
Youngest (Harish) and oldest (Simon) players at Keith Arkell simul
Club members are also active in events outside the club.   Here's Jeremy Davies (below, 4 October 2017) taking on a familiar-looking opponent: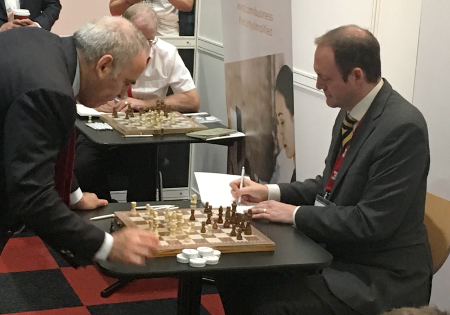 Yes, it's former world champion Garry Kasparov undertaking a London simul.
Juniors
Juniors are encouraged to take full part in club activity but the first 90 minutes (6.0 - 7.30) each club night is allocated for juniors with an experienced club member present to provide encouragement and guidance.  However, the club cannot accept responsibility for childrens' welfare while on club premises and therefore asks parents to accompany their children.
Juniors who are club members can normally remain beyond 7.30 but junior guests may be expected to leave at that time.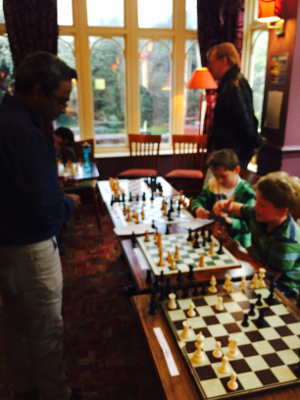 Above: Venkat 2015 simul at The Happy Hour
Club officers regularly receive requests from parents requesting chess lessons for their children, often very young children.  We do not expect to have to teach the absolute basics - how the pieces move and that the object is to checkmate the opponent - any more than football coaches expect to have to explain that one kicks the ball and the object is to score goals.  The absolute chess basics can be downloaded from any of a number of chess sites and the laws of chess can be found at various sites including http://www.fide.com/fide/handbook.html?id=171&view=article,
However, the FIDE laws are very legalistic and - from a practical point of view - most children would benefit from spending some time instead on a decent learning site such as https://www.chesskid.com/
Once a child has learnt the basics, he or she can start to play although initially probably without too much skill.  For a young child, the best place to start to play is by playing against other children - a school chess club is an ideal place - and by practising against close relatives such as parents if they play.   However, there is no minimum age - one of Watford's juniors joined the club at age 5 - and children are invited to join the club on the basis of ability.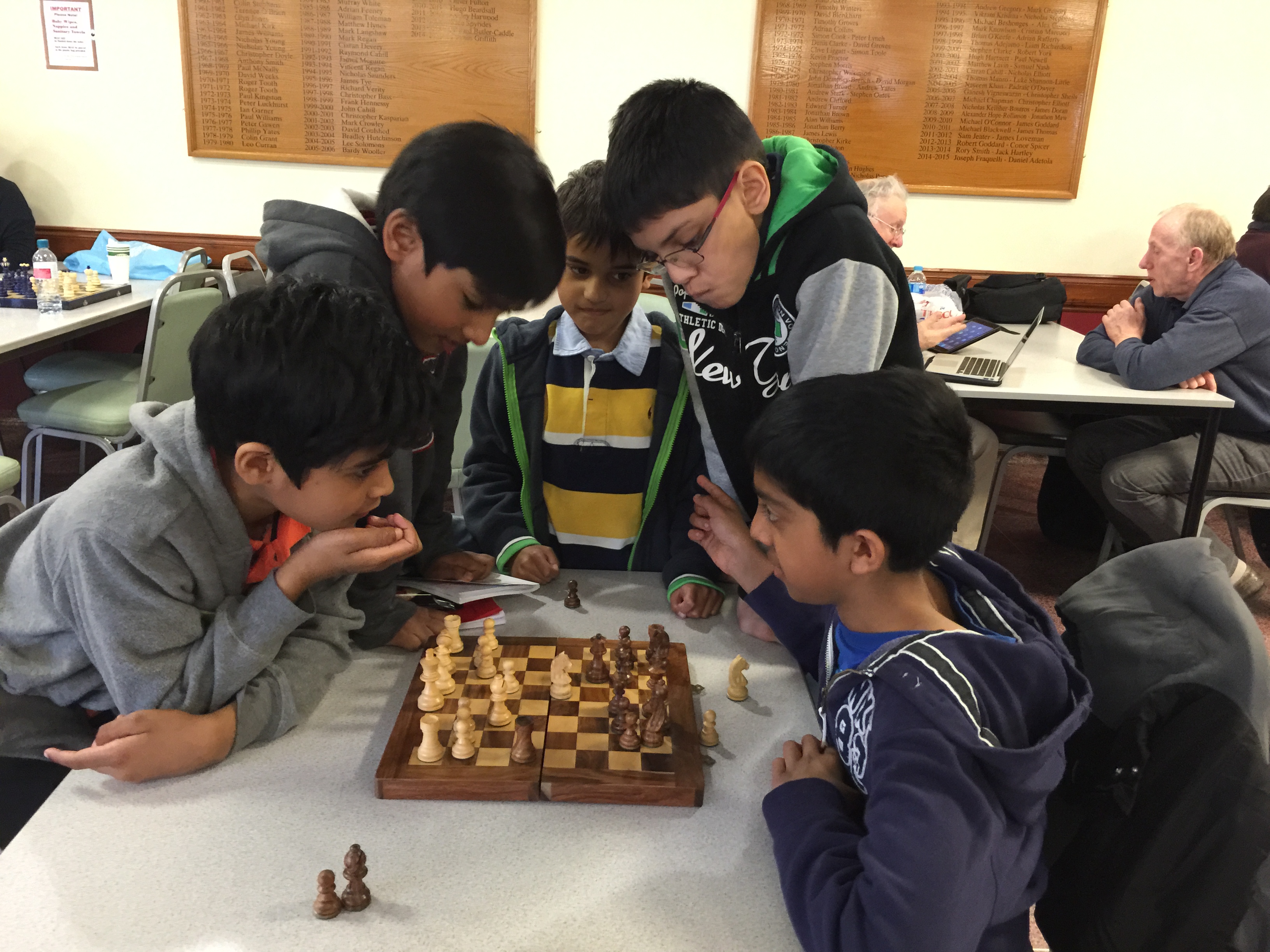 Above - five Watford juniors in analysis mode at the St Albans Congress in March 2016 - L to R, Jeff, Divyesh, Kian, Om, Harshil
Once a child gets beyond the "absolute beginner" stage, what next?  Although parents can reach for the cheque-book (grandmasters typically charge £50 per hour for coaching), most top coaches are very reluctant to take on young children who are near-beginners.  They will normally point out that a near-beginner does not require high-level assistance.   Also, there is likely to be a limit on what a young child can absorb from an hour's intensive coaching.   So, if there is a local chess club which encourages juniors, that's arguably your next point of call.
On Monday club nights at Watford, we hold coaching sessions, simultaneous displays and mini-tournaments.  These are played with chess clocks and often are arranged as "rapidplay" events where each player has 25 minutes per game to make all his or her moves.   
These mini-tournaments are primarily designed for juniors who know how to play and have developed a reasonable level of skill but have played no, or little, competitive chess.   The results of games in these mini-tournaments go forward to the English Chess Federation's database for rating purposes and, every six months, the Federation produces a ratings list which enables juniors to see whether they have improved and, if so, by how much.
The club is open longer than most junior clubs, where sessions are often restricted to 60 to 90 minutes, and this means we can also give our juniors regular practice at standard games (these results also go forward for rating) where each player has, typically, 60 minutes for his or her moves and the Laws of Chess require players to record the moves played.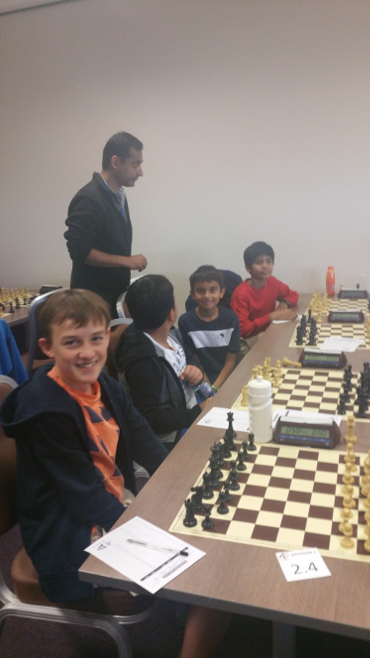 Watford J4NCL team in October 2016 - seated L to R, Christian, Karan, Kian, Jeff
Another way of improving is to improve tactical ability.   Our "Chess puzzles" page features a selection of positions whether you are invited to find the best move.   The puzzles vary in difficulty from Level 1 (easy) to Level 5 (hard).   As a rough rule of thumb, if a child can solve the Level 1 problems, he or she should be able to compete in our mini-tournaments.
Once someone becomes regularly successful in these internal events, he or she may wish to consider a further step.  Within the club, our stronger juniors compete in the Junior 4 Nations Chess League.   This event, for teams of four, takes place over three weekends each winter.   A junior team also plays in the Hertford & District League against adult opposition - these are evening matches but usually arranged during school holidays or half-term. 
March 2016:  Watford 1 team (L to R, Aman, Jeff, Dhruv, Avi) with the J4NCL runners-
up trophy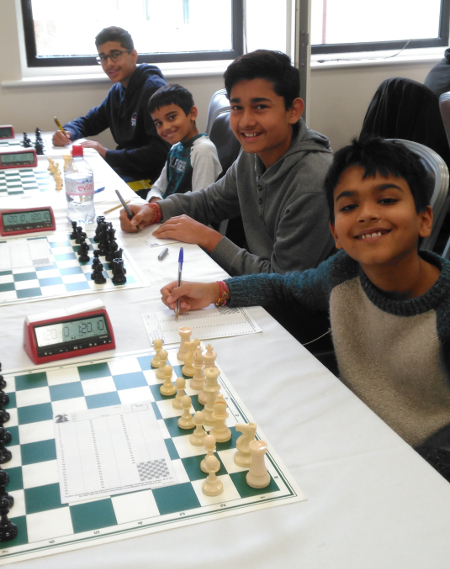 Watford Juniors 1 (L to R, Avi, Kian, Aman, Roshan) at October 2017 J4NCL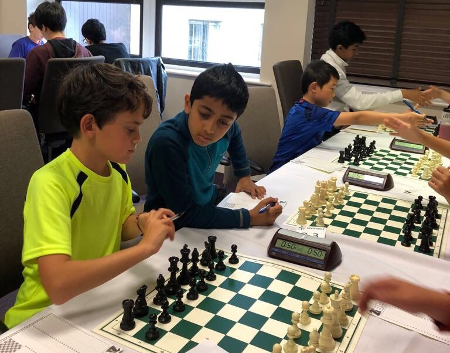 Watford Juniors 2 (L to R, Alexander, Dharmik, Bruno, Param.  Not shown, Karan) at October 2017 J4NCL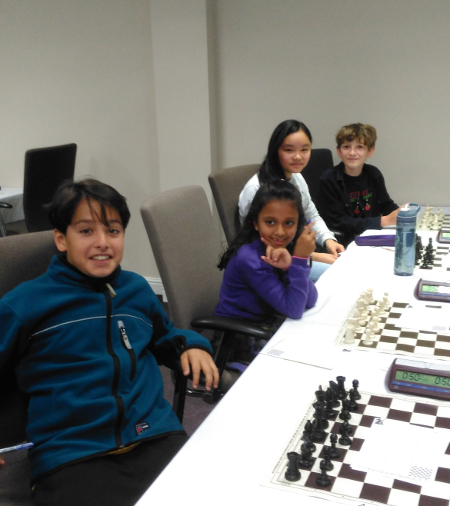 Watford Juniors 3 (L to R, Zak, Siena, Avie, Theo.  Not shown, Lettie) at October 2017 J4NCL
Club annual subscriptions (please read carefully):  
The club's executive committee recommended to the 2019 Annual General Meeting on Monday 16 September 2019, and the said Meeting agreed, that annual subscriptions for the 2019-20 playing season (excl. English Chess Federation membership fees) should be as follows:   
| | | |
| --- | --- | --- |
| Membership category | Adults (being those over age 18 but not falling into the exception categories mentioned in the paragraph below) | Juniors (being those under age 18)  |
| Level 1 | £60 | £35 |
| Level 2 | £40 | N/A |
| Level 3 | £20 | £20 |
Students (being those over age 18 but under 25 and in full-time education) are charged at the juniors rate. Concessionary rates may apply for members on means-tested benefits - details from any committee member.   All ages are attained ages as at 31 August 2019.
These rates were raised slightly after remaining unchanged from the 2016-17, 2017-18 and 2018-19 seasons.   Please note there is sometimes a waiting list for juniors.
The three levels of membership are: 
Level 1 – full membership, which entitles a member to participation in all Club activity
Level 2 [adults only]– inter-club playing membership, which entitles a member to take part in the Club's inter-club competitive activities (but not the Price Cup) but not otherwise to use the club's facilities on club nights, except for such activities as may be designated by the Executive Committee as open to Level 2 members
Level 3 – social membership, which entitles a member to full use of the Club's facilities on club nights but not to participate in any of the club's competitive activities (including the Price Cup), except for such activities as may be designated by the Executive Committee as open to Level 3 members.
NB. "Club activity" and similar terms excludes pay-to-enter events organised by the club but open also to non-members.
English Chess Federation
Those wishing to play competitive, as opposed to social, chess are strongly advised to join the English Chess Federation.  Full details can be found at http://www.englishchess.org.uk/membership/info/ but, in summary, the basic ("bronze") membership level expiring 31 August 2020 costs £18 for adults if paid online.   Juniors should avoid bronze membership [£6] and select 'silver' at the same £6 price.
Parents of juniors will want to know that a concessionary scheme applies whereby, for the first registration year only, free junior membership ("silver" level) is available if appropriately applied for.   Details from any committee member.  
"Bronze" level members covers all intra-club, inter-club and inter-county play but not outside tournaments organised by third parties.  This requires "silver" level ECF membership (£27 for adults, £5 for juniors, for 2019-20 except in the case of new juniors as explained in the previous paragraph).
To participate in internationally recognized events [standard play only] including the main 4 Nations Chess League, "gold" membership (£39 adults, £19.50 juniors) is required.
Non-registered players, or those registered at too low a level, are liable to be charged "Pay to Play" fees for competitive games they play - the rules governing this are somewhat complicated.  In the main, these fees go towards the cost of grading these games.   No fees apply for social ('friendly') games.