The club is resuming over the board chess; details of adult chess are in the left hand column and junior chess in the right hand column below.

 Online chess is also taking place - main cl

ub communities ["Watford Chess Club" and, for junior members and others known to us, "Watford Juniors"] are on Lichess but there are corresponding comm

unities on Chess.com. Teams compete in 4NCL and other events
CLUB NIGHTS
Watford Chess Club's venue at West Herts Sports Club, 8 Park Avenue, Watford WD18 7HP is currently being refurbished. Currently club nights for adult chess are not taking place, although some members are playing casual chess in the temporary bar at West Herts on Monday evenings; we are hoping to arrange a permanent venue. Junior chess is taking place at a separate venue, see right hand column.
Both groups are taking part in the 4 Nations Chess League both online and over-the-board, with junior teams playing in the Junior 4 Nations Chess League too. Watford have three teams in the Hertfordshire Chess League.
Intending new members of all levels and abilities (with the obvious proviso that they know how to play chess) are welcome.  Club policy is that newcomers are allowed three visits as guests to sample the atmosphere and decide whether they wish to apply to join the club.   This website aims to give full information about the club but, if you find there is anything not covered here, please use the "Contact Us" facility and a committee member will get in touch.

4 NATIONS CHESS LEAGUE 
See report in Juniors section opposite 
4 NATIONS CHESS LEAGUE ONLINE 
Four Watford teams, including two junior teams, compete in the main 4NCL online. Watford's first team compete in Division 1; they won their group and were beaten in the semi finals by a very strong Guildford Young Guns team. Watford's second team finished fourth in their group in Division 3.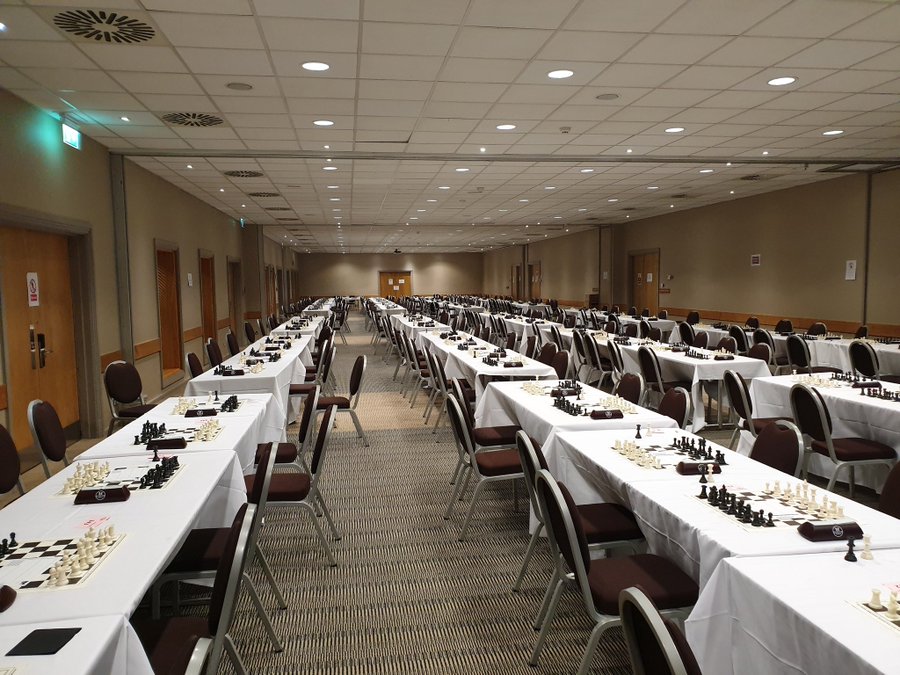 HERTFORDSHIRE CHESS LEAGUE
Watford are fielding three teams in the Hertfordshire Chess League.
ARCHIVE:
Article in Watford Observer, 19 February: https://www.watfordobserver.co.uk/sport/18247132.watford-chess-club-looking-sponsors-ahead-international-tournament
Club rapidplay, 30 December 2019, results at  http://chess-results.com/Tnr501649.aspx?lan=1
3rd Watford Junior (u-12) Rapidplay, 29 July 2019, results at http://chess-results.com/tnr457143.aspx?lan=1
Club rapidplay, 8 July 2019, results at http://chess-results.info/tnr453784.aspx?lan=1
Price Cup (2018-9 club championship), October 2018 to June 2019, results at  http://chess-results.com/tnr382758.aspx?lan=1
2nd Watford Junior (u-12) Rapidplay, 27 May 2019, results at http://chess-results.com/tnr435032.aspx?lan=1
Club rapidplay, 13 August 2018, results at http://chess-results.com/tnr374277.aspx?lan=1
1st Watford Junior (u-12) Rapidplay, 30 July 2018, results at http://chess-results.com/tnr373197.aspx?lan=1
JUNIOR CLUB NEWS, MID-JUNE 2022:
BREAKING NEWS: Rounds 7 & 8, 4NCL  - Watford A won 4.5-1.5 against Sussex C (taking them to +4 =1 -2) but Iost 5.5-0.5 to Sussex B next day..  Watford B Iost both their matches one by a narrow 3.5-2.5 margin.  (ExceptionaIIy, Watford teams here incIude both aduIts and juniors).  
BREAKING NEWS: WLCA coaches for 10 July (see below) to be Senthilnathan Yogit (ECF2118), CM David Okike (ECF2271)  and FM Tanmay Chopra (ECF2415).
Watford Juniors play over-the-board matches in the Hillingdon League, the Junior 4 Nations Chess League and (together with adult members of the club) the main 4 Nations Chess League, as well as online.     
Junior club nights are from 6 until 9 on Monday evenings. "Junior" normally means under 18, although some events are open to those under 21.    We strongly recommend juniors to join the English Chess Federation because there are many events where ECF membership is mandatory. U-18 membership of the ECF is inexpensive - see https://www.englishchess.org.uk/ecf-membership-rates-and-joining-details/ for full details - and often free.
The club's usual venue, West Herts Sports & Social Club, is currently undergoing rebuilding work so junior meetings currently take place at a temporary venue off St Albans Road in north Watford.  Adult members of the club [coaches excepted] attend by invitation only. 
Full junior membership (expiring 30 September 2022) of Watford Chess Club costs £35 and is subject, in the case of new members, to their already being able to play chess at a reasonable level, taking age into account.   "Online only" membership is £17.50.   However, at this Iate point in its year, the club is not accepting junior members other than those with high ECF or FIDE ratings.
Most Monday evening sessions [£5 charge to cover temporary hire costs]  start with group coaching (6.0 to 6.40) following which training games take place.   The length of playing sessions means that we can stage classical games (typically 45' + 15") as well as rapidplay.  Some evenings instead have matches against other clubs.
We aim to ensure that all rated training games, whether rapidplay or classical, count towards juniors' ratings by the ECF within 10 days of their being played.
First match of 2021 was against Uxbridge Juniors - see https://www.hillingdontimes.co.uk/news/19377956.uxbridge-young-chess-players-make-first-move/ (there's another pic further down this column) and the juniors have since had several more matches, including taking part in the first Junior Nations Chess League  weekend - final Division 1 table below.  We have played seven matches in the new Hillingdon Junior League with one more to follow. 
Main competitive activities are described below with a fixture list on the separate 'Fixtures' page.
JUNIOR 4 NATIONS CHESS LEAGUE 
The 2021-22 season began with a weekend at Leam-ington Spa on 25-26 September. Watford A finished 6th of 10 teams in the elite Division 1 while the B team was 12th in Division 2.
Watford Juniors opted out of the February weekend but re-entered the third and final weekend, 9-10 April in Daventry.   After Saturday's three rounds, the Watford Juniors team was placed second but lost against the two top-seeded teams - Oxfordshire Juniors and JHJ - on Sunday, so dropping to sixth place - again!
 J4NCL DIVISION ONE

 

 

 

 

 

P

W

D

L

MP

GP

1

Oxfordshire A

 

 

 

 

 

 

5

4

0

1

8

15

2

JHJ 1

 

 

 

 

 

 

5

4

0

1

8

14½

3

Staffordshire Spitfires

 

 

 

 

 

 

5

3

2

0

8

13

4

Welsh Dragons A

 

 

 

 

 

 

5

3

0

2

6

10

5

Leicestershire Juniors

 

 

 

 

 

 

5

3

0

2

6

9½

6

Watford Juniors

 

 

 

 

 

 

5

2

1

2

5

9

7

Fantastic Six

 

 

 

 

 

 

5

2

0

3

4

11

8

3Cs Charmanders

 

 

 

 

 

 

5

2

0

3

4

10½

9

Warwickshire Bears A

 

 

 

 

 

 

5

2

0

3

4

9

10

JHJ 2

 

 

 

 

 

 

5

2

0

3

4

8

11

Harrow Juniors A

 

 

 

 

 

 

5

1

0

4

2

5½

12

Manchester A

 

 

 

 

 

 

5

0

1

4

1

5
For this event, 'juniors' means those born 2004 or later. Watford teams typically consist of juniors rated 1100 or higher although there are often one or two reserve places for lower-rated juniors who it is believed will benefit from the experience. Each weekend consists of 5 rounds [3 on Saturday, 2 on Sunday] of chess, at either an 80' + 10" [Division 1] or 50' + 10" [Division 2] rate of play, between teams of four following a Swiss-paired system. BeIow ( L to R) Avy, Maanav, Jacob, Ananya. Not shown, Aashna).
4 NATIONS CHESS LEAGUE
For this event, Watford Juniors combines with the adult section of the club - our squad is fairly evenly divided between adults and juniors - with two teams competing in Division 3 South.   
After 6 rounds, Watford A have won 3 matches, drawn 1 and lost 2.   Watford B, largely composed of juniors playing for experience, have just one draw but have run other opponents close.
Rounds 7-9 (30 April - 2 May) were scheduIed to take place at Kent Hills Park, Milton Keynes, but have now been rescheduIed to 25-26 June, stiII at KHP.   The weekend wiII consist of just 2 rounds with rounds 9-11 being written off due to Covid causing a canceIIation of an earIier weekend.
Division 3 South is designed as an 11-round team Swiss-paired event, one round taking place each day, aIthough circumstances have conspired to restrict this year's event to 8 rounds.   Time control is first 40 moves in 100 minutes with another 50 minutes for all remaining moves plus 30-second increments per move starting at move 1.  
HILLINGDON & DISTRICT LEAGUE
A new junior division started in November.   Format is teams of four playing 45' + 15" sessions, on home and away basis, starting 6.30 or 7.   Watford Juniors won five, drawn two and lost one of their matches, finishing as divisionaI runners-up.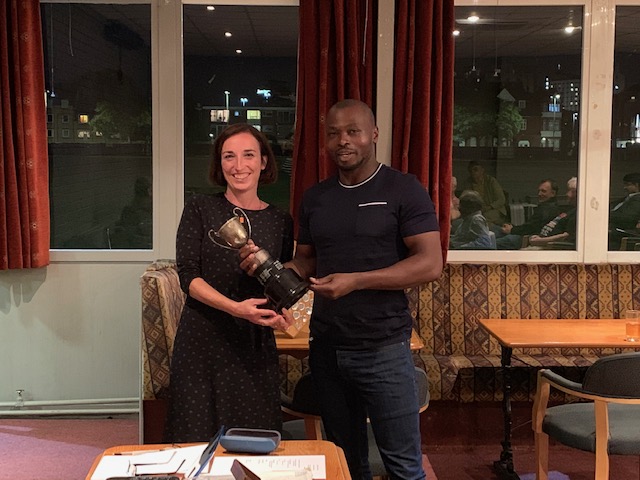 Jennifer Hurrell presents Ernest Karumazondo, joint winner with Andrew Stone, with the Price Cup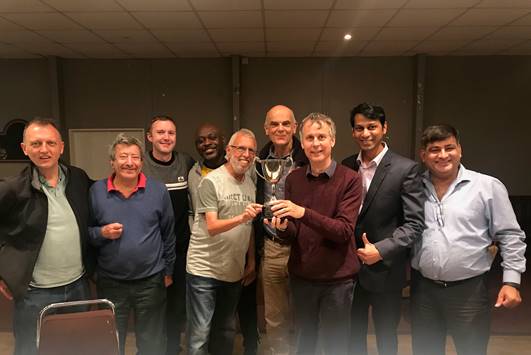 Watford players celebrate after beating St Albans in the season-opening Cheshire Cup match on 23 September. Above, from left, David Shaw, Chris Russell, Alistair Taylor, Omowale Nelson, Barry David, Neil Dunlop, Paul Littlefair (non-playing captain), Sandesh Tathare, Sanjay Vig.
CLUB PRIVACY POLICY - FORMAL NOTICE
If you are a member of Watford Chess Club (the "Club"), your personal data will be processed by the Club for the purposes of Club and membership administration and to facilitate your participation in club competitions and similar events.  For fuller information, click "Privacy Policy" link under "Policies and Procedures". 
Everyone is welcome (to access, click on pictorial below) at Geir Erik Nielsen's YouTube channel at
 PLAY AN AI (ARTIFICIAL INTELLIGENCE)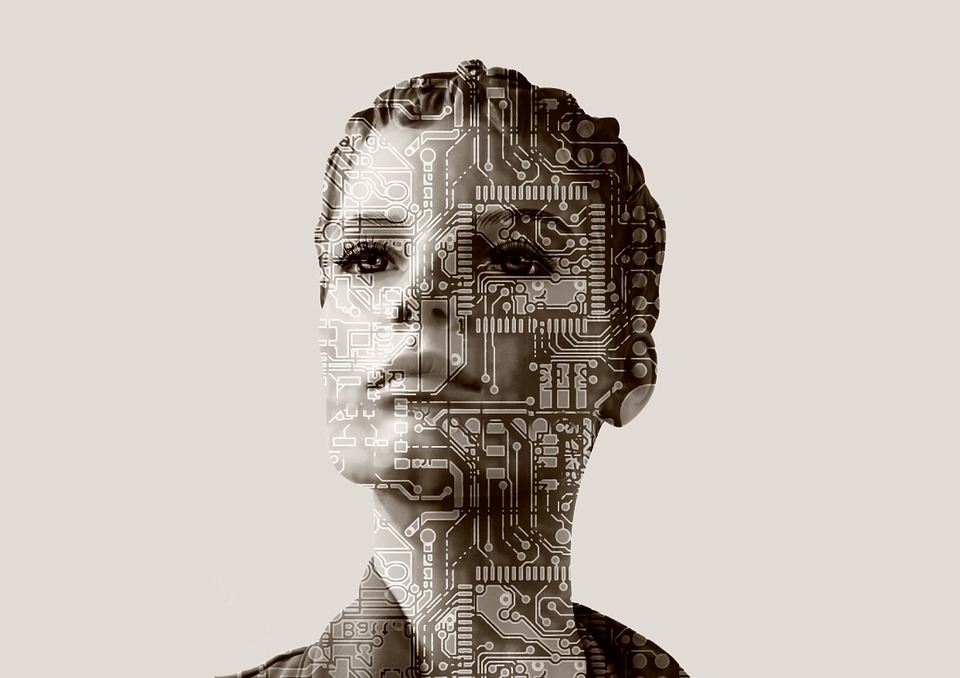 Tired of playing the boring old computers that always beat you or play so weirdly you can't understand what is going on, asks webmaster Geir Erik Nielsen? Read our article on Artificial Intelligence and how you can install it at home
Also embedded in the updated article is now a video of how to get the best of Arena and Leela at home.
As a teaser for it all, and as an incredibly instructive game, here is how Leela deals with the Benoni
USEFUL CONTACTS AND WEBSITES

 

Watford Chess Club email address

This email address is being protected from spambots. You need JavaScript enabled to view it. 

(allow up to 2 days for reply)

English Chess Federation

Hertfordshire Chess Association

Hertfordshire Chess League results

Hertfordshire Schools Chess Association

4 Nations Chess League (incl. J4NCL)

Tournament chess results (main site for this)

http://chess-results.com/Default.aspx?lan=1
AWARD:
  Watford Juniors were 2021 recipients of a British Chess Educational Trust award, having been nominated by the Southern Counties Chess Union.  Each such award, derived through the generosity of the late Sir George Thomas, comprises an engraved board, a wooden set and a DGT3000 digital chess clock.
CLUB POLO SHIRTS:

 

 Cl
u
b polo shirts can be purchased at 
https://myclothing.com/
 in varying sizes costing £6.50 to £7 [j
u
niors] or £8 (adults) with £3.75 delivery charge.   T-shirts available at similar cost but disregard other items