CLUB NIGHTS
The club meets throughout the year on Monday evenings (6.0 - 10.45, usually ample free parking on Mondays) at West Herts Sports Club, 8 Park Avenue, Watford WD18 7HP.    Juniors have priority during the first 90 minutes.   
As a one-off, the club will also be open on Wednesday evening, 19 February, opening 6.0 as usual.
Chess is played in the Function Room although members and visitors have access to the separate and comfortable lounge bar area - as well as alcoholic beverages, the bar serves tea, coffee and soft drinks.   The club plays in the 4 Nations Chess League and the Hertfordshire League with junior teams playing in the Junior 4 Nations Chess League.
Intending new members of all levels and abilities (with the obvious proviso that they know how to play chess) are welcome.  Club policy is that newcomers are allowed three visits as guests to sample the atmosphere and decide whether they wish to apply to join the club.   This website aims to give full information about the club but, if you find there is anything not covered here, please use the "Contact Us" facility and a committee member will get in touch.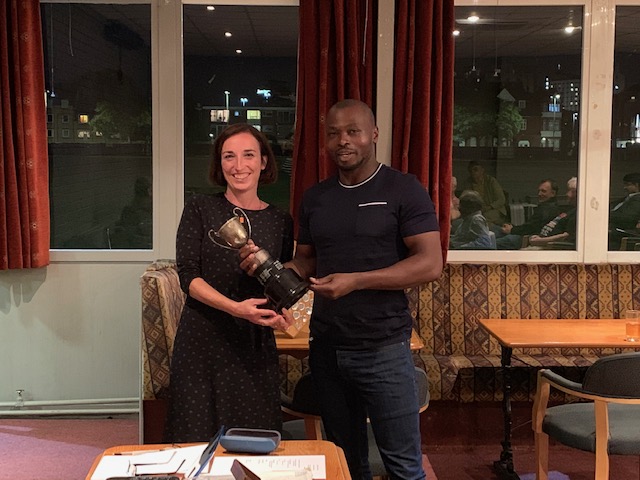 Jennifer Hurrell presents Ernest Karumazondo, joint winner with Andrew Stone, with the Price Cup

4 NATIONS CHESS LEAGUE - DIVISION 4
The second 4NCL weekend at the Holiday Inn, Maidenhead/Windsor, saw Watford A starting as one of seven teams still with a 100% match score.   Saturday's games saw a 4-2 win for Watford A but Watford B lost 1.5-4.5.  However, Sunday saw a quite different outcome, Watford A losing 2.5-3.5 but Watford B winning 4.5-1.5.
Dates/venues for the 3 later weekends are shown on our 'Fixtures' page, with the next on 8-9 February, again in Maidenhead.    The two final weekends will be in Daventry.  Interested new players - and we're still looking to increase the size of our squad, ideally with a view to promotion out of Division 4 - are invited to contact the club committee (as an option to personal contact, anyone can use the 'Contact us' tab at the top of the page) to express their interest.
Main points to note are that 4NCL entails one round each day, with the rate of play 40 moves in 100 minutes (plus 30 second increments from move 1) followed by the rest of the game in 50 minutes (again with 30 second increments). That means a 60-move game could conceivably take as long as 6 hours, far longer than local league chess.  
Starting times are 2.0 on the Saturday of each weekend followed by (except in the May three-day weekend) 11.0 for Sunday's games.    All games are ECF-graded and, subject to meeting the usual conditions, FIDE-rated.
More information about 4NCL appears on its website.  
Division 4  - positions after ro

und 4
 
P
W
D
L
GP
Pts
1
Sussex Martlets 2
4
4
0
0
19
8
2
Wood Green Youth
4
4
0
0
15
8
3
CSC 2
4
3
0
1
16½
6
4
The Full Ponty
4
3
0
1
16
6
5
Celtic Tigers 2
4
3
0
1
16
6
6
MK Phoenix 2
4
3
0
1
15½
6
7
All Anands on Deck
4
3
0
1
15½
6
8
Watford A
4
3
0
1
15
6
9
Fischer's Catch
4
3
0
1
14
6
10
Iceni 2
4
3
0
1
12
6
11
Cambridge University 3
4
2
0
2
14
4
12
Ashfield 2
4
2
0
2
13½
4
13
Throw in the Tal
4
2
0
2
13½
4
14
Sussex Martlets 3
4
2
0
2
13½
4
15
West is Best 3
4
2
0
2
13
4
16
Oxford 4
4
2
0
2
13
4
17
Crowthorne 2
4
2
0
2
12½
4
18
CSC 3
4
2
0
2
12½
4
19
Warwickshire Select 2
4
2
0
2
12
4
20
War and Piece
4
2
0
2
11½
4
21
Wessex C
4
2
0
2
11
4
22
Iceni 3
4
1
1
2
11½
3
23
Celtic Tigers 3
2
1
1
0
6½
3
24
Barnet Knights 2
4
1
0
3
10
2
25
Poisoned Pawns - Next Gen
4
1
0
3
9
2
26
Surbiton 2
4
1
0
3
8
2
27
Watford B
4
1
0
3
7
2
28
Wessex D
4
1
0
3
5
2
29
The Pitstop
4
1
0
3
5
2
30
Banbury Bulldogs
2
1
0
1
5
2
31
Barnet Knights 3
4
0
0
4
7
0
32
Barnet Knights 4
4
0
0
4
3½
0
33
Oxford 5
2
0
0
2
3½
0
34
Warwickshire Select 3
2
0
0
2
1½
0
HERTFORDSHIRE CHESS LEAGUE
The 2019-20 competition began on 30 September.   See 'Fixtures' page for a list of fixtures up to 15 April and 'Results' page for reported results.    No results reported for Watford 1.
Watford 2 are well-placed in Division 2 and promotion back to Division 1 is not out of the question.
 
 
 P
 
W
 D
L 
 
MPs 
 
 For
 Agst
1

Watford 2

5
 
4
1
0
 

9

 

16.5

8

.5

2
B Stortford 1
5
 
3
2
0
 

8

 
16.5

8

.5
3
Stevenage 1
6
 
1
3
2
 
5
 
14.5
15.5
4
H Hempstead 2
5
 
1
2
2
 
4
 
11.5
13.5
5
Welwyn H'f'd 1
5
 
0
4
1
 
4
 

12

13
6
Borehamwood 1
4
 
1
0
3
 
2
 
7

13

7
St Albans 2
4
 
0
2
2
 
2
 
7
13
In Division 3, Watford 3 is also doing well with three wins, one draw and one defeat, from its first five completed matches.   Watford 4, in the next division, is in mid-table with two wins, two draws and two losses from its six matches to date.    In the separate u-120 league, the Watford team has won three and lost two of its first five matches.
CLUB SHIRTS
Club polo shirts can be bought, in various adult and junior sizes, at  https://myclothing.com/ costing £5.50 to £6 [juniors] or £7 [adults] with £3 delivery charge.   T-shirts also available, junior sizes only, £5 to £5.50.
CLUB NEWS IN BRIEF
Hampstead u-1700, January:  Avy Dasgupta 4/5 [jt 1st]
Price Cup [club championship] round 3 pairings are at http://chess-results.com/tnr488577.aspx?lan=1&art=2&rd=3
Watford match results are now reported on this site by team captains - a change from the past 5 years.
London junior finals: Avy Dasgupta 5/7 in u-10 major [14-15 December] and 5.5/9 in u-12 major [28-30 December]
Potters Bar LJCC u-12 qualifier, 1 December:  Avy Dasgupta 5/6     
Hampstead u-1700, 23-24 November:  Avy Dasgupta 3.5/5
Letchworth rapidplay, 17 November:  Cecil Sloan 4/6 [2nd=] in  u-145.
Basildon LJCC u-8 qlfr, 17 November:  Aarav Arora 4/6.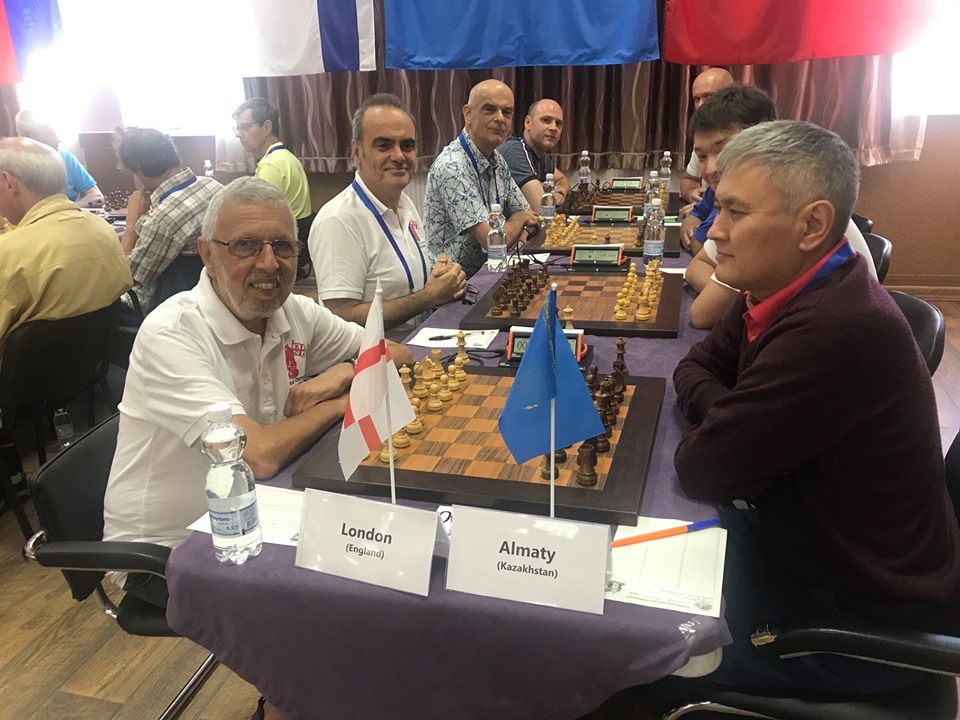 Barry David (first left) and Neil Dunlop (third left) playing for the London team in the 24th European Deaf team championship, 16-20 July



Neil Dunlop (see pic above) scores 5/7 at the European Deaf team championships, 16-20 July
Archive:
Club rapidplay, 8 July 2019, results at http://chess-results.info/tnr453784.aspx?lan=1
Price Cup (2018-9 club championship), October 2018 to June 2019, results at  http://chess-results.com/tnr382758.aspx?lan=1
2nd Watford Junior (u-12) Rapidplay, 27 May 2019, results at http://chess-results.com/tnr435032.aspx?lan=1
Club rapidplay, 13 August 2018, results at http://chess-results.com/tnr374277.aspx?lan=1
1st Watford Junior (u-12) Rapidplay, 30 July 2018, results at http://chess-results.com/tnr373197.aspx?lan=1

JUNIOR 4 NATIONS CHESS LEAGUE   
We have abandoned the next J4NCL weekend [18-19 January, South Normanton] as there evidently wasn't much enthusiasm for paying a mid-winter visit to Derbyshire.   We're expecting to be back in action for the third and final weekend of 15-16 February at Daventry Court Hotel.
The first 2019-20 J4NCL weekend took place 5-6 October at Basingstoke Country Hotel with two Watford teams in Division 2.   Of our 12 squad members, only four had played in previous J4NCL weekends so the squad was short on experience.
In the event, Watford 'A' finished in mid-table with 5/10 while Watford 'B' narrowly avoided bottom place with 2/10, with a lot of experience being gained over the weekend.   Standout performers were the teams' respective top boards, Jeff and Sean, who both went through undefeated to score 4 points from their 5 games.    For full results, click on the 'Results' tab at the top of this page.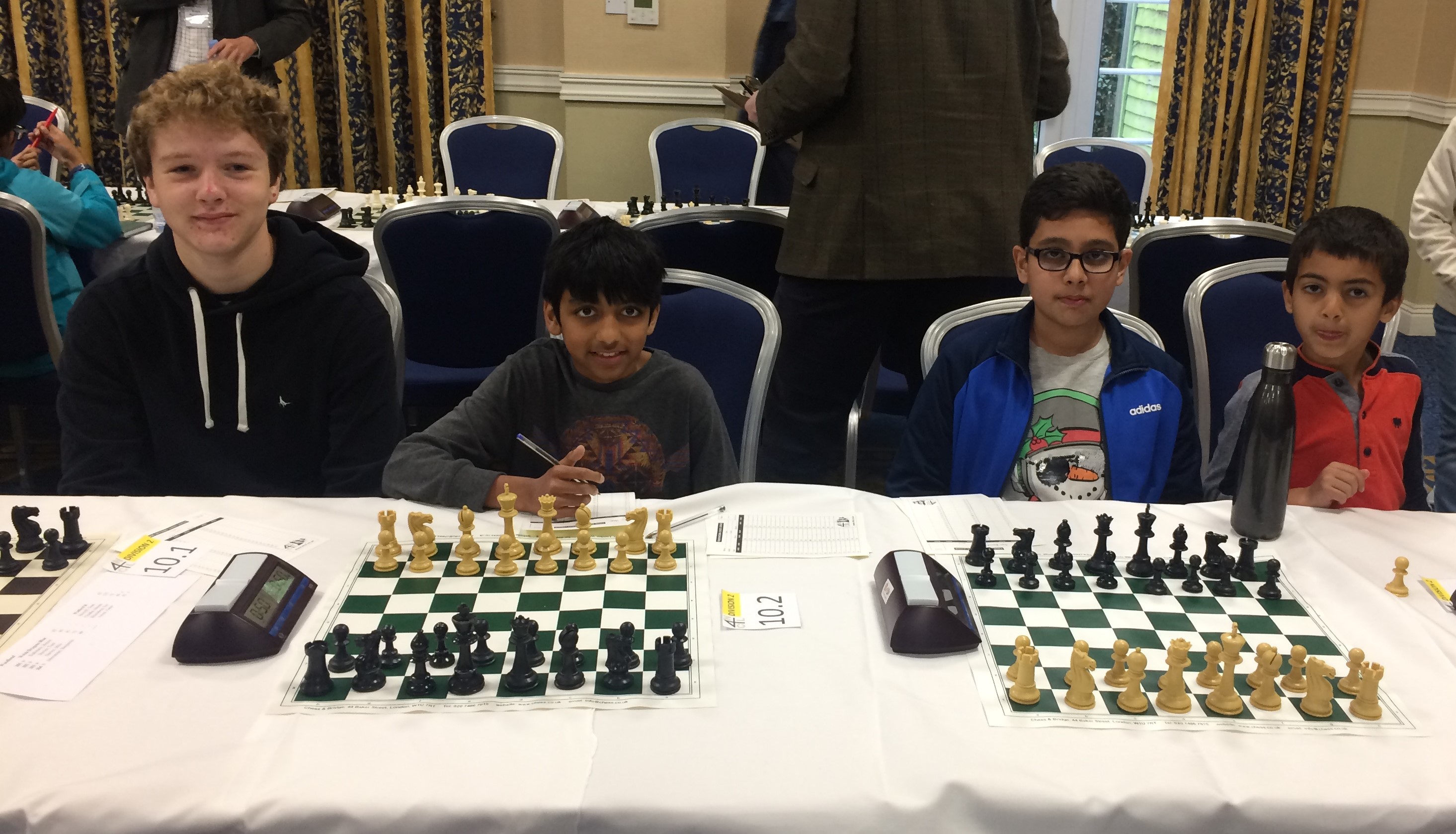 Watford J
u

niors B at the J4NCL October weekend

There's still time for interested new players to join our J4NCL squad - use the "Contact us" facility on this website - for all or part of the last weekend.  To be eligible, juniors must be under 18 on the date of the game in question. 

More background on J4NCL appears on the 4NCL website

 

OTHER JUNIOR MATCHES

Watford juniors play twice a year against Uxbridge juniors in a double-round rapidplay where virtually the entire Watford junior membership is invited to take part.    There were two well-contested matches in January and June 2019, with Watford running out winners on both occasions.   Watford also won the third match, on 9 December, by 18 points to 10.

Watford juniors also now play an annual match against St Albans juniors to coincide with the longstanding Cheshire Trophy match between the two clubs - but at the opposite venue.   The first, in September 2019, was a close affair contested over 2 rounds of rapidplay with St Albans emerging 12.5-11.5 winners.

 

 
Annual General Meeting
held at
West Herts Sports Club, Park Avenue, Watford WD18 7HP
on Monday 16th September 2019 at 7:30pm 
 AGENDA
1.  Receive apologies for absence
2.  Approve minutes of September 2018 AGM (copies are attached)
3.  Receive report from the President on the 2018-19 year, and to approve the Accounts for the financial year ending 31st July 2019
4.  Agree Club membership subscriptions for 2019-20. The Committee proposes:
Adults Full £60, Associate £40 and Social £20. 
Juniors and students Full £35 Social £20.
Full membership entitles a member to participate in all Club activity.
Associate membership: a member can take part in the Club's inter-club competitive activities (but not the Price Cup) but not otherwise use the club's facilities on club nights, except for designated special events.
Social membership entitles a member to full use of the Club's facilities on club nights but not to participate in any of the club's competitive activities (including the Price Cup), except for designated special events.
The subscriptions represent an increase on last year because the club will pay next year for all (adult and junior) 4NCL fees. There will be a £2 discount in all categories for everyone who pays by bank transfer, with the member's name as a reference, before 1 October 2019.
5. Present trophies to winning individuals 
6.  Elect Officers, Secretaries and Committee for 2019-20:
post

(** = committee) 

2018-19 post holder

Elected/appointed 2019-20

** President/**Treasurer (joint)

Hanisha Gurjar, Jennifer Hurrell

Hanisha Gurjar, Jennifer Hurrell

** Club Secretary

Paul Littlefair

Paul Littlefair

** Membership Secretary

vacant

Sandesh Tathare

** Juniors Secretary

Roger Lancaster

Roger Lancaster

Tournament Secretary

Andrew Stone

Andrew Stone

Match Captains

Andrew Stone (Herts 1st, Russell)

Ernest Karumazondo (Herts 2nd) 

Cecil Sloan (Herts 3rd) 

Paul Littlefair (Sharp)

Geir Erik Nielsen/Pete Edwards (u140,u140ko)

Roger Lancaster (4NCL 1st)

Sanjay Vig (u120,u120ko, 4NCL 2nd)

Christian Bland (H&D)

Andrew Stone (Herts 1st, Russell)

Ernest Karumazondo (Herts 2nd) 

Cecil Sloan (Herts 3rd)  

Paul Littlefair (Sharp)

Sanjay Vig (4th , U140 ko, 4NCL 2nd)

Roger Lancaster (4NCL 1st)

Keith Hylands and Karthik Ramesh [joint] (u120,u120ko)

No H&D entry this year

Webmaster

Geir Erik Nielsen

Geir Erik Nielsen

Equipment Curator

Bradley Mead-Herbert

Bradley Mead-Herbert

** Other Committee members 

(up to 4 additional positions)

Simon Charles

Bradley Mead-Herbert 

Cecil Sloan

Sanjay Vig

Simon Charles

Cecil Sloan    

Sanjay Vig

Ernest Karumazondo

Auditor

Philip Abbott

Philip Abbott
7.  Any Other Business  
Paul Littlefair
Secretary
GRADING CHANGES
We understand that all ECF graders have been advised as follows -
For us this year end marks the beginning of a new era.    We will be closing the grading period for all results up to 31st December and please submit all files to [named person] by 14th January.

We intend to use the January list, converted to 4 digits, as the starting point for monthly grading. Hence I would ask you to use more diligence to get the dates of each result submitted correctly for the new year as it will be more critical for grading correctly.    Our current plans remain to continue the old three-digit process in order to get out the next August list in traditional format. Monthly grades will have no status until then, but as our new system gets up to speed we will publish monthly grades for each month in 2020.

As has been stated before there is no compulsion from the ECF to increase your frequency of submission, but I do hope that, when you can, you can support this new initiative by doing submissions more often.   I recognise that we need to help by easing your task. With that in mind we will be obtaining most of the relevant 31st December submissions direct from LMS with no intervention from the graders involved. We will need the graders involved to help us correct resulting errors. [named person] will be contracting organisers with more detail in the near future.

In due course, where we think this idea will work we will be contacting graders involved.     While we have done some testing, we need to see whether this does make graders life easier or that this does not merely pass all the workload onto [named person]. If this process is a success then we will make the process available to other software providers so more submissions in the new year can be simplified. Our reticence is due to the possibility of unnecessary correspondence where errors that humans would spot get through the system.
See also https://www.englishchess.org.uk/monthly-grading-proposal/ 
CLUB END-YEAR RAPIDPLAY - 30 DECEMBER 2019
Rounds at 6.30, 7.15, 8.0, 8.45 and 9.30, final positions at
 http://chess-results.com/Tnr501649.aspx?lan=1
Everyone is welcome (to access, click on pictorial below) at Geir Erik Nielsen's YouTube channel at
USEFUL CONTACTS AND WEBSITES

 

Watford Chess Club email address

This email address is being protected from spambots. You need JavaScript enabled to view it. 

(allow up to 2 days for reply)

English Chess Federation

Hertfordshire Chess Association

Hertfordshire Chess League results

Hertfordshire Schools Chess Association

4 Nations Chess League (incl. J4NCL)

Tournament chess results (main site for this)

http://chess-results.com/Default.aspx?lan=1
PLAY AN AI (ARTIFICIAL INTELLIGENCE)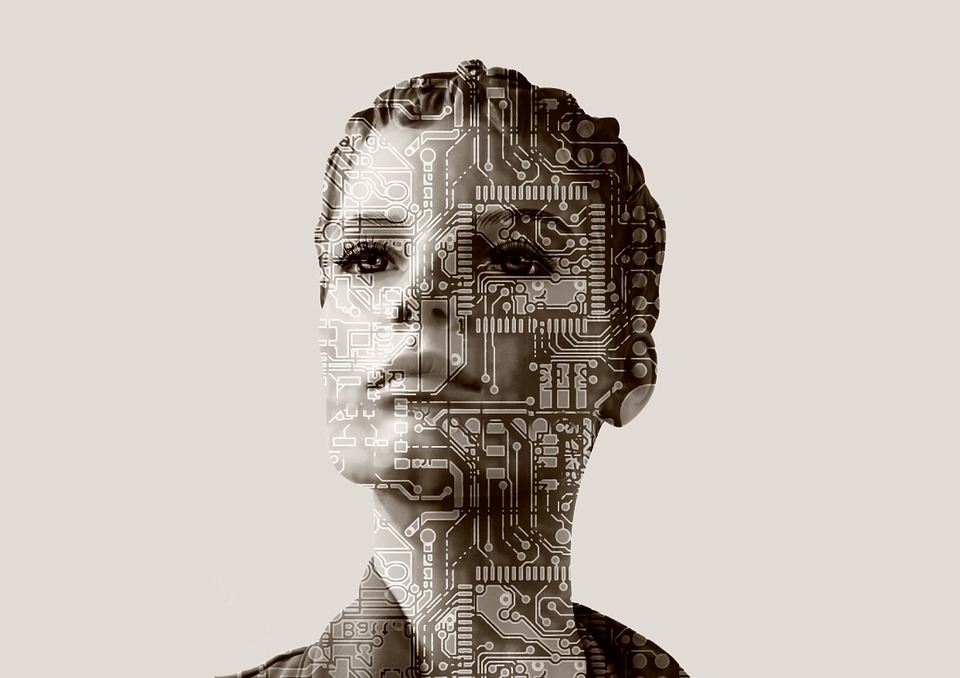 Tired of playing the boring old computers that always beat you or play so weirdly you can't understand what is going on, asks webmaster Geir Erik Nielsen? Read our article on Artificial Intelligence and how you can install it at home
Also embedded in the updated article is now a video of how to get the best of Arena and Leela at home.
As a teaser for it all, and as an incredibly instructive game, here is how Leela deals with the Benoni
CLUB PRIVACY POLICY - FORMAL NOTICE
If you are a member of Watford Chess Club (the "Club"), your personal data will be processed by the Club for the purposes of Club and membership administration and to facilitate your participation in club competitions and similar events.  For fuller information, click "Privacy Policy" link under "Policies and Procedures".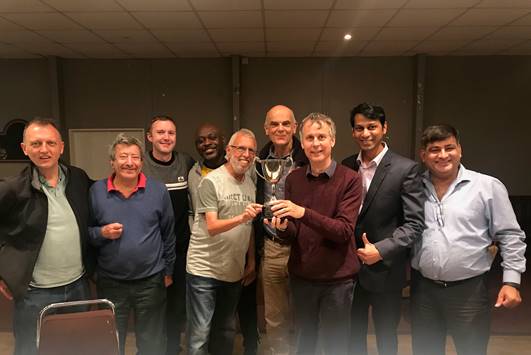 Watford players celebrate after beating St Albans in the season-opening Cheshire Cup match on 23 September. Above, from left, David Shaw, Chris Russell, Alistair Taylor, Omowale Nelson, Barry David, Neil Dunlop, Paul Littlefair (non-playing captain), Sandesh Tathare, Sanjay Vig.