Adult over-the-board activity suspended [but not juniors - see below for over-the-board junior activity] with online chess taking place - main club communities ["Watford Chess Club" and, for junior members and others known to us, "Watford Juniors"] are on Lichess but there are corresponding communities on Chess.com. Teams compete in 4NCL and other events
CLUB NIGHTS
With suspension of over-the-board play, Watford is currently playing online only with its most active communities being on Lichess - see main heading.
Both gro
ups took part in the 4 Nations Chess Leagu

e

Onlin

e

[and, in normal circ

u

mstances, the over-the-board version] and c

urrent

Watford

Juniors activities are shown in the right-hand col

umn.



The club normally meets throughout the year on Monday evenings (6.0 - 10.45, usually ample free parking on Mondays) at West Herts Sports Club, 8 Park Avenue, Watford WD18 7HP.    Juniors have priority during the first 90 minutes.  
Chess is played in the Function Room although members and visitors have access to the separate and comfortable lounge bar area - as well as alcoholic beverages, the bar serves tea, coffee and soft drinks.   The club plays in the 4 Nations Chess League and the Hertfordshire League with junior teams playing in the Junior 4 Nations Chess League.
Intending new members of all levels and abilities (with the obvious proviso that they know how to play chess) are welcome.  Club policy is that newcomers are allowed three visits as guests to sample the atmosphere and decide whether they wish to apply to join the club.   This website aims to give full information about the club but, if you find there is anything not covered here, please use the "Contact Us" facility and a committee member will get in touch.

4 NATIONS CHESS LEAGUE ONLINE 
Five Watford teams, including two junior teams, compete in the main 4NCL online.   Watford results/pairings as follows:
ROUND 1, DIVISION 1:  ChessPlus Alpha 3-1 Watford A   DIVISION 3:  Wessex Stars B 2.5-1.5 Watford B   DIVISION 5:  Watford Juniors A 0.5-3.5 Kent Kestrels D, Watford C 1-2 Battersea Pawnbreakers, Watford Juniors B 1-3 Uxbridge Knights.
ROUND 2, DIVISION 1: Watford A 2.5-1.5 Spirit of Atticus  DIVISION 3:  Watford B 3-0 Railsport, DIVISION 5: Grangemouth 1-3 Watford C, Bishop Auckland Knights 2-2 Watford Juniors A, Streatham C 2-2 Watford Juniors B
ROUND 3 [21 April], DIVISION 1: Watford A 3-1 Sussex SI, DIVISION 3: CSC C 4-0 Watford B, DIVISION 5: Watford C 1-3 Darnell & Handsworth, Watford Juniors A 4-0 BBC Foxes, Watford Juniors B 1-3 Bishop Auckland Knights
RO
UND 4 [2

8

April], DIVISION 1:  Sussex Auguries v Watford A, DIVISION 3: Watford B v Shropshire B, DIVISION 5: Manchester J

uniors

 

B v Watford Juniors A, East Kilbride v Watford C, Sheffield Deaf v Watford J

uniors B.
Division 1 has four groups of eight teams each, with the top teams in each group clashing in the final rounds
 DIVISION 1, GRO

UP A

P
W
D
L
GP
Pts
1
Guildford Young Guns
3
3
0
0
8½
6
2
Northumbria Vikings
3
3
0
0
8½
6
3
Watford A
3
2
0
1
6½
4
4
ChessPlus Alpha
3
1
2
0
7
4
5
Spirit of Atticus [L'pool]
3
1
0
2
6
2
6
Sussex Social Isolators
3
0
1
2
4
1
7
Sussex Auguries
3
0
1
2
4½
1
8
Alba [Scotland]
3
0
0
3
3
0

4 NATIONS CHESS LEAGUE - DIVISION 4
Rounds 7-11 of this year's 4NCL will no longer take place on the original dates in April and May due to the present pandemic.   Tentative plan at present is reschedule these for later in the year with a knock-on effect on the 2020-21 4NCL which will accordingly not get under way until early 2021.    That could change - up-to-date information should be available on the 4NCL website although it is planned to summarise this here.
Main points to note are that 4NCL entails one round each day, with the rate of play 40 moves in 100 minutes (plus 30 second increments from move 1) followed by the rest of the game in 50 minutes (again with 30 second increments). That means a 60-move game could conceivably take as long as 6 hours, far longer than local league chess.  All games are ECF-graded and, subject to meeting the usual conditions, FIDE-rated.
Division 4 [34 teams] summary after round 6:  
 
P
 
W
D
L
 
GP
 
MPts
1
 
Sussex Martlets 2
6
 
6
0
0
 
27
 
12
2
 
Fischer's Catch
6
 
5
0
1
 
21½
 
10
3
 
Wood Green Youth
6
 
5
0
1
 
20
 
10
4
 
Watford A
6
 
4
1
1
 
23½
 
9
5-20
 
 
 
 
 
 
 
 
 
 
 
21
 
Watford B
6
 
3
0
3
 
14½
 
6
22-34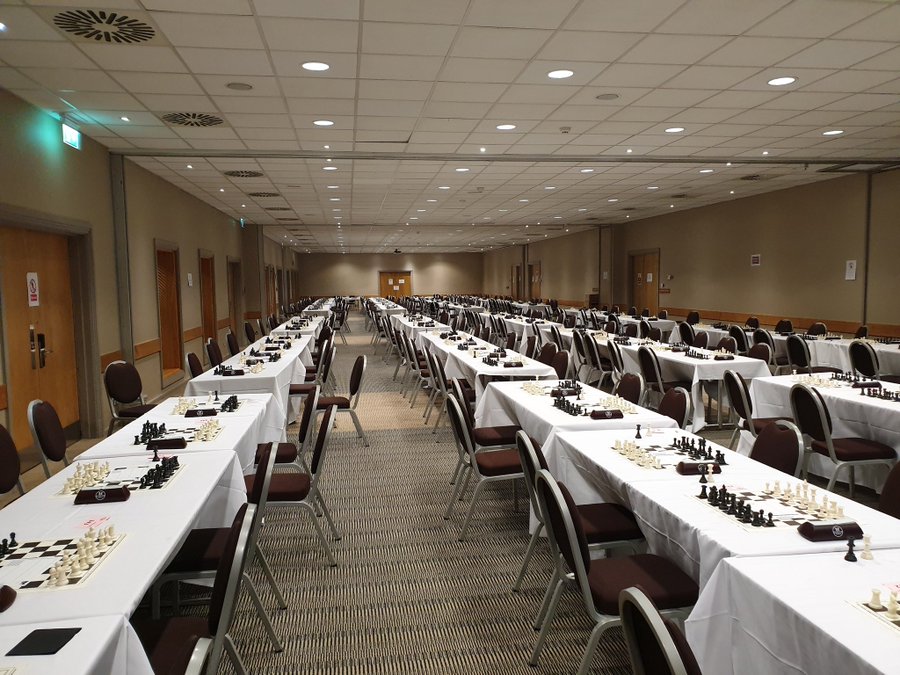 HERTFORDSHIRE CHESS LEAGUE
The 2019-20 competition, which began on 30 September, has been suspended as a result of the present pandemic.  See 'Fixtures' page for a list of fixtures and 'Results' page for reported results.    No recent results reported here for Watford 1.
Watford 2 are well-placed in Division 2 and promotion back to Division 1 is not out of the question.
 
 
 P
 
W
 D
L 
 
MPs 
 
 For
 Agst
1

Watford 2

8

 
6
1
1
 

13

 

26.5

13.5

2
B Stortford 1

8

 
5
2
1
 

12

 
24.5

15

.5
3
H Hempstead 2

8

 
3
2
3
 

8

 
1

9

.5
20.5
4
Borehamwood 1

8

 
3
0
5
 
6
 
17
23
5
Stevenage 1

8

 
2
3
3
 
7
 
21
1

9

6
Welwyn H'f'd 1

8

 
0
4
4
 
4
 

14.5

21.5
7
St Albans 2

8

 
2
2
4
 
6
 

17

23
In Division 3, Watford 3 is also doing well with four wins, three draws and one defeat, from its first eight completed matches.   Watford 4, in the next division, is in mid-table with three wins, two draws and four losses from its nine matches to date.    In the separate under-120 league, the Watford u-120 team has won five, drawn one and lost two of its first eight matches.
ARCHIVE:
Article in Watford Observer, 19 February: https://www.watfordobserver.co.uk/sport/18247132.watford-chess-club-looking-sponsors-ahead-international-tournament
Club rapidplay, 30 December 2019, results at  http://chess-results.com/Tnr501649.aspx?lan=1
3rd Watford Junior (u-12) Rapidplay, 29 July 2019, results at http://chess-results.com/tnr457143.aspx?lan=1
Club rapidplay, 8 July 2019, results at http://chess-results.info/tnr453784.aspx?lan=1
Price Cup (2018-9 club championship), October 2018 to June 2019, results at  http://chess-results.com/tnr382758.aspx?lan=1
2nd Watford Junior (u-12) Rapidplay, 27 May 2019, results at http://chess-results.com/tnr435032.aspx?lan=1
Club rapidplay, 13 August 2018, results at http://chess-results.com/tnr374277.aspx?lan=1
1st Watford Junior (u-12) Rapidplay, 30 July 2018, results at http://chess-results.com/tnr373197.aspx?lan=1
JUNIOR CLUB NEWS, MID-JANUARY 2022: 
NEWSFLASH:  Online charity blitz on 9 January raised £230 to support former child soldiers in Uganda.   Fittingly, it was won by organiser Avy Dasgupta with 8/9 ahead of Advait Keerthi Kumar and David Sedgwick (both 7).   Full result to follow.  Thanks to all who supported this.
NEWSFLASH:  Watford Juniors' online match on 23 January was streamed live with Watford winning, improbably, 21-1.   Watch https://www.twitch.tv/videos/1273171864 starting at 9 hrs 8 mins to follow the action
Watford Juniors play over-the-board matches in the Hillingdon League, the Junior 4 Nations Chess League and (together with adult members of the club) the main 4 Nations Chess League, as well as online.
Junior club nights are from 6 until 9 on Monday evenings. "Junior" normally means under 18, although some events are open to those under 21.    We strongly recommend juniors to join the English Chess Federation because there are many events where ECF membership is mandatory. U-18 membership of the ECF is inexpensive - see https://www.englishchess.org.uk/ecf-membership-rates-and-joining-details/ for full details - and often free.
The club's usual venue, West Herts Sports & Social Club, remains unavailable due to rebuilding work which is due to complete in the first half of 2022 so junior meetings currently take place at a temporary venue off St Albans Road in north Watford.  Adult members of the club [coaches excepted] attend by invitation only. 
Currently, everyone aged 11 or over unless medically exempt is kindly requested to wear a mask.
Full junior membership (expiring 30 September 2022) of Watford Chess Club costs £35 and is subject, in the case of new members, to their already being able to play chess at a reasonable level, taking age into account.   "Online only" membership is £17.50.   Please note that anyone applying to join after 13 December will be placed on a waiting list - this is so that the club can assimilate recently-joined juniors.   
Most Monday evening sessions [£5 charge to cover temporary venue hire costs]  start with group coaching (6.0 to 6.40) following which training games take place.   The length of playing sessions means that we can stage classical games (typically 45' + 15") as well as rapidplay.  Some evenings instead have matches against other clubs.
We aim to ensure that all rated training games, whether rapidplay or classical, count towards juniors' ratings by the ECF within 10 days of their being played.
First match of 2021 was against Uxbridge Juniors - see https://www.hillingdontimes.co.uk/news/19377956.uxbridge-young-chess-players-make-first-move/ (there's another pic further down this column) and the juniors have since had several more matches, including taking part in the first Junior Nations Chess League  weekend - final Division 1 table below.  We drew the first match in the new Hillingdon Junior League with seven more matches in early 2022.  
Weekend 1 of the main 4 Nations Chess League on 20-21 November saw Watford's 4NCL squad comprising adults and juniors in roughly equal proportions.   Weekend 2, scheduled for 15-16 January, was postponed (Covid!) but weekend 2 of the Junior 4NCL (5-6 February) and weekend 3 of the 4NCL itself (12-13 February) will go ahead normally - a list of known fixtures appears at 'Fixtures' in the main menu.   
We have also resumed the series of open-to-all under-12 rapidplays, held in 2018 and 2019 but then a victim of the pandemic.   In July 2021, the 4th Watford Junior [u-12] rapidplay was won by 8-year-old Advait Keerthi Kumar.  Full results of that event appear at https://chess-results.com/tnr571134.aspx?lan=1.  
ADVAIT WITH UKCC U-8 TROPHY, OCTOBER 2021
Among other outstanding individual performances, Avyukt Dasgupta finished 2nd (+6 =1 -2) in British u-12 blitz championship, 4th (+6 =1 -2) in rapidplay, and Advait Keerthi Kumar 2nd (+7 =0 -2) in u-8 blitz, 3rd (+6 =1 -2) in rapidplay, at Milton Keynes on 13-14 November.
JUNIOR 4 NATIONS CHESS LEAGUE 
The 2021-22 season began with a weekend at Leam-ington Spa on 25-26 September.  The two later weekends are 5-6 February [Holiday Inn, South Normanton] and 9-10 April [Mercury Daventry Court Hotel].  Watford Juniors have opted out of the February weekend but expect to re-enter in April.   
Each weekend consists of 5 rounds [3 on Saturday, 2 on Sunday] of chess, at either an 80' + 10" [Division 1] or 50' + 10" [Division 2] rate of play, between teams of four following a Swiss-paired system. For the first [September] weekend, Watford Juniors entered two teams with 11 juniors making the trip to Leamington Spa.  
Watford A finished 6th of 10 teams in the elite J4NCL Division 1 in September - see table - while the B team finished 12th in Division 2.  Round-by-round results are on the 4NCL website or at "Latest Results" here. 
 J4NCL DIVISION ONE

P

W

D

L

MP

GP

1

Oxfordshire A

5

4

1

0

9

15

2

J Hawkins Jnrs B

5

3

1

1

7

11

3

J Hawkins Jnrs A

5

3

0

2

6

11

4

Warwickshire B

5

2

2

1

6

11

5

Warwickshire A

5

3

0

2

6

11

6

Watford A

5

2

1

2

5

9

7

Manchester A

5

2

0

3

4

10½

8

Warwickshire C

5

1

2

2

4

8

9

Welsh Dragons A 

5

1

1

3

3

8½

10

Barnet Knights A 

5

0

0

5

0

5
For this event, 'juniors' means those born 2004 or later. Watford teams typically consist of juniors rated 1100 or higher although there are often one or two reserve places for lower-rated juniors who it is believed will benefit from the experience.
4 NATIONS CHESS LEAGUE
For this event, Watford Juniors combines with the adult section of the club - our squad is fairly evenly divided between adults and juniors - with two teams competing in Division 3 South.   
In the first weekend (20-21 November) Watford 'A' lost 4-2 to Iceni 'A' but bounced back with a 4-2 win against Hackney.  Watford 'B' were outgunned 5-1 by Barnet Knights 'B' but fared better against their 'C' team, losing only by 3.5-2.5.   The second scheduled weekend (15-16 January) was postponed because of Covid but may be rescheduled for June.  Dates for the remaining weekends, along with Division 3 South venues, are:  
Rounds 3-4  (12-13 February) at Holiday Inn Maidenhead
Rounds 5-6 (26-27 March 2022) & 7-9 (30 April - 2 May 2022) all at Kents Hill Park, Milton Keynes
Rounds 10-11 - see above, yet to be decided
It's now confirmed that the February weekend will go ahead - details, eg mask-wearing, awaited.
Division 3 South is an 11-round team Swiss-paired event, one round taking place each day with Saturday's games normally starting at 2 and Sunday's games at 11.  Time control is first 40 moves in 100 minutes with another 50 minutes for all remaining moves plus 30-second increments per move starting from move 1.  These time controls are 'per player' so the first 40 moves alone can take almost 4 hours' play.   ECF 'gold' membership (or above] is normally required for English players but a 'wild card' provision allows one-off appearances by others.  
HILLINGDON & DISTRICT LEAGUE
A new junior division has matches starting in November.   Format is teams of four playing 45' + 15" sessions, on home and away basis, starting 6.30.   In the first season, Watford Juniors drew its first match (Uxbridge) but narrowly lost the second (Harrow) and will play 6 more matches - 3 home, 3 away.   See 'Fixtures' for dates.